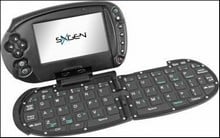 You got to love the adjectives and descriptions in press releases about mobile gadgets. Word about the S-XGen has been around for awhile and it is being "officially" launched at CES, so I'm the GBM Team will put the S-XGen on our list of things to take a look at. As for those adjectives and descriptive phrases, the S-XGen almost full sized keyboard is designed to alleviate "dumb thumb" text entry and it will "turn users into mobile powerhouses not thumb suckers." The announced 8–hour battery life earns it the label "panic-free" mobile device. Someone had fun with that release.
It runs Windows CE 5.0, so don't get confused as they label this convergence device, like everyone else these days, a Ultra-Mobile PC. And don't get sticker shock when you read the $1400 price tag with Microsoft Office Mobile included.
I know there is a corporate and executive market out there that won't think twice about dropping $1400 for one of these type of ultra mobile devices. But, boy, wouldn't it be great to see someone enter the market with a price somewhere close to that $500–$600 price range?
Here's a link to the press release and here's a link to Seamless Internet's site where you can take a very quick video tour of the S-XGen,

As an Amazon Associate I earn from qualifying purchases.