Hidden iOS 7 Features Reveal New Gestures
The iOS 7 beta is only a week old and already users are discovering hidden features and settings menus in iOS 7 that show off some features Apple was testing and could possibly bring to a future iOS 7 beta or iOS 7 release.
iOS 7 is already available as a beta to iPhone developers, and one enterprising user was able to unlock a special settings menu that reveals a plethora of tweaks and options including new multitasking gestures and folders within folders to name a few.
Twitter user Hamza Snood shares the options on his Twitter feed, which 9to5Mac shares in a video highlighting the hidden iOS 7 beta features.
The most impressive feature is the ability to pick from new gestures that could unlock new ways to use the iPhone. Apple already made a back swipe from the left edge of the phone a standard back function in iOS 7, but from the looks of these screenshots they are experimenting with other gesture controls in iOS 7.
Edge swipe
Corner swipe
Edge press and hold
These options could make it easier to perform multitasking without a double tap of the home button. This isn't a sign that Apple is preparing for an iPhone 6 with no hom button, but it could point to Apple reducing the need to reach to the home button which would fit the groundwork that iOS 7 lays for a larger display on the iPhone 6.
These new control options could allow users to swipe in from the right edge, to leave the left swipe accessible. The top and bottom edges are out, considering the Control Center and Notification Center.
The video below walks through some of these hidden iOS 7 features, though it doesn't show them in use on the iPhone itself. Like the previous iOS for iPad screenshots these secret iOS 7 features are only accessible with some trickery.
Apple is also working on support for nested folders in iOS 7, this comes in addition to the new folders feature that lets users scroll through a list of apps on the new folders. While not everyone will want to nest folders, users with a huge library of apps might want a single folder for games on the main screen that expands into folders for strategy, board games, RPGs, action, racing and more.
The folder options settings also include the ability to pinch to close a set of folders, saving additional wear on the home button and letting users do one more thing on a larger screen where fingers are farther from a home button.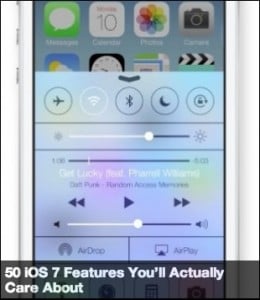 Apple iOS betas often include settings like this which are not accessible to the end-user, even those running the iOS 7 beta on the iPhone 5 or iPod touch won't be able to access these screens. We may not see these features come to life in iOS 7, but it is evident of user interface designs Apple is experimenting with.
Read: iOS 7 for iPad: 5 Things to Know
Apple announced iOS 7 on June 10th and offers an iOS 7 beta to developers. Users can also try the iOS 7 beta by opting in to the developer program or a reseller, but the iOS 7 beta is not designed to run on the iPhone you use every day because it is not finished software.

As an Amazon Associate I earn from qualifying purchases.