History and State of Netbooks from Ars Technica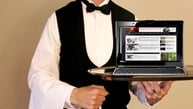 Ari-Allyn-Feuer has put up the first of what promises to be a series on Netbooks on Ars Technica. The first part covers a little way-back territory and goes back to earlier devices that we might or might not call Netbooks had their form factors debuted today.
Of course Psion would absolutely say they would an there is a good section on Psion and its efforts that are at the route of the current Psion IP battle.
The post is worth reading so far, and I'll be interested to see where it goes from here.

As an Amazon Associate I earn from qualifying purchases.