Hitachi Display Crams an HD High Resolution Screen Into Your Pockets!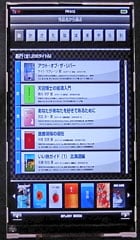 Hitachi Display is looking to launch its HD high resolution smartphone display, which essentially crams a resolution of 1280 X 720 pixels into the size of a 4.5-inch IPS display using LCD screen technology. The IPS screen technology promises wide-viewing angles. With the display, coupled with a 720p HD video camera on a smartphone, you get to see your video captures in full HD resolution on your smartphone without having to reach for an HDMI cable!
That means you can view as much on your diminutive smartphone screen as you can with a netbook. Combined that multi-core smartphone CPUs, we're getting some very powerful personal portable computers here.
The display itself boasts a 329 ppi density,which is higher in pixel density than Apple's current Retina Display on the iPhone 4!
Compared to the Retina Display, Hitachi's HD solution has higher pixel density, more pixels overall, and a slightly larger format with better contrast ratio. The Retina Display features a resolution of 960 X 640 on a 3.5-inch display with an 800:1 contrast ratio. While having that many pixels is still great on the Retina Display, the problem is that text becomes super small when you want to view a document or PDF file in full-screen. On a 4.5-inch display that Hitachi will be releasing come this October, hopefully even smaller letters and words will be easier to discern on the human eye. The LCD display is LED backlit and features a 1,100:1 contrast ratio.
Via: MobileCrunch

As an Amazon Associate I earn from qualifying purchases.