Hitachi to Bring 4.5-Inch 720p HD Glasses-Free 3D Display to Phones Soon
It looks like smartphone screens are continuing to get larger. Now that 4.3-inch displays are now becoming the trend, the next big trend may be 4.5-inch displays. That's not a bad thing as Hitachi has developed a high resolution 720p display in the larger 4.5-inch form factor that's capable of rendering 1280 X 720 pixels for a smartphone.
The 720p resolution not only beats out today's qHD displays at 960 X 540, but would allow smartphone owners to view 720p HD movies in native resolution on their smartphones!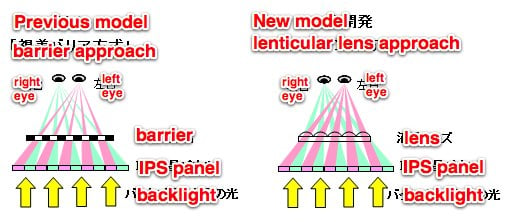 Additionally, the Hitachi-made screens would be an IPS display, which would allow for a wide viewing angle like that on the iPhone, and would be a backlit LCD display panel. The displays would also allow users to view 3D content without the need for glasses, like on the HTC EVO 3D or the LG Optimus 3D. Glasses-free 3D on this display would be using lenticular lens technology rather than the barrier approach for improved quality–the HTC EVO 3D employs a parallax barrier technology.
The craze for high resolution displays on smaller mobile phone screens was started by the iPhone 4 with that device's Retina Display. Since the Retina Display was introduced, Android manufacturers are now slowly beginning to migrate towards a qHD display, which is a 16:9 aspect ratio display that has resolution similar to the Retina Display. However, qHD displays today that uses PenTile technology still do not appear as crisp as the iPhone 4's screen, and also these phones aren't as pixel-dense as the iPhone 4 as the pixels have to be dispersed over a larger 4- or 4.3-inch display area rather than the 3.5-inch iPhone screen size.
With high definition 720p video watching capabilities, Google's Android video rentals cannot come soon enough.
Could Hitachi's glasses-free 3D 720p HD 4.5-inch displays be powering Android Ice Cream Sandwich devices?
Via: TechCrunch

As an Amazon Associate I earn from qualifying purchases.