Holiday 2015 Savings Include Surface Deal For 1 Day Only
For its fourth straight day of deals, the Microsoft Store has some steep savings for users who've been eyeing its Surface Pro devices. The company hopes to convince shoppers to abandon their separate notebook and tablet with a Surface deal that slashes the cost of its popular Windows 2-in-1 by $200 and includes a Microsoft Gift Card for purchasing digital extras.
The Microsoft Store announced this new Surface deal early this morning as it began offering today's savings. This $200 in savings is for the Surface Pro 3, the first of its 2-in-1 devices to do well. It begins tomorrow, December 4th.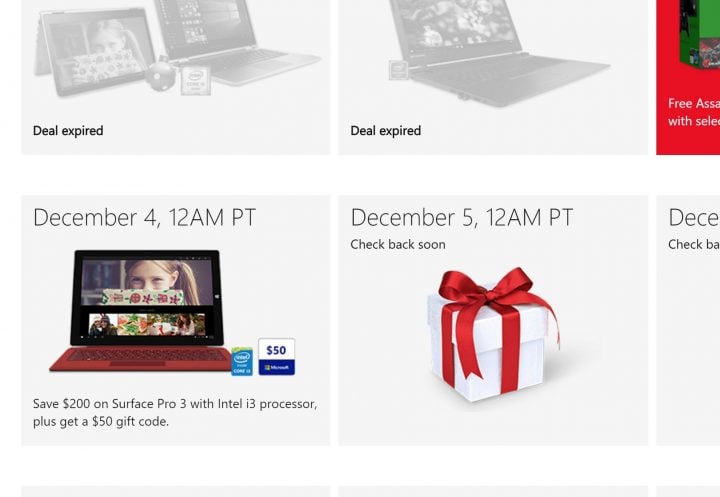 Right now, Microsoft Store shoppers get two free games when they purchase any of the new Xbox One console bundles available. To be clear, this deal adds two free games on top of the free titles that are already included with Xbox One consoles already. That deal runs until midnight Pacific Time online. It's also available in Microsoft's retail stores until closing time. When it expires this Surface deal takes its place.
Read: 2 Free Games in Latest Holiday 2014 Xbox One Deal
Purchasing a Surface Pro 3 with Intel Core i3 processor on December 4th will cost shoppers just $699. At first glance, that's roughly the same price that an entry-level Surface Pro 3 costs Microsoft Store shoppers today. The difference is in storage capacity. The model available for $699 today comes with 64GB of storage. The Surface Pro 3 included in the 12 Days of Deals sale on December 4th has 128GB of storage, double what the base model does.
Microsoft didn't have a Surface Pro 3 with Intel Core i3 processor and 128GB of storage available for purchase when it launched the Surface Pro 3 back in 2014. It's a relatively new addition to the line-up. The company has lowered the price of every Surface Pro 3 configuration since it launched the Surface Pro 4 this past October.
Microsoft is running $100 off promotions on the Surface Pro 3 models with Intel Core i5 processor and Intel Core i7 processor independently from its 12 Days of Deals promotion.
The $50 Microsoft gift card is a pretty decent add-on bonus. This card isn't for other items at the Microsoft Store, but is for items purchased through the Windows Store, the digital goods store built-into devices running Windows 10, the Xbox One and Xbox 360. Everything from games, to movies to television shows are available in the Windows Store. Microsoft sells apps for use on the Surface Pro 3 and more through the store too, though many of them aren't as robust as what users can download through a web browser.
Again, this Surface deal will begin on December 4th at midnight Pacific Time and last until December 5th.
What Microsoft is offering here is a spectacular Surface Pro 3 deal for new upgraders. The Surface Pro 3 is a year old now, but its replacement doesn't dump the form factor that people loved. Really, the only reasons to purchase the Surface Pro 4 instead of the Surface Pro 3 are stylus sensitivity, camera quality and a better display. The pen included with the Surface Pro 4 has an eraser cap and a magnet to attach to the device.
The Surface Pro 4's updated Type Covers are compatible with the Surface Pro 3. Microsoft even made a Type Cover that has a fingerprint reader specifically so that Surface Pro 3 users can unlock their device without a password. It's also worth noting that the Surface Pro 4 is marginally thinner and lighter than the Surface Pro 3.
Read: Microsoft Surface Pro 3 Review
No Surface Pro device includes a Type Cover keyboard. Those are $129 add-on purchases. The Surface Pro 3 does include a Surface Pen, but not the same one that's included with the Surface Pro 4. Shoppers can upgrade to that pen for $59.99.

As an Amazon Associate I earn from qualifying purchases.