Honda Commits to 2013 Release of Siri Eyes-Free on Accord, Acura
Japanese auto-maker Honda has committed to bringing Apple's Siri Eyes-Free feature to its 2013 lineup of Acura as well as luxury brand Acura RDX and ILX models. Siri Eyes-Free will be arriving on these select Accord and Acura models later this year, according to the auto-maker, as an optional dealer-installed add-on. Unfortunately, other models in Honda's and Acura's lineups won't be Siri-eligible at this time, like the Civic according to The Verge. 
Siri Eyes-Free was initially announced by Apple as part of iOS 6 that would help to prevent distracted driving. When initiated inside a compatible vehicle, Siri Eyes-Free would activate the Siri voice command features and prevent the screen from turning on. This way, users are less prone to fiddling with their phones while driving, which would help to ensure that the roadways are safer for all.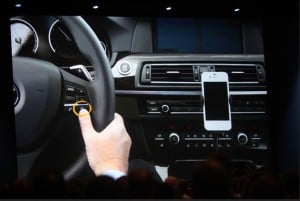 In the car, to activate Siri Eyes-Free, Apple says that users will just need to activate a button on the steering wheel control. The iPhone is paired with the vehicle via a Bluetooth connection and Siri would allow users to speak to the assistant and the digital assistant could speak back and answer user queries.
"iPhone has become so integral to people's lives that they continue to use them in their vehicles," said Vicki Poponi, assistant vice president of automobile product planning, American Honda. "Offering Honda and Acura owners Siri and its Eyes Free mode via Bluetooth is an incredible opportunity to provide next-generation connectivity and meet our customer's ever-changing needs."
While it's nice to prevent distracted driving by preventing the phone's display to turn on to minimize the temptation of looking at your friend's most recent Facebook update, it's unclear still how Apple intends on managing mapping and GPS. With Apple Maps providing both audio and visual instructions for in-vehicle voice-guided turn-by-turn GPS navigation, it's unclear if in mapping mode the iPhone will be able to keep its display on even while connected to Siri Eyes-Free.
Siri and by proxy Siri Eyes-Free is available via the iPhone 4S and iPhone 5 as well as on the third- and fourth-generation iPad and iPad mini. The fifth generation iPod Touch also comes with this feature.
In addition to Honda, a number of other car-makers have committed to Siri Eyes-Free, including Audi, BMW, Chrysler, GM, Jaguar, Land Rover, and Toyota.

As an Amazon Associate I earn from qualifying purchases.