Honda Debuts Siri Eyes Free, HERE Connected Maps in 2014 Civic
Auto-maker Honda is bringing a more connected experience to its 2014 Civic thanks to the introduction of new features, such as integration of Apple's Siri Eyes Free as well as Nokia's HERE connected maps. The technologies are appearing as Honday Display Audio and HondaLink inside the cars, and the automaker says that "together these technologies represent the most advanced information and media connectivity package ever offered by Honda."
Both technologies will debut today as the 2014 Civic model goes on sale. The technologies will also be making their way on to the Honda Fit in 2015 next year.
https://youtu.be/dLsGlU3_INA
With Honda Display Audio, Siri Eyes Free will be coming to the car complete with controls for Siri mounted on the steering wheel when a compatible iPhone (iPhone 4S model or later) is paired to the 2014 Civic via Bluetooth.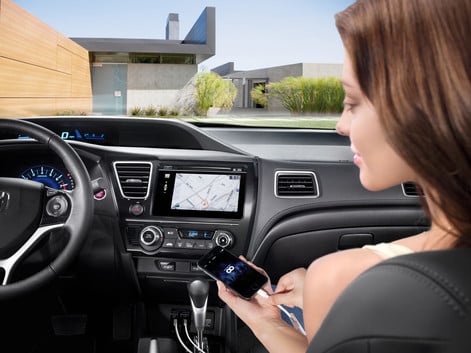 Additionally, Honda will be equipping its cars with a 7-inch high definition capacitive touchscreen as well, featuring similar gestures such as swiping and pinching to zoom as on the smartphone.
Icons resembling smartphone apps are displayed on a 7-inch, high-definition, capacitive touchscreen, making the interface intuitive and easy to use. Standard internet-sourced music and media options, such as Pandora® are built into the Display Audio interface, with the ability to create personalized stations, tap to "like" songs, and view album artwork directly from the touchscreen. Display Audio also integrates touch operation of the volume (with a quick-swipe adjustment), menu, and return functions for a modern and sleek look. Standard steering wheel controls compliment the touchscreen features as well.
HondaLink s an application that pairs an iPhone 5s, iPhone 5c, or iPhone 5 with the infotainment system to provide for a more connected experience, which includes Nokia's connected HERE navigation service, complete with turn-by-turn navigation instructions. Essentially, the $60 app will allow HERE maps to be sent to the car's 7-inch touchscreen unit so you can see everything on the larger display, rather than on your phone's more compact screen.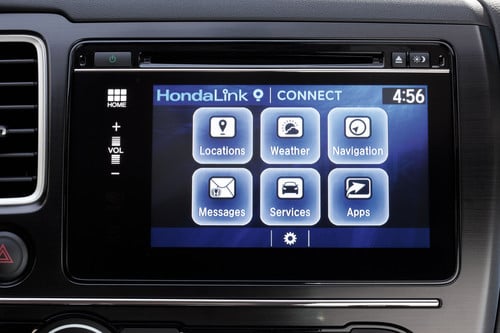 Four specialty HondaLink apps provide organization and are a gateway to additional online content:
Connect App – Provides convenient access for many services including location searches, local weather, messaging, Maintenance Minder alerts, service scheduling by phone, and access to the Owners Guide. Users can tap for weather updates and store favorite destinations for quick routing with the Navigation app.
Navigation App – For the first time Honda is offering a comprehensive cloud-based navigation app for purchase2 that includes 3D mapping and continuously updated traffic information. As the first navigation app developed by an automaker with mapping data provided by HERE, a Nokia business, this app offers a variety of location search options including search by point of interest, text search, or previous locations. Routes can be pre-planned on a smartphone and will display on the vehicle's touchscreen. Turn-by-turn routing guidance is available through the vehicle's audio system as well.
Aha™App – provides access to an extensive and diverse selection of audio content across multiple genres and demographics, plus featured new stations, Internet radio, podcasts, audiobooks, news, Twitter and Facebook updates and nearby location listings for restaurants, coffee houses, hotels, weather, parks, and gas stations. Users can tap to personalize stations or add favorites via smartphone or directly through the Display Audio interface.
Launcher App –Finds and organizes Honda-approved 3rd party apps so they can be quickly integrated into the Display Audio system. Approved apps can be found through the Launcher and shown on the Display Audio screen for easy access.

As an Amazon Associate I earn from qualifying purchases.