Hoping the new iPhone OS is great but not that great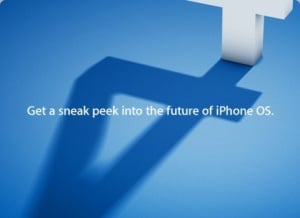 Apple is set to reveal the new iPhone OS 4.0 in a little bit. Rather than make a prediction on what it does, I'm instead going to state I don't want it to be that good.
As stated previously, I'm holding off on the iPad. Well, I was holding off as of last week when it debuted. I also stated "I could wait until the 3G model, until the 4.0 software, until next year's upgrade, or even further." The wrinkle is the 4.0 software is being introduced today, which presents me with new data to consider and a possibility to reconsider my stance.
The general consensus is that Apple will introduce some means of running third-party apps in the background. I'd welcome that, but that alone isn't going to turn me around. There needs to be more. Perhaps added swipe navigation for back/forward and more gesture control, which are desperately needed in Safari and the iPod app. Or maybe a widget system to re-introduce those missing default apps to the iPad (clock, weather, etc.).
All that would make the iPad tougher to resist, but I could still do it. The real threat is the unknown, some unforeseen feature that takes the tablet experience to a whole new level. I don't expect that to happen, but obviously it wouldn't be "unforeseen" if I could see it coming.
That said, I'm set to upgrade my iPhone this year to the expected new model, so I really should want the new OS to be great. I'm behind by a version, using the 3G not the 3GS (because I don't feel the urge to upgrade my phone every year), so I'm getting a speed and feature bump no matter what. However, it would be nice to get that with an OS that takes better advantage of that speed.
Oh, and the other threat I'm facing is peer pressure; everyone and my brother has an iPad, and only half this statement is hyperbole. Worse yet, since "everyone else" has already gone out and bought the Wi-Fi only version, there aren't that many of us left to review the 3G version. Cue David Bowie and Queen.

As an Amazon Associate I earn from qualifying purchases.