How and Why Apple Will Ship a 4-inch iPhone 5
Apple is quite likely to introduce a taller iPhone 5 with a larger 4-inch display this fall.
Despite Apple's secrecy regarding the iPhone production and new iPhone models, there is new support for an iPhone 5 with a larger display.
AppleInsider reports that Mingchi Kuo, an analyst with KGI with connections deep into the Apple supply chain, believes that Apple will introduce a larger iPhone this fall.
According to Kuo, the iPhone 5 will maintain compatibility with existing apps, stay usable to the one-hand user base and deliver a better user experience.
"We expect iPhone 5 to feature a 4.08-inch in-cell IPS panel screen with a display resolution of 1,136 x 640 and 500-nit brightness," writes Kuo.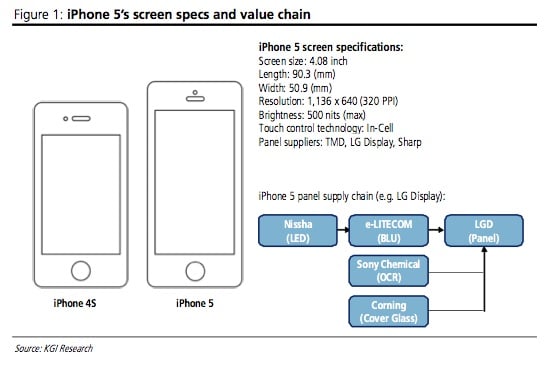 This prediction lines up with the many rumors we have heard regarding the resolution, but adds a bit to the size of the display and gives us our first mention of brightness.
A screen brightness of 500 nits is suitable for using the iPhone 5 display in bright shop lighting or with overcast skies and indirect sunlight according to Winmate.
Kuo says that Apple will not use a 4.3-inch or large display due to the battery use increase from these larger displays and the inability to use many later displays one-handed.
The image provided by KGI research shows an iPhone that is taller, not just a taller display as we have seen in some mockups. This would mean that Apple will increase the size of the iPhone rather than shrinking the bezel.
How Apps Will Work on a 4-inch iPhone 5
While many users want a taller and wider iPhone 5 display, Kuo believes Apple will only make the display taller. This is important because it will allow Apple to letterbox apps with black bars on the left and right sides to accommodate apps that are not formatted for the 1,136 x 640 resolution display.
I'm not sure that users would trade the video letter boxing for app letter boxing, but this would likely be a stop-gap measure to ensure app compatibility with the iPhone 5 without providing details to app developers and the world ahead of the iPhone 5 release date.
Battery Life
David Pogue writes in the New York Times that Apple might make the iPhone larger to accommodate a larger battery to accommodate the higher power draw of 4G LTE, but Kuo predicts that the iPhone 5 will use a 1,400mAH battery similar in size to the current iPhone.
Apple could use the extra space to include a thinner battery, enabling a slimmer iPhone 5 design.
Movies
Another suggestion is that the taller display, which brings the aspect ration to 16 x 9 is that Apple will use the iPhone 5 to kick off a movie streaming service. iDownloadblog points to Matthew Panzarino's theory on TheNextWeb, that the HD film ready iPhone 5 display will serve as Apple's springboard into a Netflix style competitor.
While it is possible that Apple will introduce a streaming movie service, the iPhone seems like a less than logical choice to be the flagship device given the small screen size. The rumored iPad Mini or a new iPad would make a much more attractive option.
Maps
Apple might use the larger display to offer a better navigation experience in the car. The wider iPhone 5, in landscape mode, would allow for better display of information and a wider look at the map of upcoming areas.
iPhone 5 Design and Sales
Rounding out the treasure trove of information provided by KGI Research, Kuo is not sold on the iPhone 5 leaked designs.
Kuo told AppleInsider, "Apple should be able to find the leak source easily this time." This leads me to believe Apple might be planting fake designs or the video below really is how iPhone 5 designs leak.
Kuo estimates the larger iPhone 5 display will help Apple sell between 65 and 70 million iPhone 5 devices in 2012. Whether the iPhone 5 release date lands in September or October remains unclear.

As an Amazon Associate I earn from qualifying purchases.