How Does the Apple TV Work?
A new Apple TV is rumored to launch at some point this year after Apple hasn't touched its set-top streaming box since 2012, but with the third-generation model still a hot item, many users (including myself) are going ahead with an Apple TV and  taking advantage of all the cool features anyway.
UPDATE: Apple just announced its new Apple TV with an all-new remote, an App Store, and gaming support.
If you're in the market for an Apple TV and want to learn more about it, you've come to the right place. The Apple TV is a simple device that's about the size of a squared-off hockey puck, but on the inside sits a ton of cool features that can be a bit daunting at first.
Here's everything you need to know about how to set up an Apple TV, what you need to set it up, and how it works in the first place. Plus, we'll tell you about some neat stuff you can do with an Apple TV if you have an iOS device or a Mac.
What You Need
When you get your Apple TV, it will come with the streaming box, a remote control and a power cable. However, you still need another cable to transmit video to your television, so be sure  you pick up an HDMI cable when you buy an Apple TV. You can buy them pretty much anywhere, although we'd recommend buying Amazon's own HDMI cables, since they're cheap, but effective.
You'll also want an iPhone, iPad or iPod Touch running iOS 7 if you want to set up your Apple TV the easy way. Otherwise, you'll simply just have to set it up by going through the menus on your Apple TV step-by-step.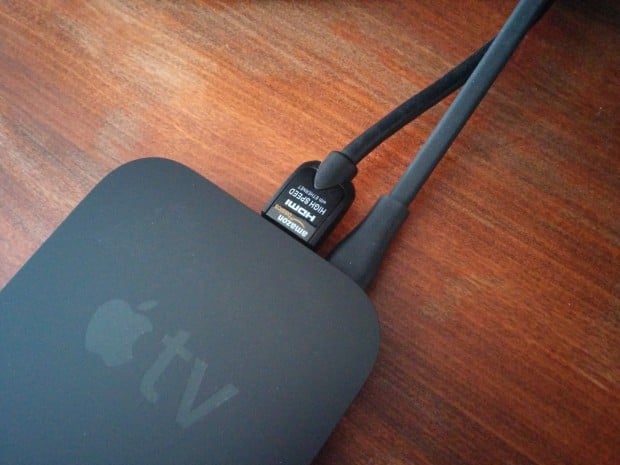 If you want to connect your Apple TV to your home network over ethernet, you'll also want to get an ethernet cable, but the device also has built-in WiFi so don't sweat it if you can't manage a wired connection.
Physically, the Apple TV is easy to set up and self-explanatory for the most part. All you have to do is plug in the power cord and the HDMI cable and you're off to the races. Then just press any button on the Apple TV remote to turn it on. Also, make sure that your TV is set to the right input, since most televisions have multiple HDMI inputs.
Using the Apple TV
You'll get more out of your Apple TV if you use iTunes a lot. So if you have a lot of music, movies and TV shows that you've purchased in the iTunes Store, the Apple TV allows you to play these files on your television. However, the device also comes pre-loaded with a handful of streaming apps like Netflix, Hulu Plus, WatchESPN and YouTube.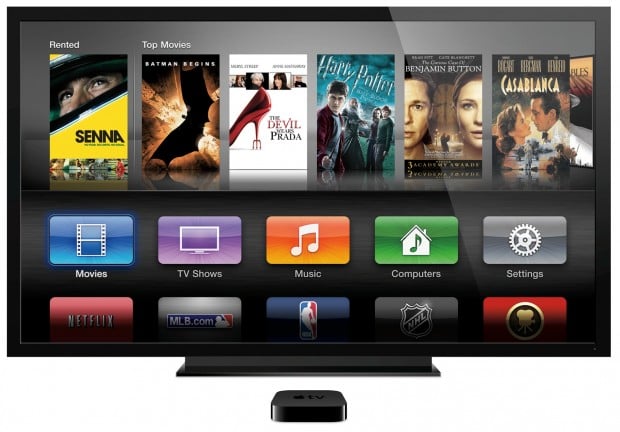 It's important to note that you'll need separate subscriptions to services like Netflix and Hulu Plus in order to use them on your Apple TV. While you can watch TV shows for free on Hulu's website, the service requires that you pay for Hulu Plus in order to watch content on other devices besides your computer.
You can also purchase or rent video content right from your Apple TV, making it easy to browse the selection of movies and TV shows available. At the very top of the home screen on your Apple TV will be a list of the most popular movies at that time. You can also select the Movies or TV Shows icon to view browse through more options.
Using AirPlay
One of the biggest features of the Apple TV is AirPlay, which allows you to beam content from your iPhone, iPad or Mac to your television over your home WiFi network.
There are two ways you can use AirPlay. The main way is tapping on the AirPlay icon (seen below) in any app that supports it to beam that content to the Apple TV. Your iOS device or Mac can then serve as a second screen of sorts. For example, I can beam a live game from the MLB.TV app to my television using the Apple TV, and then my iPad can serve as a display for showing me player stats.
The second way of using AirPlay is simply mirroring your display to the Apple TV so that you'll see the same thing on your iOS device or Mac and on your television. This is ideal for apps that don't support AirPlay and is merely a workaround for that.
Using Your iPhone as a Remote
It's pretty easy to lose that small silver remote that comes with your Apple TV, and once it's finally lost in between your couch cushions, your iPhone or iPad can serve as a worthy backup. Plus, one huge benefit with using your iOS device is that you can easily type out words when searching for a movie or show instead of using the slow hunt-and-peck method with the stock remote.
We have a handy guide that shows you how to set up your Apple TV and your iPhone or iPad so that you can use your iOS device as a remote control for your Apple TV. It's easy to do and takes just a couple of minutes to set up.

This article may contain affiliate links. Click here for more details.