How Facebook Plans to Keep You In Messenger
As the world's largest social media platform, Facebook already likely dominates a lot of your online life. If the company gets its way, it could dominate your iPhone even more in the coming months thanks to some epic changes coming to its Messenger app.
Facebook revealed its plans for the new Messenger Platform and more yesterday in a post on its Developers News blog. Messenger Platform isn't something that someone uses directly, instead it's something meant for developers themselves.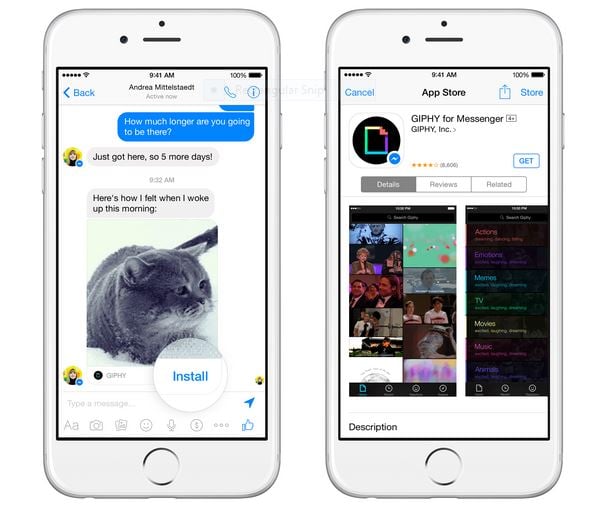 Going forward absolutely any verified Facebook developer will have the option to integrate with Messenger Platform. Messenger Platform allows app developers to surface related content directly into the Facebook Messenger app that the social network forced on users roughly a year ago. Apps with support for Messenger Platform will simply show up in the Messenger app itself. On the iPhone these apps will still need to be downloaded from the iTunes App Store, but they'll be available for users to interact with without exiting the Facebook Messenger app itself.
The first set of Messenger Platform apps are aimed at improving the lives of serious Facebook Messenger users. There are ways to share small audio samples, videos and photos. There's an abundance of Emoji' apps too. ESPN, Imoji, IMGUr, Pyro!, JibJab Pic Stitch, Selfied and Talking Tom are among the list of apps with support for Facebook Messenger Platform rolling out this week.
Messenger Platform is one-half of a plan to keep Facebook at the forefront of text communication and therefore your list of most-used apps. The other part of the plan involves businesses. Facebook is hoping that ecommerce websites and other business will want to talk directly to shoppers through Facebook Messenger. Everlane and Zulily are both launching with Messenger support in the coming weeks. Users will get to check their order status and more.
These changes are garnering Facebook a lot of strange looks. On the one hand some privacy-minded users are wondering whether direct integration for businesses means Facebook will get a more accurate picture of user's shopping habits.
Some have argued for years that Facebook has all the information it needs to build accurate profiles of its users. In one scandal Facebook actually admitting to toying with users' Newsfeeds to see how they reacted to different kinds of stories. Certainly, Messenger Platform could solidify Facebook Messenger's dominance. If app developers think they can integrate directly with Facebook and guarantee high usage for their new ideas, they're less likely to build their own messenger service or consider integrating with rival services.
How people send and receive their text messages is a very big deal. Texting has mostly replaced phone calls. It's simply easier to send a text message than it is to call and actually react to someone's whims in real-time. When you're messaging or texting, there's no need to call someone at just the right time or leave a message. Use of messages will only grow as message apps get more sophisticated and easier to use.
All of the major players in the smartphone and tablet space have Facebook Messenger alternatives of their own. A few years ago Microsoft purchased Skype. In the last few years its integrated Skype into all of its platforms and completely discontinued MSN Messenger. Google has continued to build on its Hangouts platform with increasingly aggressive methods. Now Hangouts on Android can be used to replace the standard Android Messages app entirely. Luckily, users can switch back if they feel the need to do so. None of those companies have been as aggressive as Apple. iMessage automatically integrates user's phone number with their Apple ID. This allows their messages to sync between phone and tablet and even surface on Mac OS equipped desktops and notebooks.
Facebook Messenger Platform apps are available for users to download right now, but Business integration won't arrive for "weeks," according to Facebook.

As an Amazon Associate I earn from qualifying purchases.