How Ford Plans to Dominate Uber with On Demand Shuttles
Ride sharing and alternatives to driving are increasingly popular, so it's no surprise to see that Ford is looking for a way to gain traction in this emerging marketplace. After studying how users commute and travel in shuttles and using multiple methods of transportation Ford is prepared to launch a pilot program that delivers ride sharing in a solution that is essentially an Uber Shuttle.
The new Dynamic Shuttle program uses data to efficiently match and router riders with shuttles, much like how you book an Uber, but in this case you are sharing a ride with other people. After studying the wants and needs of drivers and passengers, the company is not simply repurposing the awful shuttles you take from the airport to your hotel.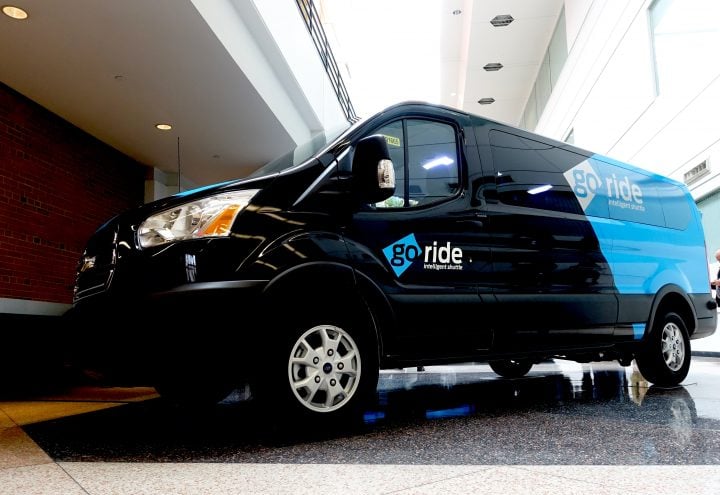 Instead of these frustrating experiences where you share a cramped ride with others along inefficient and often longer routes, Erica Klampfl – Global Mobility Solutions manager Ford Research and Advanced Engineering explained that the Dynamic Shuttle system, "celebrates sharing rides with other people."
When you need an Uber, you open an app and schedule a pickup. It's simple, efficient and it works. The Dynamic Shuttle is more like an Uber than a hotel shuttle or shared cab. Riders open an app, place a request for a ride and a system connects this to the most efficient shuttle based on other riders and destinations. No longer is a driver thinking about the best way to get from point a to point b. With these shuttles it becomes a data driven solution.
The specially designed Ford Dynamic Shuttle busses are based on a Ford Transit Connect, but there is no middle row in this model. This removes the need to climb over strangers. Research found users want personal space, but also a larger overall space, which is one reason Ford chose this design.
Other additional vehicle details aimed at meeting the needs of passengers include space for personal items and small luggage while still leaving room for the user to sit and use personal electronics. Inside the vehicle riders will find USB charging points, cup holders and free WiFi. These all come together to deliver a more enjoyable ride.
With a system like this drivers can accept rides and track the data right into the system without the need to remember, jot on paper and enter to computers later. Drivers can also mark themselves as out of service for breaks or repairs.
A test system served 129 locations for 300 Ford riders using 21 shuttles during the rest phase. Ford plans a Dynamic Shuttle system rollout in Dearborn in the near future. The company studied the needs of users in emerging markets in South America, markets in India, markets in Europe and in cities like New York City.

As an Amazon Associate I earn from qualifying purchases.