How I Turned an iPod Touch into $20,000
Two weeks ago I had an iPod Touch, and today I have $20,000 in restaurant gift certificates.
I didn't use any cash to move from a $200 iPod Touch to enough restaurant gift certificates to eat like a king, instead I bartered and traded my way up to $20,000 worth of food and fun — and I'm not done.
A&E's new show Barter Kings follows the crazy bartering exploits of Steve and Antonio, who trade up from Elvis records to boats or gold up to a horse.
A&E provided me the funds to buy an iPod Touch and asked me to compete against four other online influences in a Social Barter Kings challenge.
During this challenge I've learned about the trade string, and worked my way up form an iPod touch to $20,000 in gift certificates.
I traded the iPod Touch for a Craftsman Radial Arm Saw with a Laser guide, valued at $500-$1,000.
https://www.youtube.com/watch?v=W8bgjOa_GsY&feature=player_embedded
From there I traded the saw to the JD Motorsports NASCAR Racing Team for an associate sponsorship of the Mike Wallace #01 Chevrolet.
This included a company logo on the car and two pit and garage passes plus photos with Mike Wallace and the JD Motorsports team!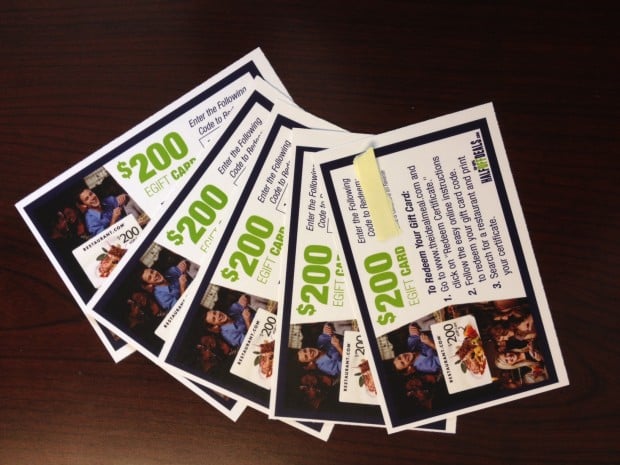 From there I traded the NASCAR sponsorship to HalfOffDeals.com for $20,000 in Restaurant.com gift certificates.
I'm trying to trade these for a Jeep Wrangler, but I'm not sure if I will be able to complete the trade string by the time the contest closes tomorrow.
If you want to trade, and especially if you have a Jeep or other vehicle, connect on Twitter @Josh_Smith
Why am I sharing this?
Well, trading is one of the best ways to give gadgets new life. We always talk about selling old gadgets, but it's also easy to trade them on Craigslist and other services for a bigger and better gadget.
One of my competitors, Cathy from FabuLESSly Frugal traded a Kindle Fire up to a Hot Air Balloon ride and on to 250 pounds of Black Angus burgers beef and steaks. That's cooking with Fire.
I opted for an iPod Touch, because it appeals to travelers, parents, students and just about anyone. In the recent Barter Kings Episode Antonio traded an old laptop for Willie Nelson's old bass amp, and upward to a vehicle he sold for $9,000.
Check out Barter Kings tonight, Wednesday, at 10 PM.
Disclaimer: A&E provided the funds for me to purchase the iPod Touch I started this trade with.