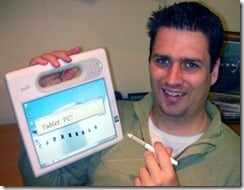 Xavier mentioned in my intro that I am lucky enough to have access to all kinds of Tablet PCs on a daily basis. And I do enjoy getting to try out so many different Tablets. When Xavier asked me to write about how I use a Tablet PC, I have to admit that I had to think about it… It really has become second nature to me now.
I started using Tablet PCs in 2002 soon after Microsoft launched its take on the pen computing platform. My first Tablet PC was a Compaq TC1000, which to be honest was a bit disappointing. It was way underpowered and frustrating to use, however I upgraded to the TC1100 soon after it came out and never looked back. I used a TC1100 with docking station exclusively for about 5 years.
For years when I was in public with the TC1100 I was approached and asked, "what is that?" – an experience that I have found is pretty common amongst Tablet users. The next question was invariably, "where can I get one?"
For years I felt that there was not a satisfactory answer to that question, so I decided to start www.tabletpc.com.au in 2005. My brother Mathew and I now both travel around Australia demonstrating and selling Tablet PCs to businesses of all sizes as well as lots of government agencies. Over the last few years we have sold countless Tablet PCs to government departments like the Australian Defence Force, CSIRO, the state police forces, many local councils, and hospitals. We've deployed Tablets for customers from large mining companies like Rio Tinto to small businesses, but only a few to consumers.
In the last year, we have seen a massive upturn in interest in Tablet PCs to the point that we cannot keep up with the number of inquiries that come in through our website every week. Tablet PCs are indeed very hot right now!
So let me tell you about how I use a Tablet PC, and I'll start by saying that my printer does not get much use. In fact it was out of toner for a couple of months until my wife insisted that she needed to print something last week.
I usually start my day off making breakfast and turning on a tablet – usually a new model Motion C5. I used to go into the office first thing to check on emails and I would never make it back for breakfast. So first up I'd say that Tablet PC has improved my diet!
I travel a lot, and I rely on a slate Tablet PC as a mobile office. I generally work from the Motion C5 exclusively when away. The C5 does look a bit strange, but I just love the screen, power and form factor.
I've become quite proficient at using the TIP (Tablet Input Panel) in Windows 7 and I find that I usually score 35 – 40 WPM on a typing speed test. Whilst it's not quite as fast as typing on a physical keyboard (at least for me), I know that it is a much faster method of input than a virtual keyboard when mobile. I think that the TIP is still one of the best kept secrets in IT.
So I'm using Tablet PCs on planes, trains and automobiles. I'm often writing articles, commenting on blogs or sending emails while I'm moving.  Over the last 12 months I have been really drawn to the Motion Computing Tablet PCs because of their awesome Hydis AFFS+ display. I never have to worry about lighting, I can just see it everywhere in full color and I love that. I think "view anywhere" displays are really important for a truly mobile work tablet.
All of our Tablet PCs have embedded 3G / mobile broadband in them so I can be connected in most places and we are very fortunate to have exceptional 3G network coverage here in Australia without all the fuss of lock-in contracts.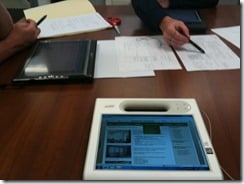 Since I run a Microsoft Small Business Server, my email, CRM and files are centralised and available to whatever device I have with me, including my iPhone and now iPad. So my whole office is with me 24×7 on a Tablet PC and I truly do work anywhere! On any given day I could be working behind the wheel of a rental car (when it's stopped of course), in a hotel room or out in the backyard on a nice beautiful Melbourne day like today. As long as my battery is charged I have access to everything that I need in my business!
Some of the other things l use a tablet for:
Signing and annotating documents – mainly PDFs (using Bluebeam REVU) and Microsoft Word
Using the Windows snipping tool for sending instructions and help to customers
Writing blog ideas and articles in OneNote – ideas seem to flow so much better with a pen and digital ink than a keyboard
Mind Mapping
Reconciling my bank account – Crossing off as you go, it's something that you really need to do on paper – so why not digital paper?
Doodling and sketching when I'm bored
Browsing the web – Steve Jobs is right, a tablet is by far the best way to experience the web – does it matter if it's not his tablet?
Tablet PC software that I can't live without:
Office 2010 – especially OneNote and Outlook / Exchange
BlueBeam PDF Revu – fantastic product for Tablet PC users, especially in those construction
Windows 7 and Internet Explorer 8
Mindjet Mindmanger 8
Paint.NET
Kindle for PC
Alcohol 52% for virtual CD/DVDs and plenty more…
My current crop of Tablets:
Motion J3400, C5 and F5 – Awesome fast active digitizer slates with amazing displays
Gigabyte T1028 – Netbook with a great 92% physical keyboard and a touch screen
Viliv X70 and S5 – I often use the S5 for accessing external files and media playing in the car (with a 60Gb media library)
iPad and iPhone 3GS
Tablets I just sold:
Motion LE1700 – to a Royal Australian Air Force FA18 instructor
HP Tc1100 – I had 4 or 5 of these over time and I just sold the last one – hard to let go of – my favourite tablet concept to data in my opinion with a great set of accessories
Samsung Q1U
I also just reluctantly sent back a loan HP Tm2 and a Fujitsu T4310 – I will be getting these in permanently soon. I've had many other Tablets including the Toshiba M750, HP 2730p and Lenovo X200t which are all awesome Tablets. I've decided to go for a Fujitsu T900 to replace my desktop soon. I'm also awaiting an iPad (all the way from USA because it's not coming to Australia for a couple of months) and I will certainly be picking up an exciting new lightweight Windows 7 slate later in the year… Can't wait to tell you about it!
The way I use a Tablet PC is probably very different to the way you do, and what I hope to achieve with Gottabemobile.com is to hear and share some of your experiences with Tablet PCs. As Tablet enthusiasts, its up to us to make sure that the true story about Tablet PCs is heard!
Xavier started a thread recently at the Gottabemobile forum recently where you can post your ideas on what Tablet PCs are good for, so if you haven't already make sure you get on over to the forum and add a post!
– Handwritten draft created with Microsoft OneNote 2010.

This article may contain affiliate links. Click here for more details.