How iPhone 6 Buyers Will Get The Best Deal on T-Mobile
In a move it announced just moments ago, T-Mobile is ensuring that users upgrading to new smartphones later this year, including Apple's rumored iPhone 6 smartphone, will get a much better deal when they switch to the carrier. Earlier today the company revealed a limited time trade-in scheme that guarantees iPhone 6 buyers will get the best value for their old phones when they upgrade.
T-Mobile says that users who want to upgrade to the iPhone 6 will be able to do so without fear. Building on its smartphone trade-in program, the T-Mobile says that it'll now monitor the deals from all of its competitors in the wireless space. That doesn't mean that it'll match the amount of money services like Gazelle offer users. Instead, the company says it'll keep an eye on its major competitors in the wireless space. That means, it's guaranteeing those who trade-in their old smartphones will get a decent deal when compared to AT&T Wireless, Verizon Wireless and Sprint.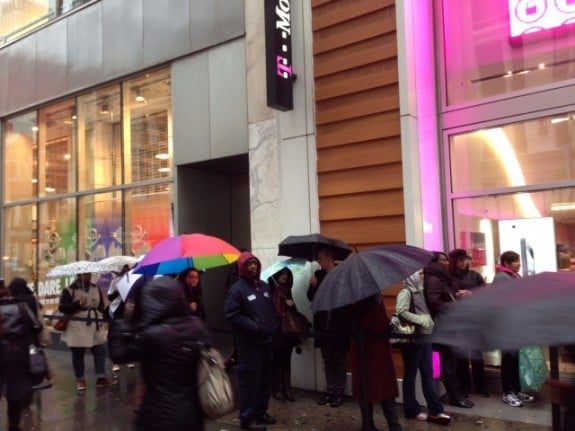 T-Mobile is holding its own feet to the fire, sort of. If users who trade-in their iPhone 5s — or any other device — with T-Mobile find that Verizon, AT&T or Sprint have better trade-in values, T-Mobile will refund them the difference and credit their account $50 as an apology.
T-Mobile's unveiling of this new deal comes at a pretty interesting time. As the company's press release on the deal notes, we've seen a flurry of activity as smartphone makers rush to get their latest devices on store shelves ahead of the holiday season. In the last two weeks alone T-Mobile has confirmed that it has plans to release the HTC One M8 for Windows, the Samsung Galaxy Note 4 and the Samsung Galaxy Note Edge. Apple is expected to announce the iPhone 6 at an event tomorrow.
Read: iPhone 6 Event: What to Expect
As all of these devices have an immediate predecessor, it only seems right that T-Mobile would try to convince users to upgrade by promising the best trade-in values the wireless industry has to offer. In recent years, prices for high-end and mid-range smartphones have mostly become stagnant. That is, it's pretty unusual to see a smartphone sell at a different price on different carriers these days. Getting the most for an older smartphone is one of the few ways those upgrading to a new smartphone can save.
What most carriers do is offer trade-in credit that applies to user's upgrade cost. For example, if the iPhone 6 costs $199 with a two-year contract than Verizon, Sprint and AT&T will apply that trade-in value to the $199. Users pretty much get a decent discount and save some money that that wouldn't otherwise.
T-Mobile's trade-in program works roughly the same way, but users aren't required to pay anything down for most of its smartphone line-up. That's because the carrier decouples the cost of devices from the rest of their plan. Instead, T-Mobile users get a credit on their account for any device they trade in. That credit can be used for services or a new phone.
Today, users who trade-in an iPhone 6 with 16GB of storage get $330 through the T-Mobile phone trade-in program. By comparison, third-party service Gazelle gives users $215 for the same device. The trick is that Gazelle gives those who trade-in their devices checks that they can deposit. T-Mobile's trade-in program is restricted to those who purchase a new device or add a new line of service to their account. As such, only users exploring using T-Mobile for their iPhone 6 or other smartphone should dig deeper into the company's trade-in offerings.
To be clear, this new trade-in deal isn't exclusive to the iPhone, smartphones from other manufacturers and Apple's iPad tablets are also eligible for trade-in at T-Mobile. T-Mobile says that this trade-in program is a limited time offering, but didn't say when it would end.

This article may contain affiliate links. Click here for more details.