How Long Will the iOS 8.1 Update Take?
The iOS 8.1 release is finally here with fixes to many iOS 8 problems and turn on several new features. The iOS 8.1 update and installation takes some time, so most users should not install iOS 8.1 while at work or on the go.
Apple's free iOS 8.1 update unlocks Apple Pay on the iPhone 6 and iPhone 6 Plus, brings back the camera roll to the iPhone and iPad and includes a large number of iOS 8 bug fixes that should help deliver a better overall experience.
A common question from readers is, "How long will the iOS 8.1 update take to complete?"
How long it takes to install iOS 8.1 depends on a variety of factors like your Internet connection, if this is your first update to iOS 8 and what device you own.
iOS 8.1 is available on the iPhone 4s, iPhone 5, iPhone 5c, iPhone 5s, iPhone 6, iPhone 6 Plus, iPad 2, iPad 3, iPad 4, iPad Air, iPad mini, iPad mini 2, iPad mini 3 and iPod touch 5th generation. The iOS 8.1 update file size ranges from 60MB to 127MB if you are updating from iOS 8 or iOS 8.0.2 or closer to 1GB if you are updating from iOS 7.1.2 which will take significantly longer to download.
You should make sure you start the iOS 8.1 download on a good internet connection, when you have time to wait for the download to complete. You need WiFi to start this and you need at least 50% battery life.
If Apple's servers hold up to the demand you can count on a pretty smooth and quick iOS 8.1 installation, but we are already running into iOS 8.1 install problems causing downloads to fail and verification issues.
You should plan on at least 20 minutes for the iOS 8 update, with 30 minutes as a more likely baseline. If you follow all the right steps and backup before installing iOS 8.1 it may take longer.
Sync and Backup 5 to 45 Minutes
You should sync your iPhone and back it up before you upgrade to iOS 8.1. The chance of something breaking is small, but it is still a real possibility. If you use iCloud your iPhone likely backed up when you charged last night and you are good to go. If not, you should plug in to your computer and sync and back up the iPhone or iPad before you update.
iOS 8.1 Download Time 10 to 60 Minutes
Plan on 11 to 20 minutes for the iOS 8.1 download if you are updating from iOS 8. If you are updating from iOS 7 you can count on an iOS 8.1 download time of 30 to 60 minutes. This depends on your connection speed and the demand on Apple's servers.
iOS 8.1 Update Time: 12 t0 30 Minutes
After the download completes the iPhone or iPad needs to prepare the iOS 8.1 update. This unpacks the update so you can start installing. After several minutes of preparing the iOS 8.1 update it will verify the update with Apple. This may take seconds or if there is a problem it may take a several minutes.
Once this is done plan on about 10 minutes of time where you can not use the iPhone or iPad. This is during the iOS 8.1 installation. You can't use any part of the iPhone until it completes. It will take at least 10 minutes and could take longer.
| Task | Time |
| --- | --- |
| Sync (Optional) | 5-45 minutes |
| iOS 8.1 Download | 15 Minutes to 60 Minutes |
| iOS 8.1 Update | 12-30 Minutes |
| Total iOS 8.1 Update Time | 32 minutes to Hours |
In a best case scenario the iOS 8.1 update will take less than a half hour, especially if you already backed up and are on iOS 8. It could take much longer. For this reason it is a good idea to wait until you are home before installing the iOS 8.1 update on your iPhone or iPad.
You can check out the new iOS 8 features in the slides below, showing what's new from iOS 7 and what you can do once you upgrade your Mac to OS X Yosemite.
What's New in iOS 8
iOS 8 vs iOS 7 Walkthrough - Home Screen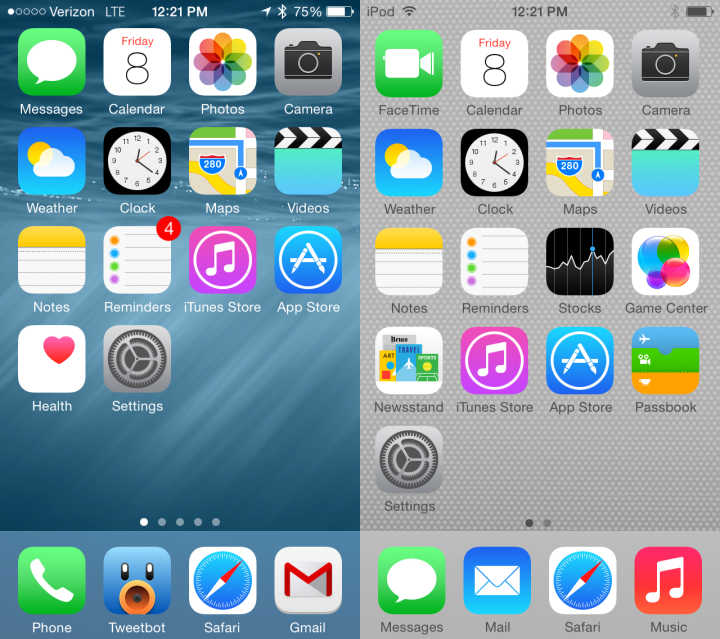 We start our iOS 8 vs iOS 7 walkthrough with the iPhone home screen, which is where you'll start your iOS 8 experience after an update this fall.
These screens are incredibly important as you see them anytime you turn on the iPhone or need to choose an app to launch. There is no way around using them, so Apple needs to make sure they work just right.
As you can see in the iOS 8 vs iOS 7 comparison above, there is no change between the home screen in the new iPhone software. Apple changed the status bar and some other small visual changes in iOS 7, but there are no updates for iOS 8.
We could see Apple change the home screen slightly for iOS 8 for the iPhone 6. The new iPhone will feature a larger 4.7-inch display with a higher resolution. This is something Apple may use to add more icons to the screen. Or they could stick with the current layout, it's tough to tell.