How to Add a "Call If Found" Number to Lost Android Phones
There's nothing worse these days than having a lost smartphone. They are an essential part of most owners lives and often contain tons of sensitive data, or precious photos of friends and family. If this unfortunate event arrives, or it gets stolen, there are a few things that may happen.
Hopefully if this event occurs your device is only lost, not stolen, because there are good people in the world and they may try to return it. Otherwise a thief may just try to sell it. Shame on you! Google's Android Device Manager makes it easy to track, lock, or erase a lost or stolen smartphone, but a new update today will make it easier for a good samaritan to return it too.
Read: How to Find a Lost Smartphone or Tablet
Similar to Apple's Find My iPhone, Google has its own system to find a lost Android phone called the Android Device Manager users should know about. It has been available for quite a while, and last year it was finally updated to offer enough features worth talking about. While the ADM has tons of features we'll talk about below, a brand new option arrived in an update today that you'll want to use.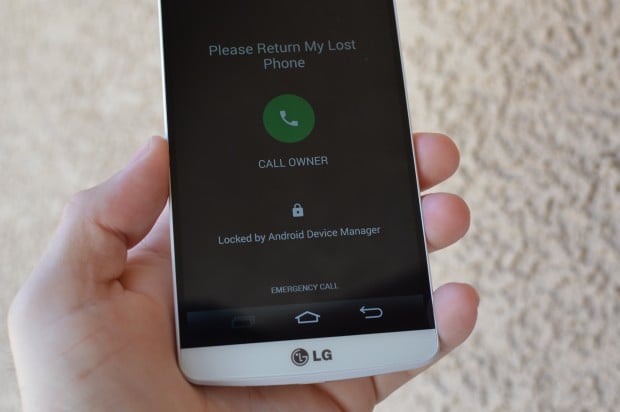 Using the Android Device Manager from a smartphone, tablet, or the web is extremely easy, and it has tons of options to help you secure a lost or stolen smartphone or tablet. Owners can find a lost device inside their own home, or on the other side of the city. There are options to make it ring at full volume to help you find it, or lock it down completely so your information doesn't get in the wrong hands.
The link above is a detailed how to for using the Android Device Manager, but this week a brand new feature arrived that's worth talking about all by itself, and needed its own how to. Users can now lock their lost or stolen Android device and add a "call me back" button so whoever finds it can call your wife, friend, brother, or anyone else you trust to recover a lost device.
Instructions
If your new smartphone or tablet is ever lost or stolen, hopefully you've already set up the Android Device Manager tool. This lets you name the device, add a password and lock your phone, or even wipe out all the information like we mentioned above. However, if it gets lost now, you can quickly sign-in to the Android Device Manager and add a call me back or call if found button.
To start you'll need to head to the Android Device Manager app on another Android smartphone or tablet, or just use the browser version. Here you'll see three options. Those being Ring, Lock, or Erase. You'll want to select the "Lock" option, and then you'll see the popup shown below.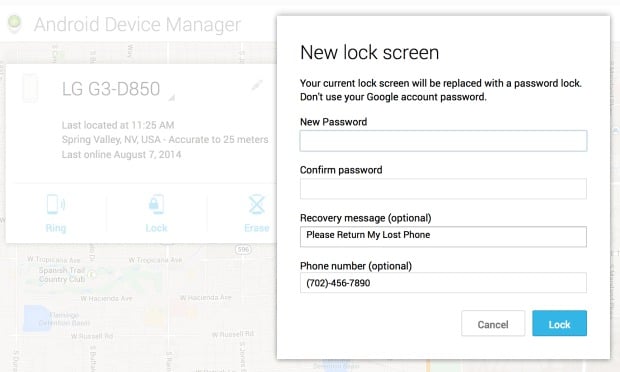 From here you'll be able to set a brand new password in order to access the device, as well as both a recovery message, and a call if found phone number. Something along the lines of, "Return My Phone or I'll Call the Police" if it was stolen, or simply a nice "Please Return My Lost Phone" if you happen to leave it in a bar like the iPhone 4.
The Android Device Manager update this week added both those last two options. You can now put a secondary phone number, home phone, or a significant others number down. This way, if someone finds your lost phone and is nice enough to do a good deed and return it, it's just one tap and phone call away.
Fill in all the information as shown above, and tap lock. Within seconds your smartphone or tablet is now completely locked, and the lockscreen now displays a big and bold green call back number with your personalized message. Offer a $50 reward if you'd like, that could be the difference between getting a lost phone back, or having to buy a new one for $500 from your carrier.
Read: How to Find a Lost Galaxy S5
Over the past year Google has continued to update the Android Device Manager with more and more features, but this is the best one yet. Giving users the option to share a return if found number, and hoping there's still a few good people left in this world that will actually return it.
Give it a try, and good luck on finding your precious Android device.