How to Add a Password to the Google Play Store
One question I get all the time is regarding how to password protect Google Play from unwanted purchases. While you're spending time with the family this holiday season you'll want to add a password and save yourself some potential trouble.
During the holidays and Christmas season many of you will be getting new smartphones and tablets, playing with new gadgets, or even sharing your Nexus 7 with the kid brother, or other extended family members. The last thing anyone wants is a surprise that their little nephew spent $15 by downloading a few games or apps from Google Play. So protect it with a password. Here we'll show you how ridiculously simple it is to add a password to the Google Play Store.
There's a lot of reasons you'll want a password on the Play Store. For one, you don't want the kids or a family member spending money on that app or game you'll never use or play. Handing a Nexus 7 to family members you never know what will happen, especially if it goes through 4 different cousins hands like mine will this Christmas. Secondly, if your device is lost or stolen, you don't want someone racking up charges on your Google account buying music, apps, or movies.
Add a Password to Google Play
It's actually extremely easy to add a password to the Google Play Store. Obviously having lockscreen security on a device is the first step, in case it's stolen, but for other cases like the holidays you'll also want a password on the Google Play Store. There's one simple setting you'll want to check, and that's it, then your Google account associated with that device will be the password in use. Which will be required before any apps are downloaded or purchased.
Instructions
Users can add a password to Google Play in a matter of seconds, or remove it if you'd like. It's extremely simple,  just follow the two quick taps from the screens below. To start you'll need to find the icon shown below, which is the Google Play Store. It's in your app tray, or often right on the first screen of any Android device sold.

Once in Google Play you'll start by hitting menu (the three dots on the top right) or the dedicated menu button on your device. For most Galaxy devices this is to the left of your home button. Once you hit menu you'll tap "Settings" in the Play Store app. Then, it's just one check box away. It's that simple guys. You'll have to confirm the password to enable or disable this feature, which is your regular password for the Gmail account associated with the device. The password you made when you first setup the device.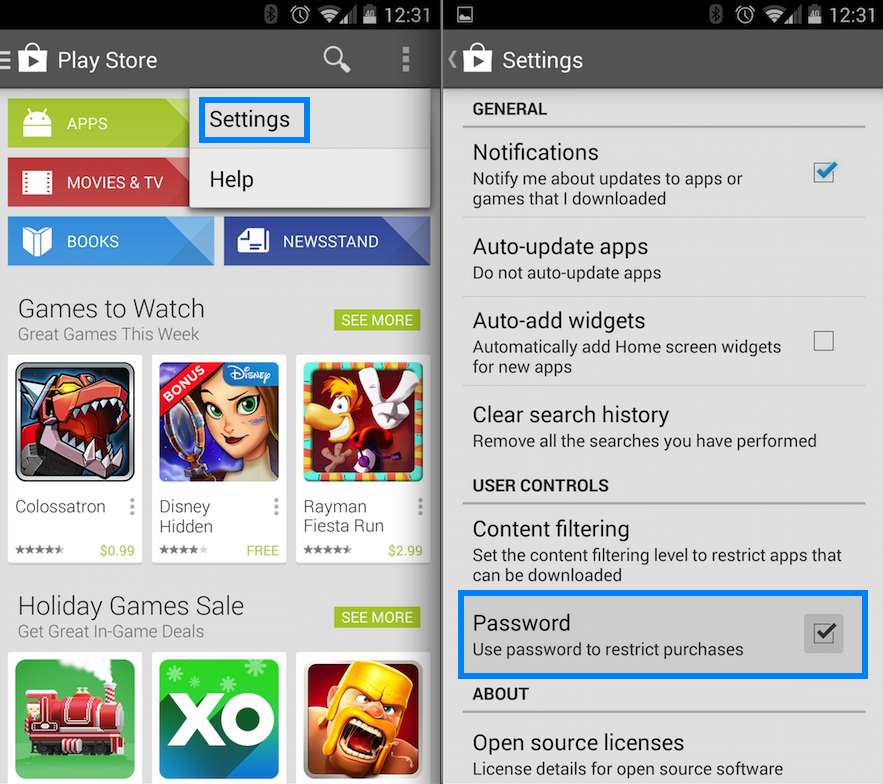 As shown above head to the Play Store and tap Settings and look down to user controls, and check the password option. From here you'll enter the password and you're done. Next time you, or anyone, tries to download a game or purchase a song you'll be required to enter a password. Just make sure you don't check the "never ask me again" box when the password pop-up appears, which oddly defeats the purpose of this option in settings.
There's plenty of great content and games from the Play Store, not to mention tons of music and movies with spending a few dollars on. Just make sure you're safe and protected from unwanted purchases.

As an Amazon Associate I earn from qualifying purchases.