How to Add Always On Display to Any Android
This guide will explain how Android smartphone owners can get the same "Always-On Display" feature found on the popular Galaxy S7 or LG G5 for almost any new device. It originally debuted back on the Moto X, and is now a key feature on many flagship smartphones released in 2016.
Motorola and Google both offer always-on display for their phones, like Ambient Display, but they aren't on 24/7 displaying information for readers. That is something that until now, was only available for Galaxy S7, S7 Edge or LG G5 owners. However, a simple app on the Google Play Store delivers this for anyone and everyone.
Read: How to Enable LG G5 Always On Display
Those with an old LG G4, Galaxy S6, Galaxy Note 5, or any newer Android phone for that matter are probably wondering if their phones will get this. Samsung could add it to the Galaxy S6 or Note 5, but it didn't come with the Android 6.0 Marshmallow update release. As a result, we've found a quick way for most new phones to have it as well. Read on for more details.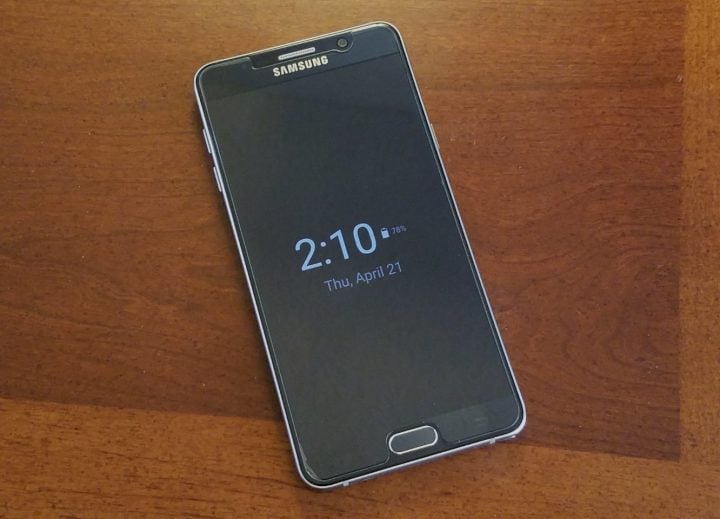 Typically most smartphone users turn on their screen over 140 times a day, according to research. That's a lot, which can often drain battery life very quick. As a result Samsung, LG and Motorola have added a new feature to their devices. If you want it on your device, we'll show owners how.
Unlike Motorola or Google, Samsung and LG have a small area of the screen turned on 24/7 with helpful information. Like the time, date, battery levels and incoming notifications. It's called an Always-On Display, and Samsung even allows a small level of customization. This makes it so owners can glance at the screen and get helpful information without turning it on, saving battery life. Being able to quickly check the time, see that there is an unread message, or easily check the date on the fly.
Always-On Display is a great feature that many love. At first I disabled it on the Galaxy S7 Edge, but have come to love it.
Get Always-On Display for Any Android
So how can you add the neat Always On Display features from the Galaxy S7 or LG G5 to your older Galaxy S6, Note 5, LG G4 and more? Easy. With a well-designed and highly customizable app on the Google Play Store called Glance Plus.
Originally this app was designed to bring a Windows Phone feature to Android, but has since been updated with more options, more features, and different looks that simulate the popular new LG G5 and Galaxy S7. It works the same way, by turning a small area of the screen on. Either for a short period, or 24/7. What's even better, is the developer promises the app only drains roughly 1% of battery life an hour, or 8% during an entire work day. The same claim as LG for its new G5 smartphone.
As long as you have an Android smartphone (or tablet) with Android 4.3 Jelly Bean or newer, as well as a proximity sensor which almost every Android phone has, this app will work for you. Here are the instructions.
Download Glance Plus from the Google Play Store
Open the App and Turn the feature on
Customize all the options, controls, brightness and more
Turn off screen and wait for the Always-On Display
The proximity sensor on users phones notices when it is removed from a pocket, and the always-on display turns on. Owners can also wave their hand over the device while it's sitting on a table, for the same effect using the sensor.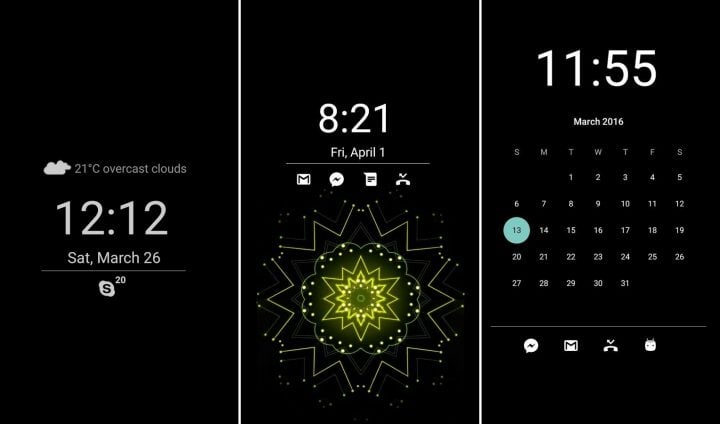 Shown above are three of the many different options available. Glance Plus has background images and clock styles to match the LG G5, always-on display calendars that are similar to the Galaxy S7, and tons of customization. From clock styles, font color, brightness, notifications which can be shown on the screen while it's turned off, weather information and more. It's like the Galaxy S7 or LG G5 on steroids, with a lot more options and customization.
It's also worth noting that owners may want to go in and adjust a lot of settings. Enable notifications, set a night mode where the screen won't turn on at night, turn up (or down) the always-on display brightness levels, and other things.
Overall Glance Plus seems like a great alternative to the Always-On Display feature found on other devices. It's more customizable and capable than the Galaxy S7, matches battery drain of the LG G5, and has tons to offer potential users. Try it today for free, or get an even better paid version for $5 with in-app purchases. Enjoy.

As an Amazon Associate I earn from qualifying purchases.