How to Add An App Drawer to the LG G5
This guide will explain how to quickly and easily add an application tray or app drawer to the LG G5. Now that LG's new phone is available around the globe and from all US carriers, millions of buyers are getting their new phone and realizing something is missing. It doesn't have an app drawer like nearly every Android device ever released.
Similar to an iPhone, the new LG G5 doesn't have an app drawer with all your downloaded and installed apps or games. Instead, every single app is an icon plastered on the home-screens, or in folders to try and keep it clean or organized. However, since day one Android has used an app drawer, which is making many new LG G5 owners confused.
Read: How to Enable the LG G5 Always On Display
Essentially Android users tap a little round button that opens an app tray with all of their apps or games neatly organized and in alphabetical order. And swipe through the collection of apps. The LG G5 doesn't have one. It's causing a lot of frustrating for some, and below are some quick and easy instructions to put it back on the LG G5.
Update: Starting April 27th LG is pushing out an update to the LG G5 that introduces a new LG UX 5.0 (User Experience Software) that adds an application tray to the phone. There are other small changes, but this is geared towards the app tray being returned. Head into settings > about phone > software and check for updates. It has arrived for international models, T-Mobile variants and possibly others. That, or follow our steps below for a 3rd party home app that offers an app tray plus tons of customization. We'd still recommend NOVA or something from our list below.
As you can see above there is no app drawer on the LG G5 in the United States. Instead there are folders full of apps, which can be irritating to some. Especially given the fact that nearly all Android devices have always had one. Changing the entire experience for new buyers.
LG received a lot of complaints and criticism over this move, which lead them to release a video highlighting the upcoming LG G5 user interface 5.0 update, which of course, returns the application tray and drawer. This will make the LG G5 feel and work like every other LG smartphone the company has ever released, whenever the update arrives.
For those new to Android, or customization, the app drawer can be changed out with something called a "Home Launcher" or a replacement launcher. This is how many Samsung owners make their device look like stock Android, by using Google's own Google Now Launcher, or NOVA Launcher. It changes the entire look and feel of the phone, and that includes the application drawer.
Instructions
The easiest way to make the LG G5 have an application tray and work like an LG G4, or the owners previous smartphone, is to replace the launcher. Almost all launchers have an application tray. After all the complaints LG released the original LG Home 4.0 launcher from the LG G4, giving owners the option to go back to the old look and return the app tray. So that's what we'll suggest.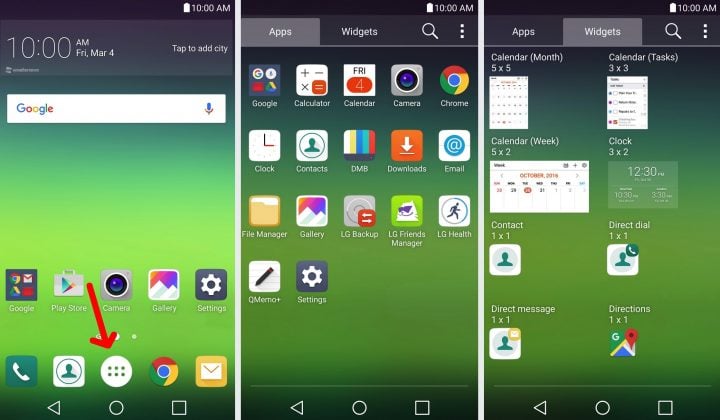 Shown above is an image of the LG Home 4.0 application recently released. Here we're pointing out the application tray icon, which is missing from the LG G5. This is what all users tap to open the app tray full of every single thing installed on their phone.
Those who recently bought the LG G5 and want an application drawer will want to follow the steps below to get it back.
Download LG SmartWorld (An App Store Similar to Google Play, for LG devices)
Download and Install "LG Home 4.0" Click Here
Tap Home and Set it as Default
Now Re-Arrange Icons
Done
It's that easy. Users simply need to download the original LG Home 4.0 application, which will slightly change the look and feel of the LG G5, and return the application drawer. Alternatively, wait for the LG UX 5.0 update, which will have an option in settings to have an app drawer.
Alternatively, those with an LG G5 can simply download it instantly without using LG SmartWorld (courtesy of AndroidPolice) and install it even easier. Simply click here with your LG G5, download LG Home 4.0, Click Install, and you're all set.
Download a 3rd Party Launcher
That all said, we'd recommend users actually download a 3rd party home launcher from the Google Play Store. Options like the Google Now Launcher will make the LG G5 look more like a stock Android device the way Google designed it, or NOVA Launcher is one of the most popular options available today.
NOVA is extremely customizable, very user friendly, and will make the LG G5 faster and smoother than ever, return the application tray, and offer more options than how the phone comes out of the box.
For those who are new to Android and find this all confusing, just know that an update is coming in the near future that will return the application drawer, for those who want it. In the meantime, try out steps above and enjoy a more traditional LG G5.