How to Add an Audio Jack to Your Car Stereo
Many newer car stereos, as well as aftermarket head units, come with an audio jack that allow you to plug an MP3 player or smartphone into, but if you have an older stereo, there likely isn't an audio jack. Here's how to add an audio jack to your car stereo so that you can easily play your music from your phone.
If you've been in any newer car or have seen any kind of aftermarket stereo, you've probably noticed that it comes with an audio jack that looks like a headphone jack. This is called an auxiliary port, and it allows users to plug in their smartphones or MP3 players using an audio cable, that way can play their music through their car stereo without the need for CDs.
However, most older cars with an older stereo system don't have these auxiliary ports, so you aren't able to plug in your smartphone without some help from accessories. You could add Bluetooth capabilities to your stereo, that way you could go completely wireless, but if you're looking for an even cheaper way to use your smartphone with your stereo, here's how you can add an audio jack to your car's stereo system.
Using a Cassette Adapter
If you're stereo is old enough that it has a cassette player, a very cheap way to give your stereo an audio jack is to get a cassette adapter.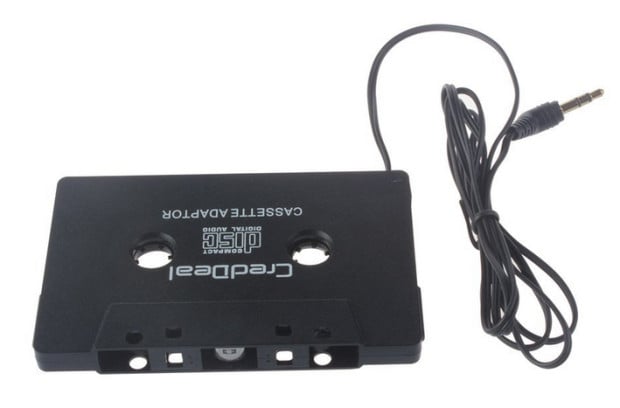 You might think this is an accessory that's way obsolete, but companies still make them because there's still a need for them. You can get them for under $10 too, making it the cheapest way to add an audio jack to your car stereo.
Of course, the audio quality won't be as good with a cassette adapter, but it's one of the quickest and cheapest methods. Just pop in the cassette and then plug the audio connector into your smartphone and start playing your music. I used to use this kind of adapter for quite a while when I had my 1989 Chevy Silverado beater, and it served me well.
Using an RCA Cable
This trick will take a bit more elbow grease, but it'll allow you to accomplish nearly the same thing as the cassette adapter, which will give you the ability to plug in your stereo directly into your smartphone, but with way better audio quality.
If your car stereo doesn't have a cassette player or an audio jack, it might come with red and white RCA connections on the back. You can attempt to look in your owner's manual to see, or do some Googling around to find out if your factory stereo has these connections. You can also just pull out the stereo and look for yourself.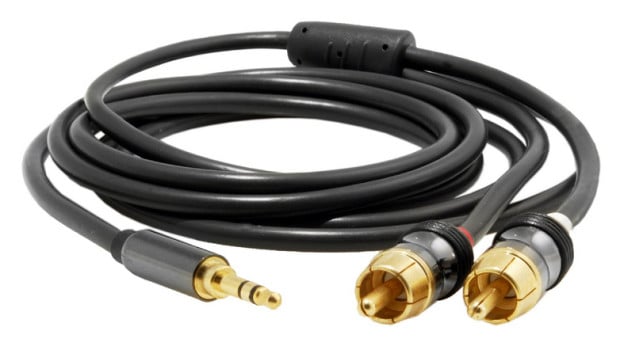 If you car stereo does indeed have these connections, you're good to go. You'll need to get your hands on a 3.5mm male to 2-male RCA Adapter cable (something like this), and the hard work begins. You'll need to remove your car's stereo from the dashboard, which usually consists of taking off the plastic cover and then unscrewing a few screws to dismount the stereo. From there, you can pull it out and then plug in the two male ends on one end of the cable into the RCA connections on the back of the stereo.
From there, when you go to mount the stereo back into the dashboard, you'll need the 3.5mm male connector to remain outside of the dashboard so that you can plug in your smartphone. Usually this is done by creating a small groove in the plastic paneling that covers the edges of the stereo, that way you're not pinching the cable when you go to put everything back.
It's definitely a weird hack to do, but it's a very cheap way to add an audio jack to your stereo.
Buy an Aftermarket Stereo
If the above options won't work for you, another option is to buy an aftermarket stereo that comes with an auxiliary port.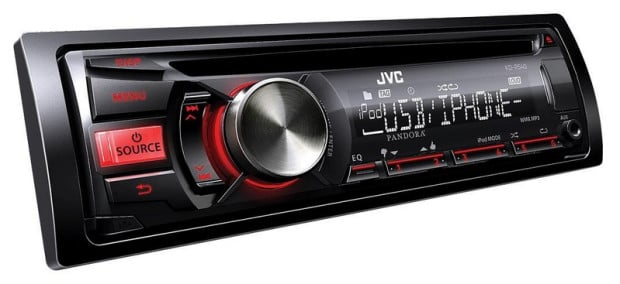 This might seem like an expensive purchase, but you can actually get aftermarket stereos for under $50. Of course, the more you pay, the more features the stereo will come with and the better audio quality you'll get, but if you just need something to get by, don't worry about spending a lot of money, especially if you really just want the auxiliary port.
Plus, a lot of these aftermarket stereos will come with Bluetooth capabilities, which is a nice added bonus, but don't expect a wealth of features for cheaper stereos, especially if you're paying less than $50.
Go Bluetooth
While plugging in your smartphone directly into your car's stereo is a way to go, why not add Bluetooth to this setup and get rid of the audio cable entirely?
You can get universal Bluetooth kits that give your car's stereo the necessary Bluetooth capability to wireless play your music from your smartphone to your car's speakers.
I'm a fan of Kinivo's Bluetooth car kit, which is just $35 and even comes with a built-in microphone and buttons for playing/pausing music without doing it on your phone. You just plug the power adapter into the cigarette lighter and the audio cable into the auxiliary port of your car's stereo. From there, pair your phone with the Bluetooth kit and you'll be off to the races.