How to Add Bluetooth to Your Factory Car Stereo
You can usually plug your phone into your car's stereo with an audio cable, but why do that when you can go wireless? Here's how you can add Bluetooth capabilities to your factory car stereo.
Most newer cars come equipped with Bluetooth already, but if you have an older vehicle that doesn't have such a feature, there are a few options that you can take advantage of, most of which are fairly inexpensive and easy to set up.
Not only is equipping your car with Bluetooth a really nice convenience to have, but it can also be a life-saver when you're out on the go. Having your hands free while chatting with someone on the phone is both a convenience and a safety precaution while you're driving.
With Bluetooth, you can talk to others on the phone while still having both hands on the wheel, and you can listen to music or podcasts without having to mess around with an audio cable to plug in every time.
No matter what your budget is, there's an option for you when it comes to adding Bluetooth to your car. It's no longer a luxury feature for those who can afford brand-new vehicles. Even if you have a regular 'ole 2002 Honda Accord, you can add Bluetooth to severely increase the coolness factor.
Without further ado, here are a few options that you should consider if you're wanting to add Bluetooth to your factory car stereo.
Universal Bluetooth Kits
If your stereo has an auxiliary port on it (essentially a headphone jack-type port), then you can get a universal Bluetooth kit that adds Bluetooth functionality to your car's stereo, that way you can play music from your smartphone wirelessly to your stereo.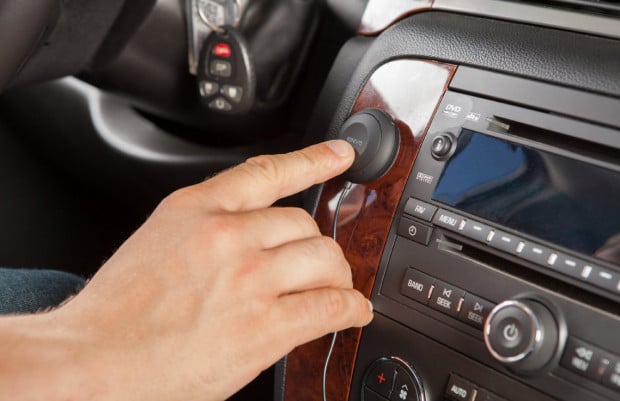 I recently bought this kit from Kinivo and it works perfectly. Just plug the power adapter into the cigarette lighter and the audio cable into the auxiliary port of your car's stereo, and you'll be up and running in no time.
The control module has buttons for skipping tracks and a big round button that can play/pause music, as well as answer and hang up phone calls (with a built-in microphone for talking to callers).
The kit is only $40, which is a great deal for something that you can get a lot of use out of.
Stereo-Specific Bluetooth Kits
If you want something that a bit more seamless that gets built right into your factory car stereo without all of the wires dangling down, you can get stereo-specific Bluetooth kits for certain car models.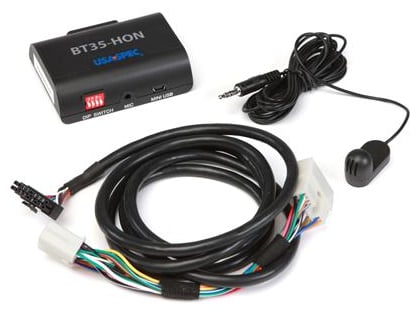 They're a bit more expensive and you'll likely need to go to a car audio specialists to get them installed, but they offer a cleaner look in your interior without wires being strung all over the place, and they don't take up your cigarette lighter port, freeing it up for other accessories.
Bluetooth In-Car Speakerphone
If you don't have an auxiliary port on your stereo and don't want to shell out a lot of money for a car-specific Bluetooth kit, you can get a simple in-car speakerphone that hooks to your visor or attaches to your dashboard.
This one from Jabra is decently priced and has a 4/5 star rating, but as with any speakerphone you buy, the more money you spend on one, the better quality you'll get with the audio.
These are essentially standalone devices that operate on battery and connect directly to your mobile device via Bluetooth. All of them come with a built-in microphone for talking to callers, and some models even come with the ability to stream music from your phone, although you'll probably want to pony up for a nicer kit if you plan on using it for music listening, as the speaker quality on low cost kits probably won't deliver the best sound.
With that said, you could easily pay over $100 for one of these kits, but if speaker quality isn't the utmost important factor for you, you'll likely be just fine with a cheaper model under $50.