How to Add Music to Xbox Music on Your Windows 8.1 Device
Microsoft went to great lengths to enhance the user experience when firing up a device loaded with Windows 8, its latest operating system. It created the new Start Screen so that users with a desktop, notebook or tablet could quickly create documents, check their email and open up a large assortment of apps for other activities. One of those key activities includes the ability to listen to music, that's why Windows 8.1 includes a revamped and refreshed Xbox Music app to replace Windows Media Player.
Windows Media Player is still there and users can access it by selecting it from the list of installed apps on their devices Start Screen. At least, it is for everyone who isn't running Windows 8.1 RT like Microsoft's own Surface  and Surface 2 devices. However, Xbox Music is how Microsoft hopes Windows tablet, notebook and desktop buyers will procure and listen to music going forward.

Xbox Music replaces the free Zune Software experience that Microsoft made available to users during its battle with the iPod and iTunes. Like Windows Media Player, it allows users to play songs copied from a flash drive, downloaded from the internet or stored on their network. Xbox Music also features free music streaming for six months and the ability to create a local collection of music that's stored on your devices hard drive or on a microSD card.
There are some key differences between the old ways of playing music and this new app. Whereas Windows Media Player and Zune focused their efforts on letting users plug in a device and load up all their media, Xbox Music takes a more online-centric syncing approach. Users can't sync music to their devices directly from the Xbox Music app. Instead, the app scans their collection for songs and playlists and makes that content available for them to stream on their Xbox, Windows Phone, iPhone or Android device and online. The idea is to make the whole system effortless and allow users to enjoy their music anywhere.
Here's how to add music to your Windows 8.1 Device's Xbox Music app on Window 8.1. Users should note that this tutorial requires the free Windows 8.1 update that Microsoft makes available through the Windows Store. Head to the Store app to see if you have it installed. If there's no "Install Windows 8.1" banner in the Windows Store than you're fine.
Adding Music from a CD
Because Xbox Music and Windows 8 in general are so focused on enabling digital content, there's no way to add music from a CD directly to your Xbox Music collection. That doesn't mean that it can't be done though, you'll just have to use Windows Media Player to get the files on your computer.
Go to the Start Screen by pressing the Windows key on your keyboard, the Windows button below your tablet or 2-in-1's touch screen or by placing your finger on the right edge of your tablet's display and swiping slightly to the left.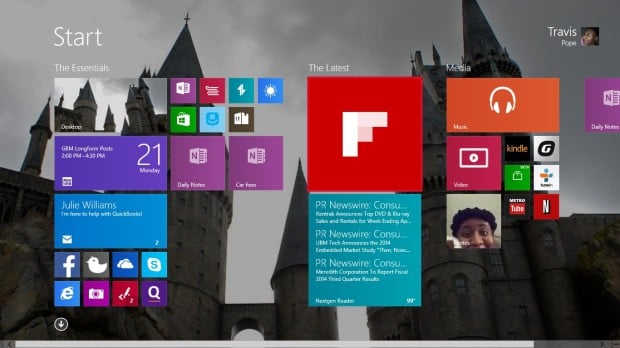 Click on the arrow at the bottom of your screen to access a list of all the apps you have installed if you have a notebook or desktop. Tablet users should place their finger anywhere on the Start Screen and swipe upward.
Tap or click on Windows Media Player in the list of installed apps
Tap or click on Recommend Settings and then tap or click on Finish.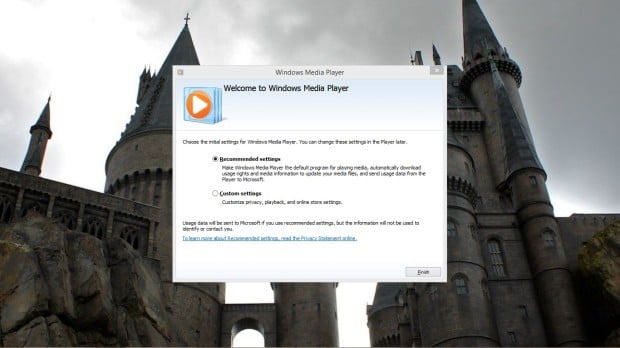 Place the CD you'd like to load on your device into your device's disc drive and tap or click on Rip CD in the top left corner of Windows Media Player. This will take sometime depending on how many songs are on the CD you're trying to copy. You should note that this option won't be included in Windows Media Player if you don't have a disc drive. To copy a CD, users without a disc drive will need to purchase a USB disc drive separately. We've copied The Marshall Mathers LP to our device.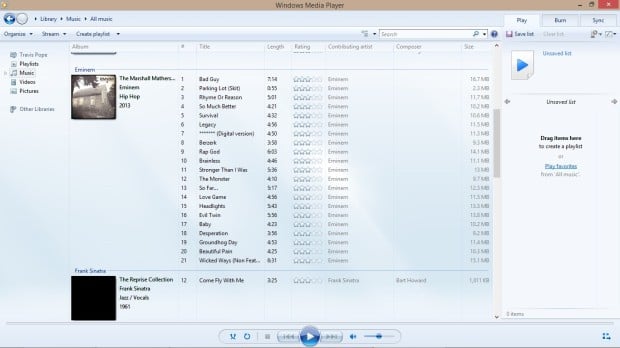 Now right-click on the album cover of the CD you just copied to your device. In our example, it's the picture of the house. Tablet users should place their finger on the cover and hold it there until a pop-up menu surfaces.
Tap or click on Open File Location to have a Windows take you to the actual files. By default Windows Media Player will add these files into your Music folder. If it hasn't done so, drag them there. This is the only place where Xbox Music will see music files by default. If it has add your files there then you're all set.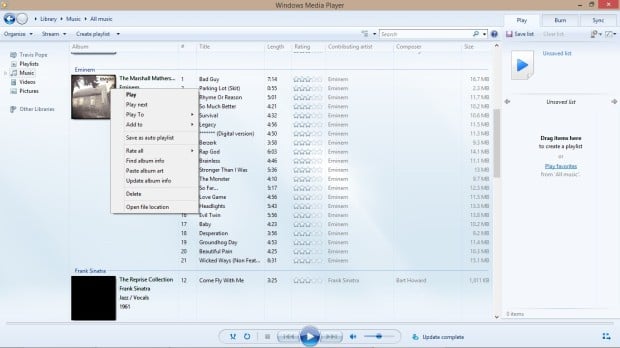 Go back to the Start Screen.
Open Xbox Music by finding it in the list of apps installed on your Windows 8 device. Its official name is just Music.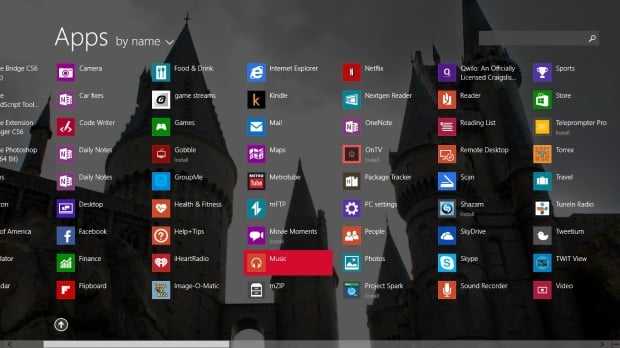 Now, you can find the CD you just added by searching Eminem or by looking for it under the Collection tab. By default, Xbox Music surfaces albums in the order they were added to your collection. Depending on if you've opened Xbox Music before you may be prompted with a first-run experience that lists all of the app's features.
Add Music From iTunes and Others
Any music purchased from the iTunes Store can also be added to Xbox Music and then scanned into your cloud collection for online playback on other devices. The trick is that Apple only removed locks on music content in 2007, so any music purchased before then won't playable. If you have Xbox Music content, here's how to get it into Xbox Music.
Go to the Start Screen by pressing the Windows key on your keyboard or the Windows button below your tablet or 2-in-1's display. Small tablet users should place their finger on the right edge of their device's screen and swipe slightly to the left then tap Start. Now tap or click on the Desktop Live Tile on your Screen In our example, it's the tile with a picture of a castle on it.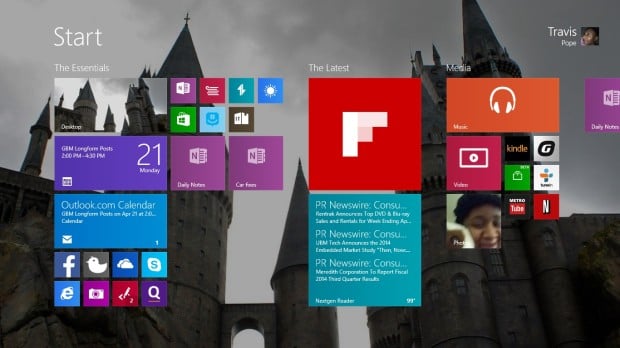 Tap or click on the folder icon in the left side of the taskbar.
Tap or click on the Music folder.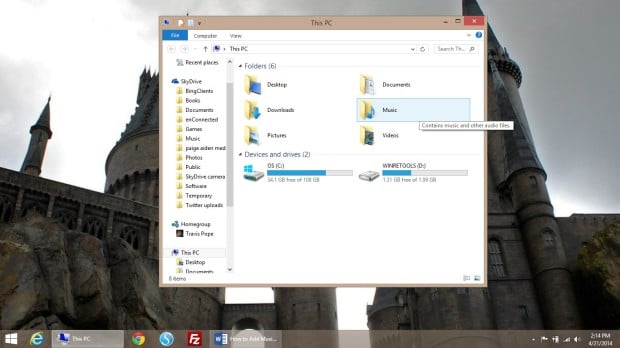 Xbox Music will find and play any music file stored in this folder. That means that it should find compatible iTunes content automatically. To add music from other places to Xbox Music, just drag those files into the Xbox Music folder.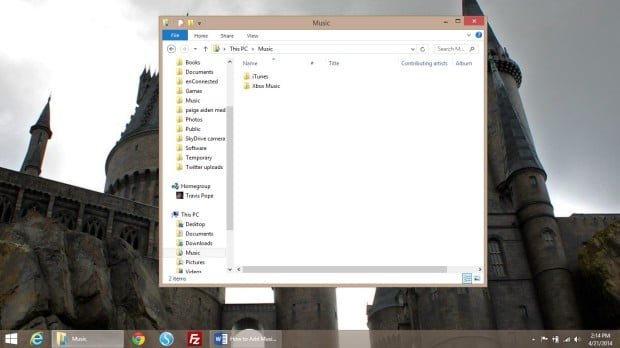 Streaming Music from Xbox Music
Every Windows 8.1 user who signs into their device with a Microsoft Account is allowed to stream music for free directly to their Windows 8.1 device. Users can also purchase content directly from the Xbox Music Store as well. The catch with streaming is that users are limited to 10 hours of music streaming a month for six months. After that you'll need to pay Microsoft $9.99 a month for access to its music catalog. During that six months Xbox Music will mix in advertisements with your playlists.
To stream content from the Xbox Music Store to or click on the Explore tab.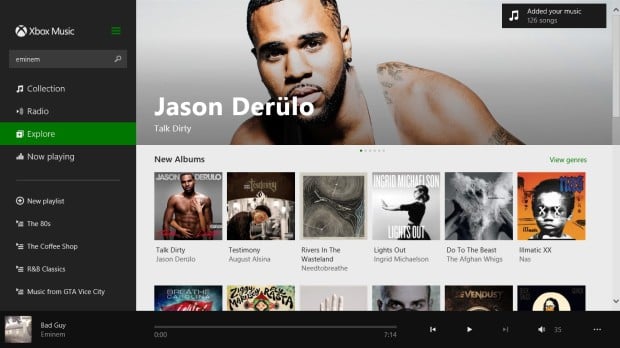 Now find the album you'd like to play and tap or click on it. Then tap or click on the play button. Tap or click on the plus sign to add a song to your cloud collection if you've signed up for Xbox Music or to add it to your playlist.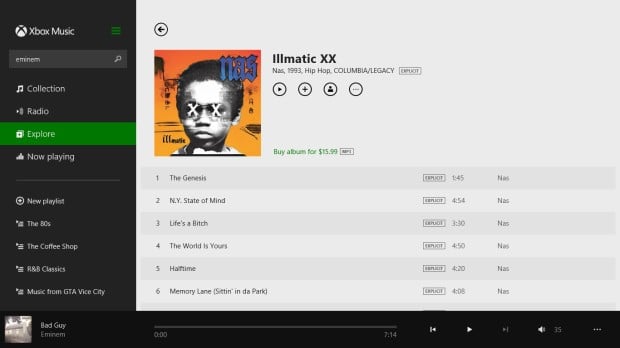 It's important to remember the Xbox Music will only see music stored in your Music folder or on your microSD card be default. Music in any other folder will need to be moved to the Music folder for Xbox Music to see it without you have to make big changes to your device's settings. Users should also note that regardless of whether you pay Microsoft or not, Xbox Music can still play songs you already own. An Xbox Music Pass unlocks Xbox Music Store streaming, but playlist creation, playlist syncing and standard music playback work just fine without it.