How to Add Wireless Charging to the iPhone 6s
In the future almost all of our devices will use wireless charging. All four of Samsung's flagship smartphones in 2015 feature wireless charging, and the Galaxy Note 5 even features fast wireless charging. Apple continues to leave this feature out of its smartphones, and as a result, the guide below will explain how to easily add wireless charging to your iPhone 6s and iPhone 6s Plus.
While the iPhone 7 may finally get wireless charging next year, after the feature has been rumored for years, Apple still left it out of the iPhone 6s. As a result we've continued to see third party accessories fill the gap, and the iPhone 6s is no different. Since it looks identical to the iPhone 6 from last year, there is already a big selection of options for users.
Read: 5 Great Galaxy Note 5 Wireless Chargers
Adding wireless charging to the iPhone is nothing new, and we've been doing it since as far back as the iPhone 5. All owners need are a wireless charging mat, a case with wireless charging built-in, or one of many third party wireless charging cards (receiver) that can easily be hidden under a case. Read on for more details.
Wireless charging works exactly as you'd expect. Simply drop the iPhone 6s on a wireless charger mat, usually a Qi-compatible charging pad, and it starts charging without plugging it in, or messing with any wires.
Samsung's latest smartphones feature both major wireless charging technologies. Those being Qi (including Qi fast charging) and the PMA wireless charging standard. As a result, those phones work with both major options available at select coffee shops, built into many vehicles, or some computer desks with built-in wireless charging. It's a convenient feature, but does charge at a slightly slower rate than if a user plugs their device right into the wall with the charger included in the box.
Those with the new iPhone 6s or iPhone 6s Plus that would like to add wireless charging to their device can do it in about two minutes, and in some cases for under $20. While one day we'll be able to charge our devices without any wires at all, throughout our house, the future isn't here quite yet, and for now you'll need some of the options outlined below.
Instructions
Adding wireless charging to the iPhone 6s is actually extremely easy. The best method would be to buy a wireless charging kit and case from many popular manufacturers, and one of the most popular is Air Charge.
Air Charge is a case that attaches to the iPhone 6s just like any case, but has wireless charging built-in just like most Samsung phones. Then, just buy one of their many wireless charging pads and drop your phone on it.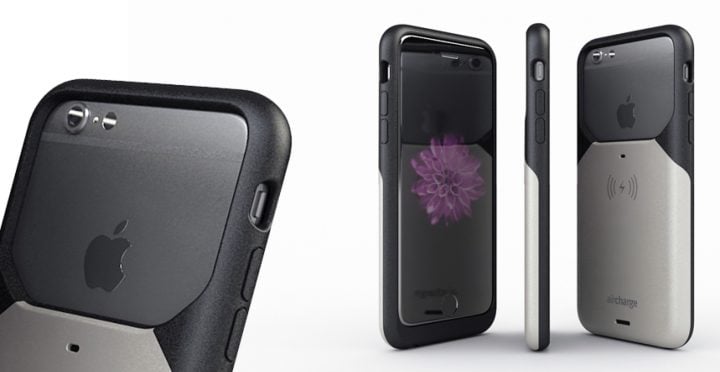 This is the easiest way to add wireless charging to your iPhone 6s, and wireless charger cases can be found throughout Amazon. One of our favorites is the Incipio Ghost Qi Charging Case. It features a built-in 2,100 mAh battery that will nearly double the battery life of the iPhone 6s, yet allows it to feature wireless charging at the same time. Giving owners more juice when they need it, and a second, easier way to recharge the iPhone 6s.
Once you have a wireless charging case, you'll need an actual wireless charger. These "pads" or surfaces can be bought from Amazon, eBay, Best Buy and multiple other outlets. We chose the Powerbot Wireless Charging (Qi) Pad. It retails for around $11 on Amazon. It's cheap, works great, and comes with Prime shipping.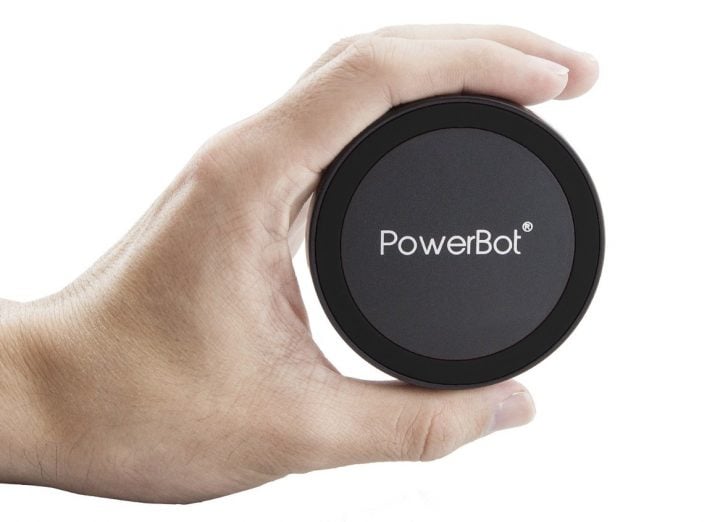 Once you have your charging case and the charging pad, you're all set. Now just plug in the wireless charging pad, set it by your computer in the office, a couch-side table, or your bedside, and drop the iPhone 6s on whenever you need to recharge.
Wireless charging isn't as fast as charging with a regular cable and the wall outlets, and usually takes around two hours to recharge a smartphone. However, recent improvements to the Qi-standard with "fast wireless charging" has increased charging speeds by 1.4x, allowing devices with a huge battery like the Galaxy Note 5 to fully recharge in just 120 minutes.
And finally, we have another route for those who'd really like to add wireless charging to the iPhone 6s or iPhone 6s Plus without spending too much money. Instead of buying a big bulky case that costs upwards of $50, simply buy a wireless (Qi) charging card receiver, and slip it under the case you're already using with the iPhone 6.
You can buy a Qi Wireless charging receiver like the one pictured above for a little over $6 on eBay, add it to the iPhone 6 (it even has a sticky back so it won't move around) and plug in the included lightning cable. It plugs in, then folds over the back of the phone. This isn't ideal, and it isn't as attractive as cases with it built-in, but it adds minimal thickness to your device without breaking the bank.
Add the Qi Charging receiver to the iPhone 6s, plug in the lightning cable, then toss your thin genuine leather Apple iPhone 6 case, or any other case back on, and you're all set. It's so thin that most cases will fit just fine and without any issues. Be sure to center it in the middle for the best experience while charging. The receiver and pad will need to align, for wireless charging to work.
Using the combination of the wireless charging receiver above, and the $11 Powerbot Charging Pad linked to above, owners can add wireless charging to the iPhone 6s for under $20.
Read: 10 Best iPhone 6 Cases
And last but not least, users that want an all-in-one complete package can find wireless charging cases and the charging pad together, sold as a package, all around the web. Here's one for $44 from Brando, a popular online website, and others can be found on eBay, or even cheaper at Amazon, but may not yield the best results, or look as good.
We'd recommend owners get a quality wireless charging case like the Incipop Ghost Qi that adds wireless charging and extends battery life, then a quality charging pad, but with so many options choose what's best for you.

This article may contain affiliate links. Click here for more details.