How to Automatically Backup Photos on Android
These days one of the most used features on our smartphones is the camera, but most users tend to snap away yet don't know how to manage all those photos. Nothing is more convenient than taking a photo and have it automatically backed up to the cloud. So here's how to do exactly that.
There's plenty of options available for Android users, and we'll mention a few, but the biggest one is Google's own option. The Google+ mobile app automatically backs up your photos through a feature called Google+ Auto Backup, or Instant Upload, if enabled. This feature is available in Google+ Android and iOS mobile apps. It saves a copy of your photos privately on Google's cloud services, available only to you, whenever you want to access them.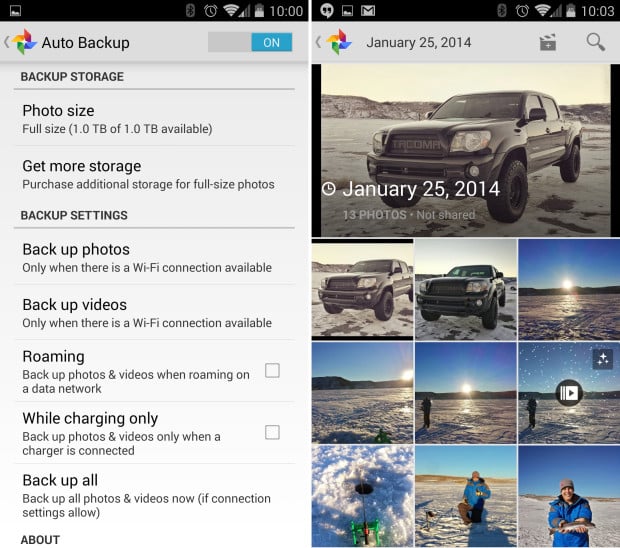 These photos are all saved privately, and no one but you has access. Secondly, most Android users have a Google+ account for using YouTube or leaving comments on the Play Store, so no setup or signup is required. Going through my Google+ Photos instant upload stream I found awesome photo I'd long since lost from 3-4 years ago, and it was awesome that Google saved full resolution copies, all for free.
Google+ Instant Upload doesn't cost a thing, allows for 1TB of photos (1,000 GB) so you'll probably never run out of space. For all those Galaxy S4 owners that have used up that 16GB of internal storage, this is a much better solution. Whenever you take a photo, Google+ will automatically back it up without any prompts from the user. Once you enable it you're set. Below is the simple steps for you to do the same thing.
Google+ Auto Backup for Photos & Video
Most phones already come with Google+ preinstalled (Google's social network) so all you need to do is sign in and head to settings. Start by finding the red G+ icon in your app tray, and opening Google+. From here you'll tap menu and settings, or the 3-dot settings button and right up top you'll see Auto Backup, select that.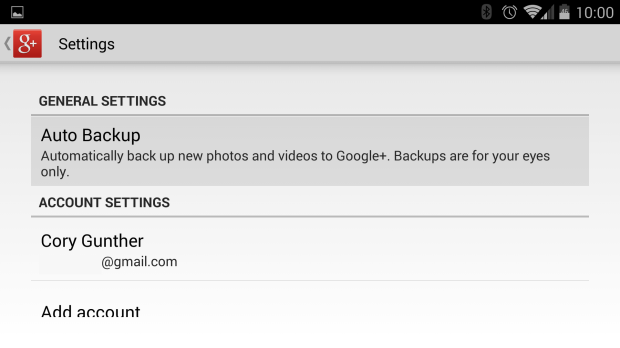 Enable Auto Backup for the Gmail account you'd like to use by simply switching the feature on with the blue on/off switch at the top, and then scroll down to "Backup settings" which is important for smartphone users. Here you can select whether it backs up all photos, as you take them, even while on mobile data. For those on a shared family plan or small data plans with a carrier, you'll only want to backup photos and video over WiFi.
Google+ defaults to only backup when a WiFi connection is available, as that's usually faster, and you won't incur data charges from your mobile carrier. It's also a good idea to leave the roaming option unchecked, and for those concerned about battery life you can opt to only backup while you're phone is charging to preserve battery life.
Read: How to Cut, Copy & Paste on Android
That's it, you're done! Now head back to the main Google+ launch page and swipe to the left screen and tap photos, which will take you to a gallery of your camera roll, as well as a highlight of all backed up photos. It may take a while, especially if you're like my mother with 8,000 photos, so give it some time.
You can access these from any smartphone or tablet with the Google+ app, as well as on the web with any browser by heading into Google+ from the menu bar at the top of any Google page inside Chrome, Firefox, and more.
Alternatively you can delete, share, or download these photos whenever you'd like, so it's quite nice. Then of course users can opt for a very similar service using Dropbox, but they only give users 5GB of free storage vs 1,000 from Google. Box.net offers photo backup, Amazon Cloud services, Microsoft Skydrive and even Flickr offer similar options. All which can be enabled with nearly the same steps in settings, and enable photo backup.
For those on Android, Google+ Auto Backup is the easiest, simplest, and fastest solution without lifting a finger. Not to mention it comes at no cost to you, the user.
Should You Use This Feature?
Of course many users may be concerned with the fact that Google is backing up each and every single photo you take, and saving it to a database, so naturally some will be hesitant. You can always disable the feature, or delete them from the Auto Backup gallery, but again this is completely optional.
You don't need to enable auto backup of photos, but if you do you'll never lose a photo again if you lose a phone, or a micro-SD card fails inside that Galaxy S4 or your smartphone of choice. It's safe, secure, and easy.