How to Avoid Paying Too Much for Gadgets on eBay
eBay is a great place to get a great deal on used electronics, but you have to be smart and keep an eye on what you're buying and how much you're paying for it. Since you can't actually see and feel the product you're buying, you have to rely on the third parties that are selling it.
A lot of the gear I buy is usually from eBay, except for a few things. I've bought smartphones on eBay and even my wife's laptop was bought on eBay. From my time spent getting great deals on used gadgets, I've learned a thing or two that a lot of eBay novices should know. Here are some tips to help you get the best deal possible the next time you go hunting on eBay for a great deal.
Look at Sold Listings for an Average Price
The first thing you want to do is find out how much the item you're looking at usually sells for on eBay. After you search for an item, there will be a Show only category in the left sidebar where you can checkmark Sold listings. This will create a filter and only show completed listings that have successfully sold. From this, you can get an idea what the average selling price is.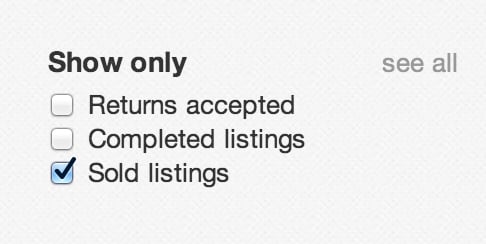 Using this information, you can tell yourself that you won't attempt to buy an item unless it's under a specific price. For example, if you've discovered that the average selling price for a used iPhone 5 was $250, but you saw a few that sold for $225 in good condition, there's no reason to pay more than $225 — if they've been selling for $225, then it's possible for you to get one for that much as well. You just have to be patient until the right listing comes along.
Check Refurbished Prices First
If companies sell their own refurbished products, check prices on those before you commit to buying the same product on eBay. Most of the time, refurbished products are in better condition than used items sold on eBay, so make sure that you can't save more money by going refurbished before you buy something on eBay.
Apple refurbished products, for instance, are some of the best around. They look and perform like a brand new device at roughly a 15% discount from the brand-new price tag. With that said, be sure to look at prices of refurbished Macs, iPads or iPods before you commit to buying one on eBay. It might end up that you find a better deal for a refurbished model.
Set a Spending Limit and Stick to It
This goes back to the first point, but once you find an average selling price for an item, don't veer off too far from that price. It's really tempting to keep placing bids if you've been outbid, so while placing another bid that's $5 more isn't too bad, keeping that up for several more bids will easily set you above your limit.
It really depends on the overall cost of item as far as how much wiggle room you're willing to make. If I'm buying a used smartphone that's $150, I don't mind going $5 more if I end up getting outbid, but that's usually where I would stop and move on if I got outbid again. Remember, if you see that a fair amount of items are selling for $125, there's no reason to pay more than that, since you know it's possible to get one for $125.
Read the Description Carefully
Remember that one guy that bought a photo of an Xbox One for $615? Well, he thought he was buying an actual Xbox One console, but he was tricked. Granted, he read the description, but simply just assumed that it was a real Xbox One console that he was bidding on. To avoid such conundrums like this, be sure to thoroughly read the description and make sure that it's the right item that you want to bid on.
eBay sellers like to trick buyers by putting fine print in the description or simply just saying "Xbox One box" in the hopes that naive bidders will miss the fact that it's just the box for sale. We've also seen sellers list dummy iPhones, and while they usually make it clear that it's not a real iPhone, it's important to read the description instead of just relying on photos. Not all eBay sellers are bad. In fact, you'll rarely come across a trickster, but they're out there, so be careful.
Don't Forget About Shipping Costs
When eBay shows you the price of something, it doesn't add in shipping costs. It does show the shipping cost separately, but you'll have to do the math yourself as far as how much it'll cost in total. If you don't factor in shipping costs, you could end up paying for the item than you expected. Many eBay sellers charge a ridiculous amount of money for shipping, depending on how heavy the item is and how far the seller has the ship the item.
Because of this, before you determine a bidding amount that you're willing to put down, subtract the shipping cost from the figure and then you'll have the max amount that you'll put in for a bid. If you win the item, then that's great! If not, be patient and you'll eventually find something at a great price.

This article may contain affiliate links. Click here for more details.