How to Back Up and Restore your Windows 8 Files to a hard drive
Though Windows 8 makes it easier to back up your settings using the SkyDrive cloud storage service, it actually doesn't automatically back up the files on your computer. Instead, you'll need to back up your files through other methods. Here's how to back up and restore your Windows 8 files to a hard drive.
Plug a USB hard drive into the USB port on the sides of your laptop or the rear of your desktop PC running Windows 8. This doesn't have to be a new USB hard drive, however it does need to have enough space to back up all the information that you're looking to automatically save in an emergency.
Once the computer has recognized that a hard drive has been plugged into the USB port, a small menu will pop up on the right hand side of your screen. Tap or Click the configure this drive for backup option from the menu. It's the second option in the list.
The PC will take you to the File History portion of the Windows 8 control panel. The hard drive you would like to back up will automatically show up in the menu labeled as 'New volume.' Click the turn on button on the right side of the menu.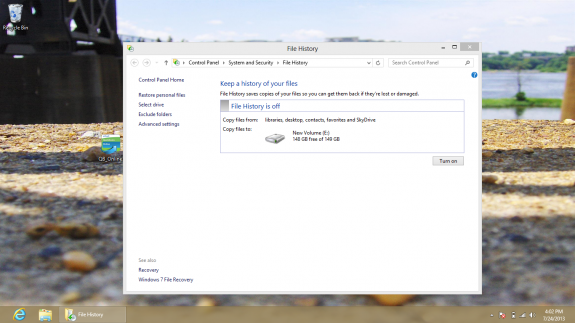 You'll then be asked if you would like to add the hard drive to the homegroup. A homegroup is a batch of computers using one wireless network. When configured, homegroup allows users to share files across machines. For the purposes of this tutorial click No.
File history will immediately begin saving copies of your files on your external hard drive for safe keeping, as long as the device is plugged in. Immediately after activating it, your computer may seem a bit sluggish as File History starts saving everything it can to the hard drive. This is normal, and will only happen the first time. After that, your computer will backup and save files as you make changes to them.
Restoring Your Files
If you should ever need to restore your files, you'll need to come back to the Control Panel. Here's how.
From the Start Screen, right click or swipe down from the top of your touch screen display.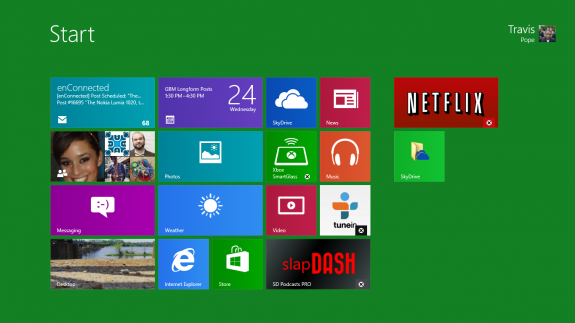 A small bar containing just one button will appear at the bottom of your screen. Tap or click that button labeled All apps.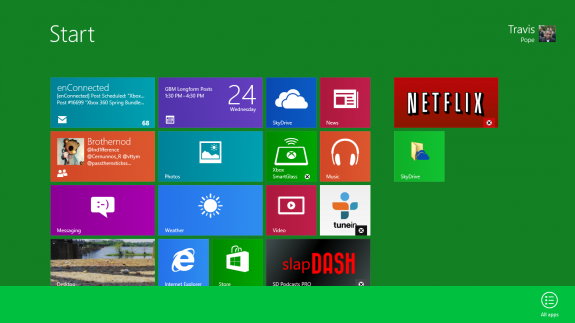 From all applications scroll over until you see an application labeled, Control Panel. Click it.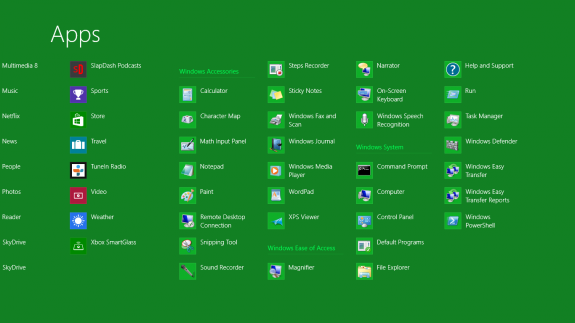 Inside the Control Panel, tap or click Save backup copies of your files with File History under System and Security. It's located on the top left hand side of the window.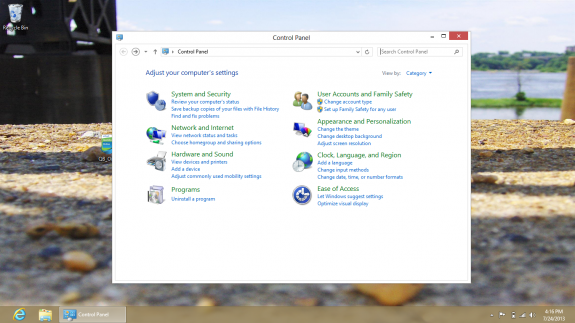 Inside the File History panel, click or tap restore personal files. It is located in the top left hand corner of the window.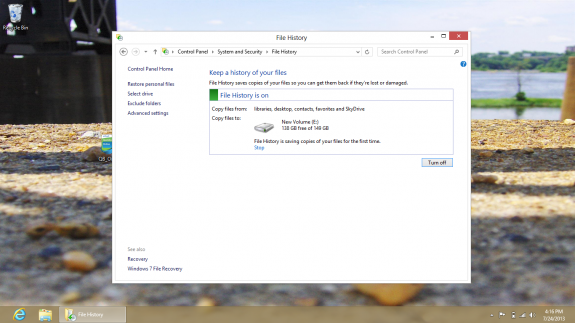 Select the files you wish restore. You can browse older versions of files by clicking on the forward and back buttons located in the bottom of the window. To restore the files simply click the green rounded arrow to restore the files from that day.
Windows will analyze the applications that are stored on your Windows 8 device and choose which files you would like to skip or restore.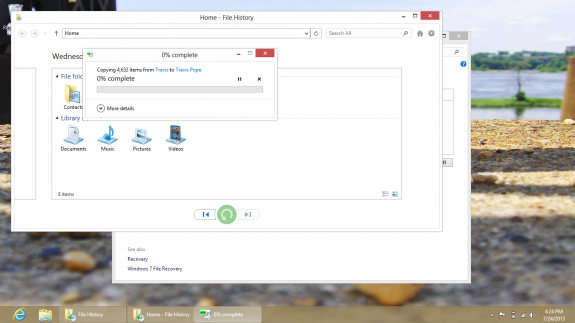 Although keeping a hard drive on your desk plugged your desktop, or having to unplug and then plug-in a hard drive on a laptop might not be the ideal situation for backups, doing so will allow you to restore files that you might accidentally delete or ruin. For example, you might accidentally delete a paragraph out of a presentation and then save it. With the file history feature, you'll always be able to get that original presentation back.

This article may contain affiliate links. Click here for more details.