How to Back Up iOS 8 Cydia Tweaks
If you have a jailbroken iPhone, here's how to back up all of your iOS 8 Cydia tweaks so that you'll have them handy if your iPhone ever crashes or dies.
We've already shown you how to back up your iPhone using iTunes on your Mac, and this will back up everything on your iPhone except for jailbreak tweaks. Unsurprisingly, Apple doesn't count jailbreak tweaks or any other jailbreak files when you back up your device, so you'll have to back them up separately.
In fact, Apple hasn't been too keen on jailbreaking in general, as the company recently patched up the jailbreak when it released the iOS 8.4.1 update last month. It was a very minor update, coming with some general bug fixes and performance improvements, but the biggest change was the jailbreak patch.
Of course, those still on iOS 8.4.0 and older can jailbreak their iPhones and iPads, but those users will also want to find a way to back up their jailbreak tweaks separately from their iTunes backup.
Luckily, Cydia has apps and tweaks that you can install that will back up your other iOS 8 Cydia tweaks quickly and easily.
Here's how to back up your iOS 8 Cydia tweaks.
Back Up iOS 8 Cydia Tweaks
In order to back up your jailbreak tweaks, you need a separate backup system aside from iTunes, since it won't back up your jailbreak tweaks.
Perhaps the best backup tool to back up your jailbreak tweaks is called PkgBackup, and you can download it from Cydia. The only downside is that it costs $9.99, but it's well worth it and you won't find a better backup solution.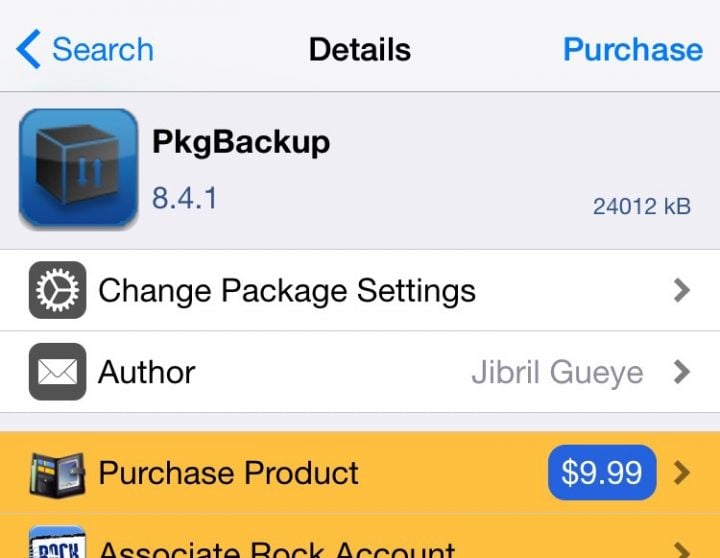 After you purchase and install the tweak, it will appear on your home screen as an app icon. Before you open the app, I'd highly suggest that you reboot your iPhone, as many users have issues with PkgBackup when they try to use it for the first time and a simple reboot usually does the trick.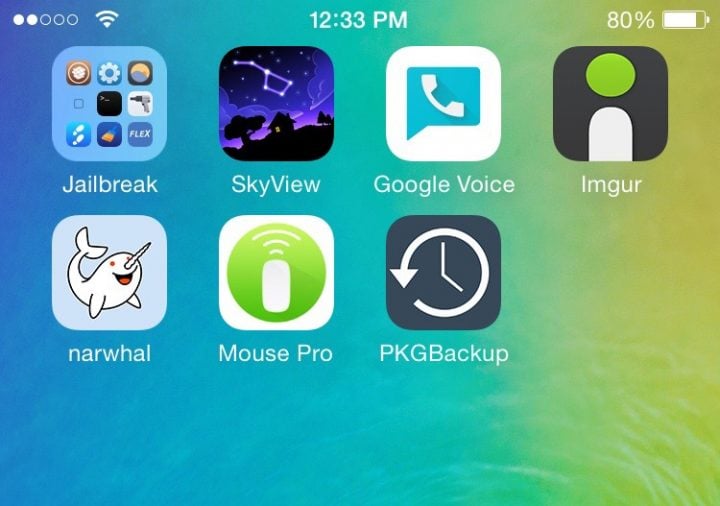 After opening the app, if  you get a pop-up that says something like, "Scanning of packages and applications are disabled," then you'll need to head into your iPhone's settings and go to PKGBackup, and then enable the things that you want backed up, which in this case you really only need to back up your Cydia packages.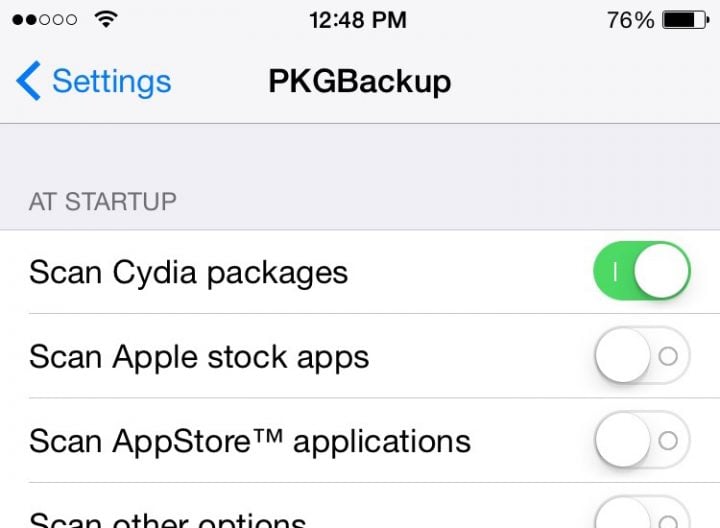 From there, go back into PKGBackup and then tap on Settings, where you can choose how to save the backup. I like to save the backup to Dropbox, personally.
From there, go back to the home screen of the app and tap on Backup, and then tap on the smaller orange Backup button.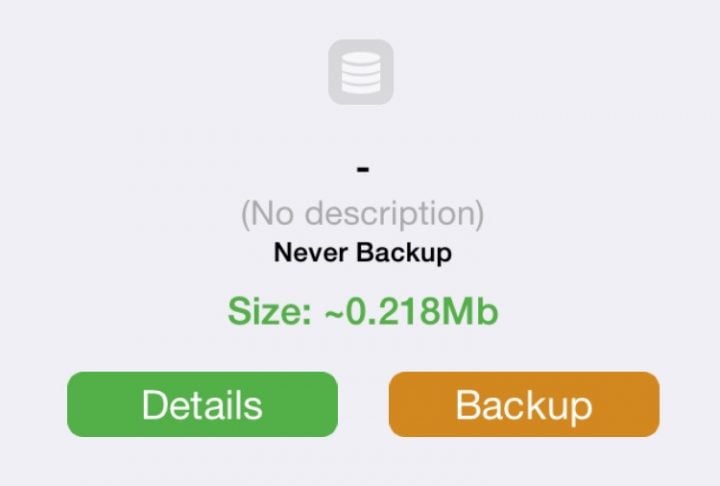 Tap on Yes to continue and you'll then be asked to enter in a title and description for the backup so that you can locate it easily when you need it. Continue on and the app will begin to back up your jailbreak tweaks.
Restoring Backed-Up Jailbreak Tweaks
If you restored your iPhone and reset it to factory settings, then you lost all of your jailbreak tweaks unless you backed them up. Here's how to restore your jailbreak tweaks.
After re-jailbreaking your iPhone, open up Cydia and re-install PkgBackup. After it's installed, open up the app and tap on Restore.
The app will load a default backup to restore (usually the most recent one), but if you only have one backup, it will load that one. From there, tap on the orange Restore button. After the process is complete, you'll then be prompted to reboot your device, where all of your tweaks will appear once you restart.
Backing up your jailbreak tweaks is a real lifesaver, especially if you have a ton of them installed. If you only have a few installed, it's probably not worth spending $9.99 on in order to back up those few tweaks, but if you have so many tweaks that they're hard to keep track of, then PkgBackup might be worth it for you.