How to Back Up iPhone Contacts
This guide will show you how to back up your iPhone contacts so that you have them ready for a new iPhone or to keep them safe in case you break or lose your current iPhone.
When you buy a new iPhone or switch to Android it's important to make sure you don't lose your contacts. Apple has already provided you with a couple of ways to back up your contacts with iCloud and iTunes.
These solutions are straight forward and get you safely backed up and ready to switch to a new device. There are also third-party apps to do this, one of which we will explore in addition to what Apple offers.
How to Backup iPhone Contacts
Here are three ways to back up iPhone contacts. It doesn't matter what carrier you use and you don't need to be on the latest version of your iPhone software to make this work.
Watch the video above to learn how to back up iPhone contacts to iCloud, iTunes or to an app so that you don't lose the important information you have on friends, family and business contacts.
How to Back up Contacts with iCloud
In order to access iCloud features, such as backing up data, go to the Settings application on your iPhone, then scroll down to the iCloud tab.
Ensure that the Contacts tab is switched to ON, and if it is not, do so now.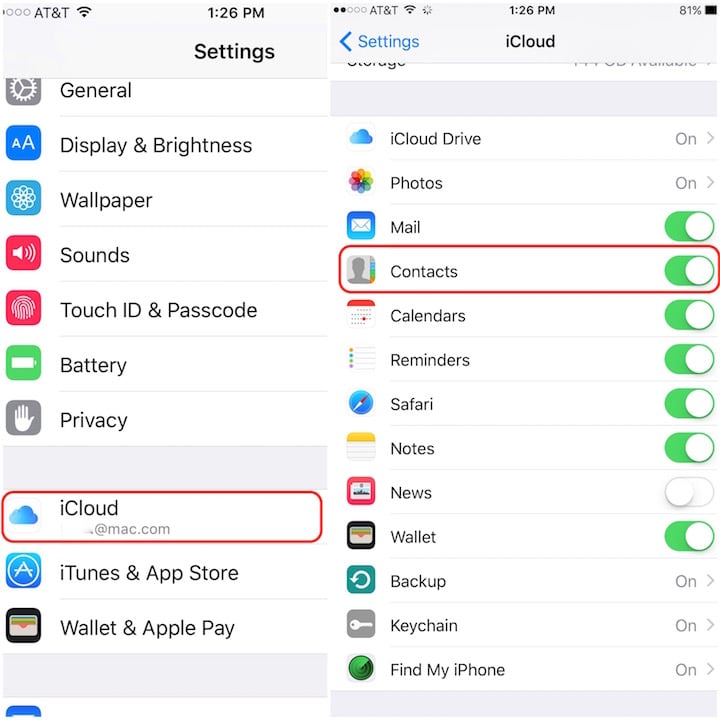 If you enabled the tab, you will be prompted to MERGE contacts with iCloud. This is the part where your contact data is transported to the iCloud server, where it will continuously sync changes you make. Wait for sync to complete and for the checkmark to appear, signaling the end of the sync period.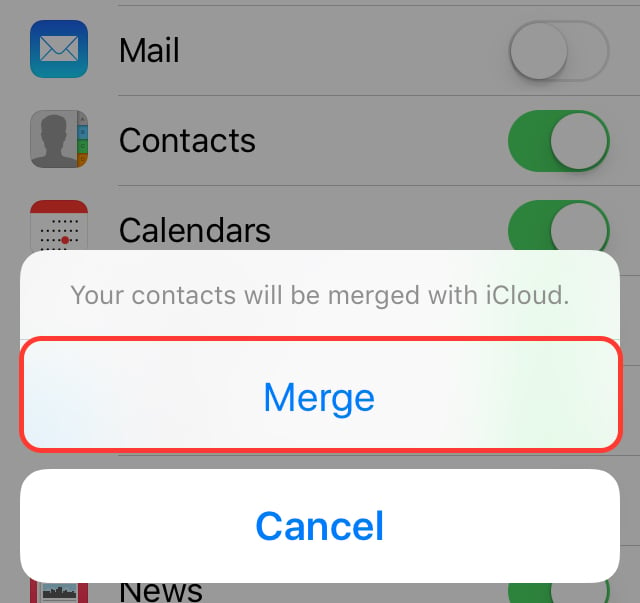 It's usually a good idea to navigate via a computer web browser to iCloud.com and verify that the contacts on the website match up with what your device shows.
If you are purchasing a new iPhone anytime soon, the information sync will be very simple! When you get your new iPhone, enter the account information, turn on contacts and everything should sync safely down from the cloud and onto the new device.
How to Back Up Contacts with iTunes
If you want to go the tried and true route of the hardwired sync, iTunes is still available as a backup option for all of your data, including your contacts.
Before plugging your iPhone into your computer, make sure iCloud contacts are turned OFF and contacts are kept on device within the iCloud settings tab on your mobile device.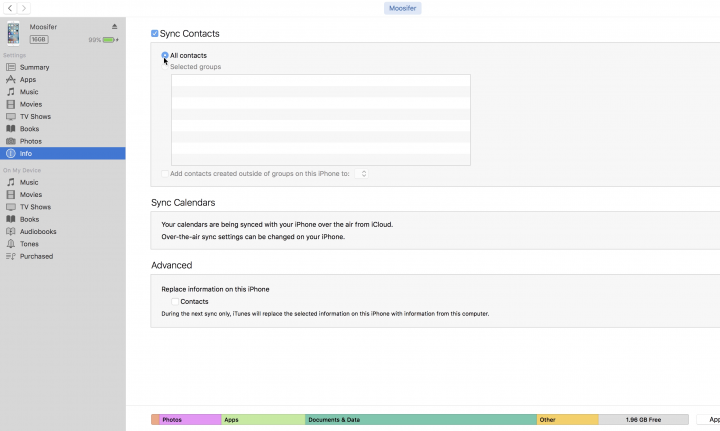 Plug the iPhone into iTunes and select Device from the menu options on the left hand side of the window to navigate to Summary. iTunes will make a full backup (including contacts) for you, but in order to sync them, one more step is required. In the Info tab, check the box that says "Sync Contacts".
This will apply the sync so your contacts will reflect each other in the Contacts app on the Mac as well as the iPhone. This is a great quick way to basically do the same thing as the iCloud sync yet get a quick hard copy made immediately on your computer.
How to Back Up Contacts with an App
A very simple last resort (or first resort depending on your needs) is a third party app called My Contacts Backup, available on the iOS App Store for free.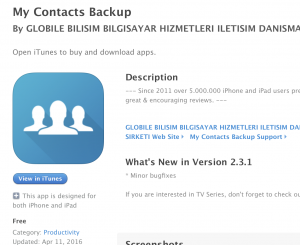 Download the app, then allow it access your contacts and make a backup for you. The app then creates a vCard file of your contacts and allows you to email them to yourself for easy restore in the future.
Open the email with the vCard, then open the vCard to be prompted to add it to the iPhone's contacts. This is a very simple, no cost method of backing up your contacts for safety or transfer if the previously mentioned options are not available.
So there we have a few quick and easy ways to get your important contact data from your old devices to a new one or just get them saved in general! Be sure to guarantee your information is backed up before any visit to a Genius Bar or a carrier store, as your data is your responsibility and not that of your service providers. These sort of tasks really only take a few minutes and are completely worth it for your peace of mind.