How to Back Up iPhone Contacts
Over the years, you have most likely built up an impressive list of contacts on your iPhone and it would be a disaster if you ended up losing them, so here's how to back up your iPhone contacts so that you'll always have them saved and out of harm's way.
While your music, games, apps, etc. are important to you, your contacts are probably the most important out of anything stored on your iPhone. You might know the phone numbers of some close friends and family members by heart, but what about the number of that cute guy/girl that you got last night? You probably don't want to lose that, so it's crucial that you keep your contacts backed up as often as you can.
Luckily, Apple makes it relatively easy to back up iPhone contacts, and there are several different methods you can use. Backing up your iPhone through iTunes like you normally do backs up your contacts, or you can set up iCloud so that it includes Contact backups, which will also sync your contacts across Apple devices. That itself can be great, especially if you have several Apple devices that you use on a daily basis.
Whichever method you choose, though, you'll have the security in knowing that you won't lose any contacts if your iPhone ever breaks. Plus, backing up your iPhone is one of the most important maintenance tasks you can possibly do, as it can save you from certain disaster if you're phone ever dies or you accidentally drop and break it. If you don't have any of the data backed up, you lose it all if the device crashes or fails.
How to Back Up iPhone Contacts to iTunes
To back up iPhone contacts via iTunes, you'll essentially just back up your iPhone like you normally would, since there's no method for simply backing up just your contacts. To back up your iPhone, follow these simple instructions:
Plug your iPhone into your computer and open iTunes.
In the upper-right corner of the iTunes window, you'll see a button that says iPhone with an eject icon next to it. Click on that button.
This will open a window that provides information about your iPhone. Below the main information is the Backup section. To do an all-out full backup of your iOS device, select This computer on the left-hand side.
Optionally, you can choose Encrypt backup to secure it from others accessing the personal data that gets backed up.

Next, click Back Up Now to begin the backup process. You may get a pop-up that talks about apps on your iOS device that aren't currently in your iTunes Library. Click Back Up Apps to sync these apps to your iTunes Library.
iTunes will begin transferring any apps over to your iTunes Library if there are any, and then it will back up your entire iOS device. When it's done, just click the blue Done button in the upper-right corner and you're good to go!
How to Back Up iPhone Contacts to iCloud
While backing up your iPhone using iCloud is more convenient than backing up through iTunes, iCloud doesn't back up everything, but it will back up your contacts.
Backing up your iPhone with iTunes backs up your entire device, including apps. However, iCloud only backs up photos, videos, documents, contacts, iMessages and SMS text messages, and settings, so it won't back up the apps you have installed, although it will back up app data. This makes sense, because a lot of apps take up a lot of space, and with only 5GB of free iCloud storage, that may not be enough to store all of your apps.
So while you can back up using iCloud, we'd still recommend backing up through iTunes as well, if you want to back up absolutely everything. Follow these instructions for backing up your iPhone contacts using iCloud.
To begin, simply open up the 

Settings

 app and navigate to 

iCloud > Storage & Backup

.
Then turn on 

iCloud Backup

 if it isn't already.

Next, go back to the previous screen and make sure that Contacts is turned on.
Now tap on Storage & Backup again and go ahead and tap on Back Up Now to begin the backup process. Depending on how many contacts and other files you have stored on your iPhone (and how fast your WiFi connection is), it could take a while, so sit back and relax. Remember that your iPhone will automatically back up through iCloud whenever your iPhone is plugged in, locked, and connected to WiFi.
Once it's done, congrats! You now have your iPhone contacts backed up to iCloud.
How to Restore from a Backup
If you ever need to restore your iPhone, you can do so pretty easily using the iOS Setup Assistant, which is the fancy name for all the menus that you go through when you first set up your iPhone.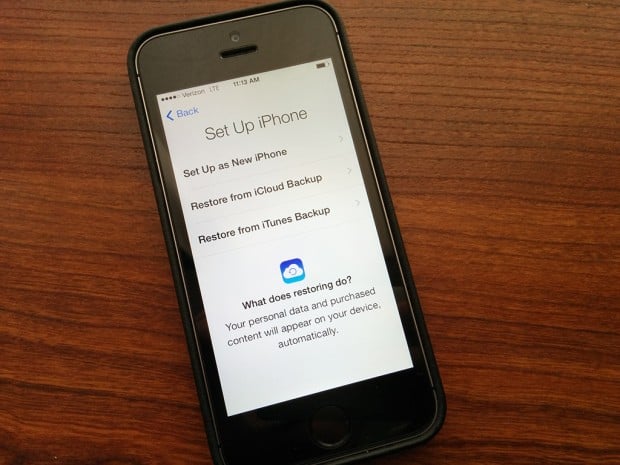 During this, you'll eventually get to a screen that will ask you how you want to set up your new iPhone. You can either set it up as a brand-new iPhone or restore it from a backup, selecting either Restore from iCloud Backup or Restore from iTunes Backup, depending on how your device is backed up.
If you have multiple backups, it'll give you a list where you can choose one to restore to. Usually, the most recent backup is the one you'll want to choose for obvious reasons.

This article may contain affiliate links. Click here for more details.