How to Backup & Reset Your Galaxy Note 7 for Return
Now that Samsung has ended the recall and completely stopped all sales of the Galaxy Note 7, all devices need to be returned. Here we'll be explaining how to backup and save everything off of your phone, then reset and erase it so you're ready to return your Galaxy Note 7.
Considering most owners just switched to the Galaxy Note 7, we're assuming you already know how to save or transfer important information. Things like contacts, text messages, photos and video, music, apps and more. Thankfully between Google services and Samsung, everything will be extremely easy to backup.
Read: Best Galaxy Note 7 Alternatives Available Now
In September Samsung kicked off an official Product Replacement Program to get rid of faulty devices that could potentially explode. Now over a month later new safe replacements are catching on fire too, and the company has canceled the phone completely. All carriers are accepting full returns, and allowing owners to trade it in for something else regardless of condition or if it's past the return window. Here's the steps you'll want to take before heading to a carrier or retail store.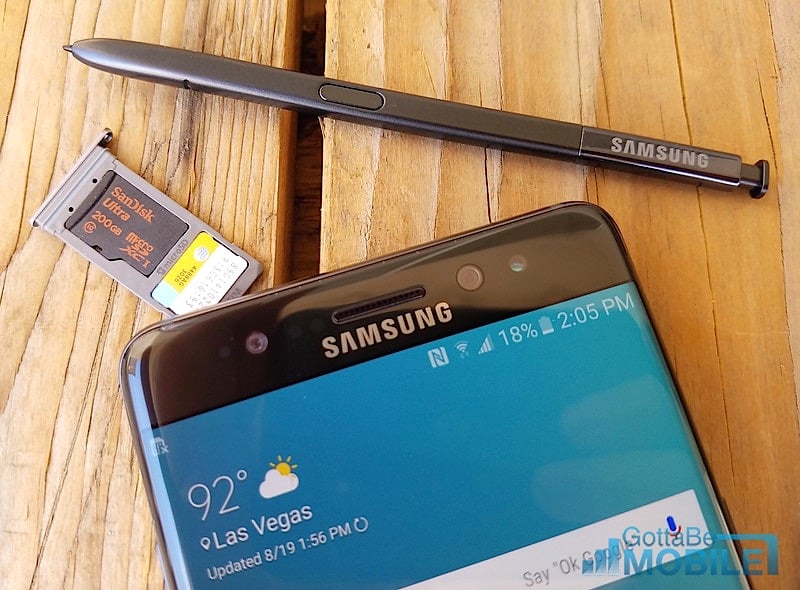 Backing up an Android smartphone or tablet is extremely easy, and the operating system does most of it for you already. However, we'll still go through each step to make sure owners don't lose any contacts, texts, photos, music and more.
First up is contacts, email, calendar and things of that sort. Then we'll get into everything else. By default everyone likely has a Gmail and Google account, which will sync and backup almost everything of importance to the cloud. Just like when you got the Note 7 and signed into your Google account, everything instantly transfers in a matter of seconds.
Read: How to Backup Android in 5 Easy Steps
Our link above goes over absolutely everything you need to know about backing up your Galaxy Note 7. Follow those steps to use Google Backup, save photos, music and more. Another excellent option is Samsung SmartSwitch, which we'll explain in a moment.
Google Backup
First up we want to make sure the default backup options are all enabled and syncing to Google's cloud. This is enabled out of the box, so most likely almost everything on your Note 7 is already saved. Owners can use Google or Samsung, or both, as well as manually save photos and media.
Head into Settings > Accounts > Backup & reset and make sure the second list of options under "Google Account" are turned on. Now hit back, select "Accounts" and you'll see everything Google has saved for you. The list typically includes app data, calendar, Chrome, contacts, docs, drive, Gmail, movies, music, and more. Owners can even hit the three dots in the top right, then select Sync Now. That's it, and everything has been saved in the cloud.
Now, when you return it for another Android smartphone just sign into Gmail and everything will transfer over. Nothing will be lost.
Samsung Backup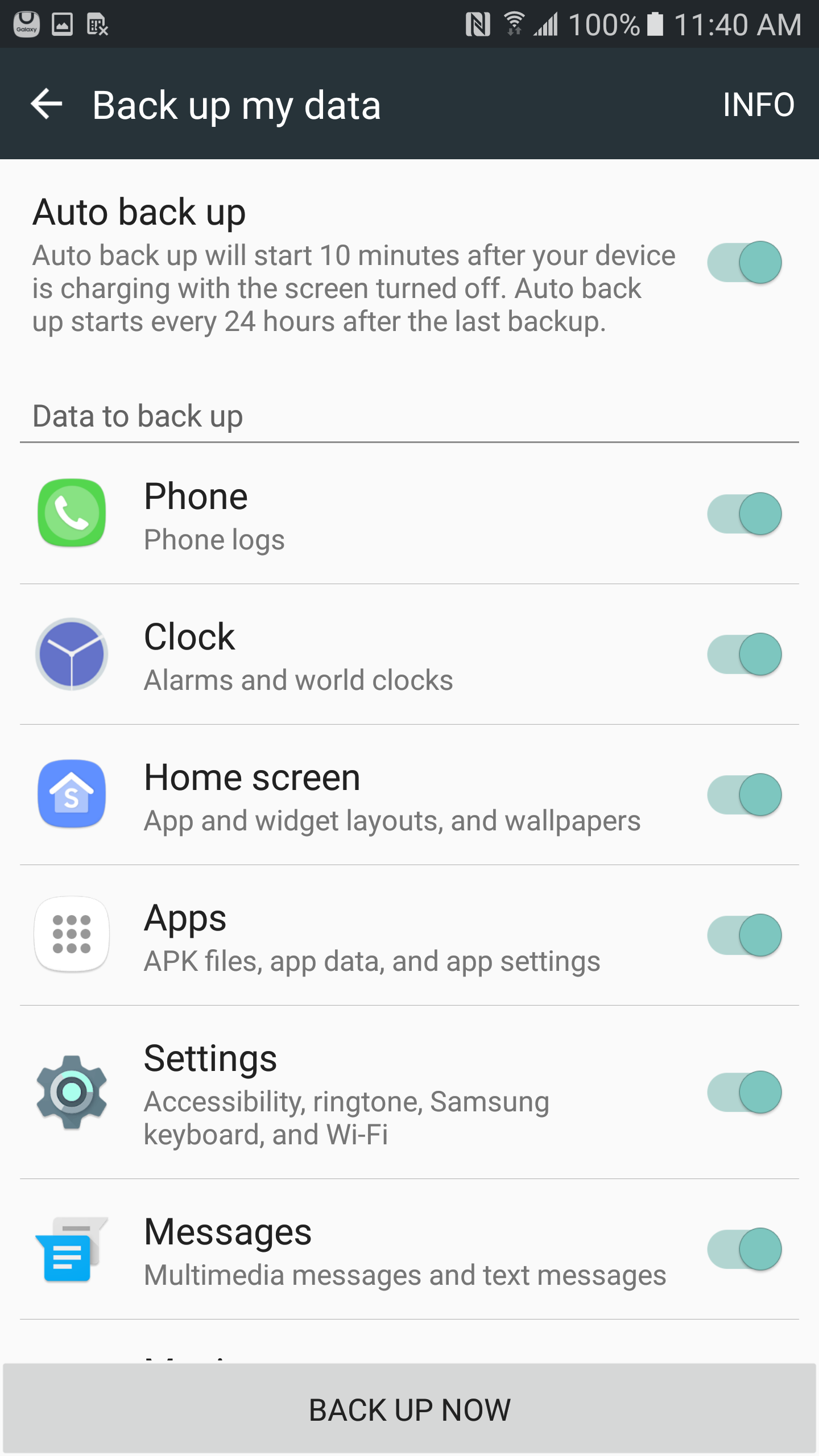 Samsung has their own backup solution similar to Google's, but it has even more options and saves everything. Like text messages, call log/history and much more. As long as you have a Samsung account, this same Settings > Accounts > Backup & reset area has Samsung at the top. Tap "Back up my data" and turn on Auto Backup. At the bottom is another option to initiate a backup right now. Click this, otherwise it will schedule a backup later. We want to do it immediately then return the phone. Samsung will save everything to the cloud for you. Phone, clock and alarms, home screen icons and layout, apps, settings, text and picture messages, music, documents and more.
This works the same way as Google's auto backup feature, and puts everything in the cloud for an easy restore once you get a new Samsung device. Once this process is done all owners need to do is navigate to the same settings menu on a new phone, sign in, and restore information to a new device. It shouldn't take too long, and is a painless experience. We like that it restores icons and layout to the homescreen as well.
Return the Galaxy Note 7 and get a phone like the awesome (and completely safe) Galaxy S7 Edge. Then use this same tool to restore everything from the cloud and the Note 7 to your new Galaxy S7 Edge.
Save Photos & Music
Any photos, video or music that may be on the phone can easily be backed up and saved as well. Simply connect the Note 7 to your computer and click/drag any content you'd like to keep, and put it in a folder. Then drag it back onto your new device. Most of this is on the SD card, which can just be removed and put in another smartphone.
However, Google Photos is probably the easiest method for saving photos. It will backup every photo or video on your device to the cloud. This can then be accessed from nearly any device. Download Google Photos (if you haven't already) and open the app and run setup. It will sync and save everything on the Note 7, just make sure you do this over a WiFi connection. The same thing can be done with Google Music, for any music that may be on your device.
Samsung Smart Switch
If you're going to replace the Galaxy Note 7 with another Samsung device, using the companies own "Smart Switch" service is absolutely the easiest and best method. Download it here. Smart Switch is pre-installed on the Note 7, and can be used to transfer to another Samsung, an iPhone, or right to a computer or the cloud. This saves literally everything and anything on your phone. Then lets you transfer it to almost any device.
Most owners probably used Smart Switch to transfer from an old phone to the Note 7, and you can do the same thing with the new one. Most carriers won't do this in store, as it is a fire hazard. We'd recommend doing it at home first and saving your backup to a computer or the cloud. However, proceed with caution and at your own risk. Putting heavy load on the Note 7 could cause it to explode. Most likely it won't, but it's better to be safe than sorry.
Click the link above and download Samsung Smart Switch for whatever process is easier for you. They have an app for Android and iOS, a version for PC or Mac, and even for other devices.
We'd recommend downloading the desktop version and using the cable and adapter that came in the Note 7 box. Simply run the program, plug in the cable, and follow the easy instructions. It will save everything to your computer. It may takes a few hours at most, so hit transfer and let it finish. It does everything for you, and works amazingly well. It even transfers microSD data too, although owners can just throw the SD card in their new phone if they'd like. It's always a good idea to have an extra backup though.
Erase & Reset Your Galaxy Note 7
Now that you've saved everything off of the Galaxy Note 7, owners will want to do what's called a "Factory Data Reset" to wipe out everything on the phone. This will erase everything on your device, and return it to the factory out of the box state the day you got it. This will ensure information, photos, contacts, and other things won't fall into the wrong hands.
We're returning the Note 7 to carrier stores and Samsung, so this isn't a big concern, but we'd still recommend all owners erase their device just to be sure.
Make sure you've backed up everything off of your Note 7, or transferred it to a new phone using our steps above or the help of a carrier store employee, then erase it completely.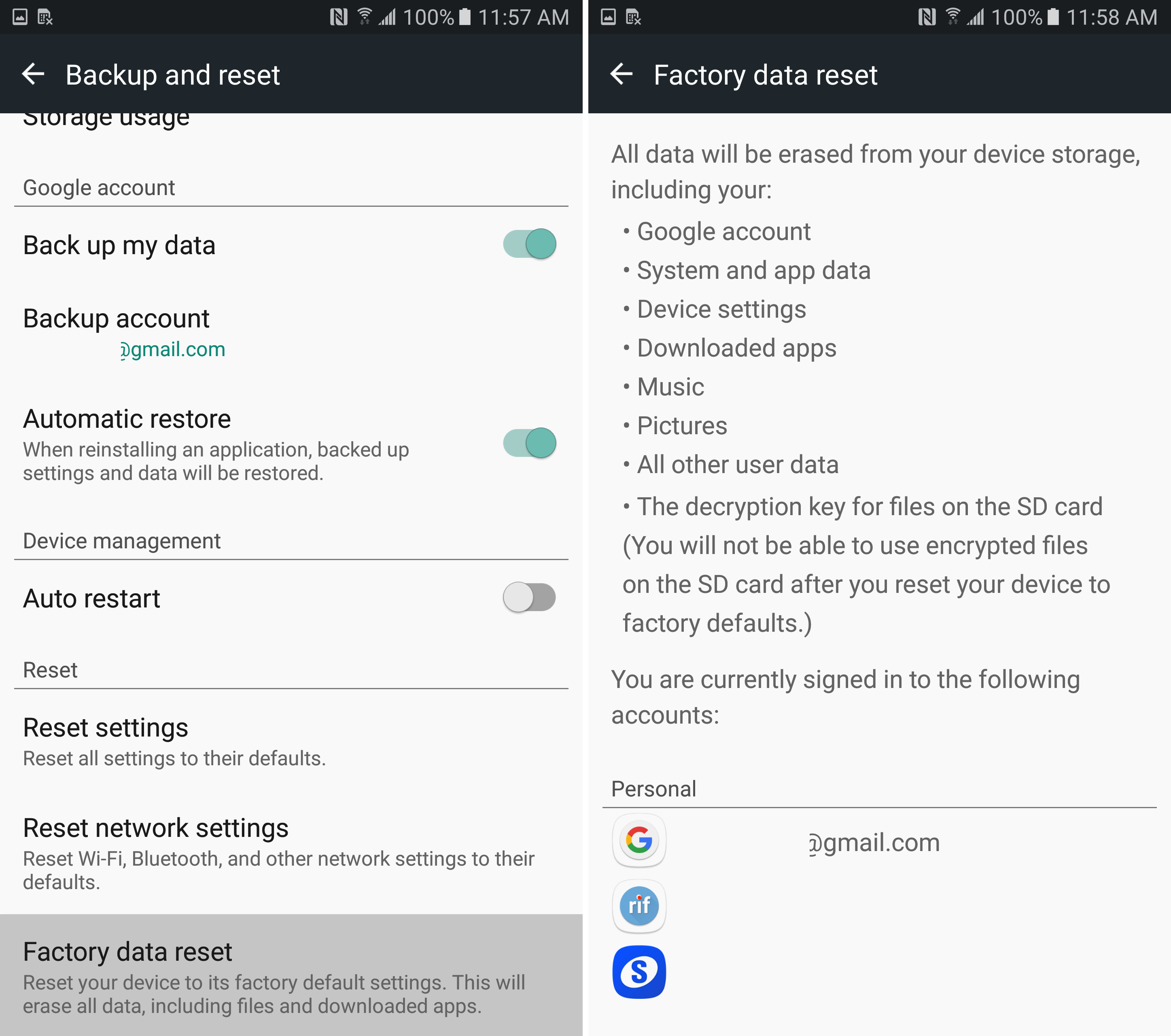 Head into Settings > Accounts > Backup & reset > and scroll down to Factory Data Reset. From here look at the list and at the bottom click "Reset Device". This will take a few minutes and will completely erase your Galaxy Note 7.
Now the phone is like new again and ready to be returned to Samsung or your carrier for the return process. As of right now owners are unable to return it for another Galaxy Note 7. You'll have to get a refund or trade it for something else.
Again, make sure to use caution and save anything of importance before doing the reset. At the same time, some owners may be worried and simply don't think this is worth the risk. If so, power down the device and immediately return it to the place it was purchased for a full return. If you have any other questions or concerns drop us a comment below.