How to Block Spam Texts on Verizon
Growing up, spam callers were a problem that seemed to have no solution no matter how many do not call lists you signed up for. And with the home phone being the main point of contact, it was more important to answer than it is today with our cellphones. Luckily advancements like caller id have made these calls more distinguishable.
While caller id is a part of every cell phone, spam text messages and phone calls are still somewhat of a problem. From "free vacations" to other various offers, these messages are a major nuisance, especially if they happen often. If you are a Verizon customer you have some control over this problem. By changing settings in your Verizon account you can block these numbers from calling or sending spam messages to your phone.
How to Setup Number Blocking.
Spam Calls like the one above, and text messages, can be blocked by completing the steps below.
Go to the Verizon webpage on your computer or tablet.
Once there, enter your username and password into the sign in box at the top right of the screen.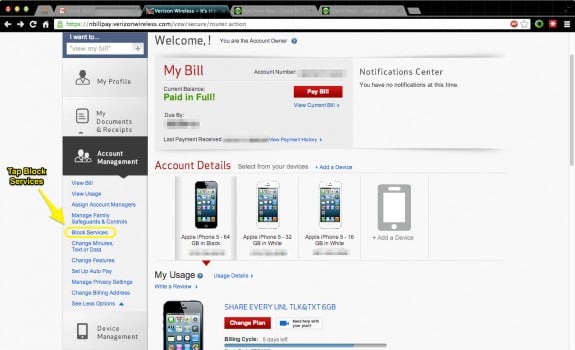 After you have logged in, scroll down to the Account Management section. Under account management, tap Block Services.

Off to the right side of the screen, select Block Calls & Messages.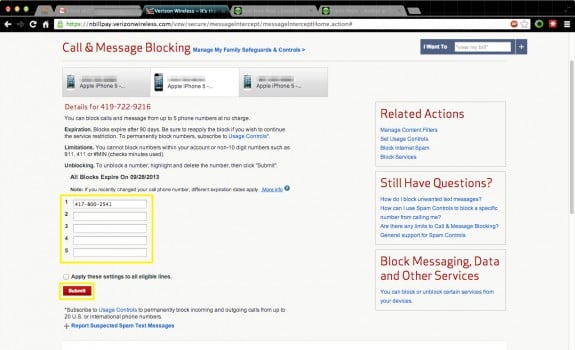 On this page the user may enter numbers that they wish to no longer be contacted by. For each line on your Verizon account you may block up to 5 numbers for free. For most users this is plenty, but for those who need more blocks on their account Verizon is able to do that for an extra charge.
Enter the phone number that is spam calling or texting your phone inside one of the fields in the yellow box highlighted above. If you would like that number to apply to all the numbers on your account, select the check box above the Submit button.
Once finished entering numbers, tap Submit.
After the numbers become blocked, this confirmation dialogue will appear. Tap Ok to continue.
Setting up these blocked numbers is extremely handy for spam messages, or for people who may have gotten your number that you wish to avoid. Be aware that these blocks go away after 90 days, so if you wish to keep blocking that number after the time period, just log back in and enter them in again.