How to Block Unwanted Calls on Android
Smartphones are wonderful tools that are invaluable to our daily lives, but nothing frustrates me more than getting spam phone calls on my personal cell phone. Not the throw away home phone, but my actual cell phone.
Chatting with friends, family, and co workers is extremely easy thanks to smartphones, but sadly there's those moments where we get spam calls from people we don't know or want calling. Someone speaking another language or trying to sell some odd piece of a land timeshare and if you're like me, you get mad, swear a few times, and hang up. Thankfully call blocking is a standard feature on most Android devices.
Blocking unwanted calls, telemarketers, or that clingy X isn't as easy as it should be but at least we have options. Almost all Android smartphones take advantage of this feature, although most have their own unique way of doing it. Since I use the Nexus 5 and Galaxy S4 Google Play edition daily, I have stock Android and will start with that, but the general idea is the same for all devices.
Sadly we can't just add random numbers to a do-not-answer list or automatic call blocking list, and you'll actually have to make the number a contact first, then get rid of it. Stock Android has an "All calls to voicemail" feature where you'll never hear or get the call and it goes right to voicemail. That's our only stock option, but it's really easy to enable.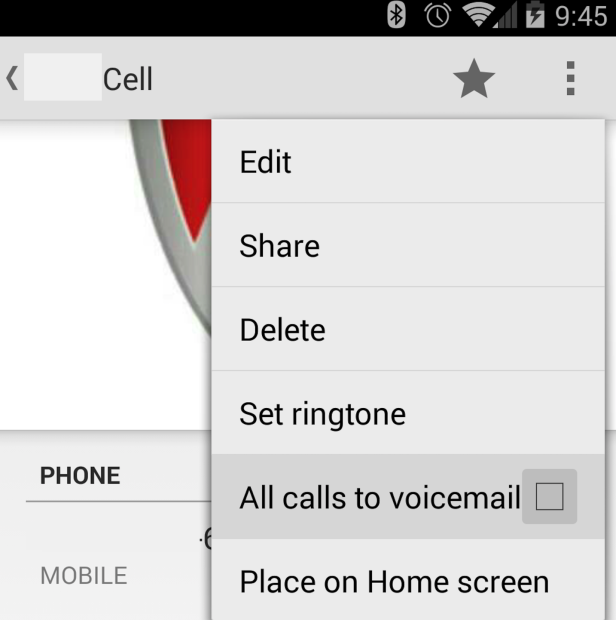 Simply make a new contact with the number you wish to never hear from again, or if it's someone you already have in your phone, just go to the contact. Tap the little avatar person shaped contact edit button shown below, tap settings, and check the send to voicemail button. It's that easy. It's just a bummer we have to actually make the number a contact and save it first.
Call Rejection
Samsung smartphones have a call rejection feature and a rejection list, which is better than the stock system Google uses in regular Android. Here you can block numbers from calling you multiple ways, and even add a new contact directly to the rejection list all in one process.
Alternatively users can go into any contact they've already added, hit menu and tap settings, and select the "add to rejection list" option to instantly kill that number from ever pestering you again. Going into the settings shown above you can manage, add, and even remove numbers if someone gets back on your good graces.
Read: 25 Hidden Galaxy Note 3 Features
Lastly Samsung also has blocking mode as shown in our hidden features post above, which will block certain numbers from calling or even texting during certain hours. So you can limit just friends and family during the night, etc.
Call Barring
HTC and Sony devices all feature Call Barring that works in a very similar way as Samsung's rejection list, and can be setup using roughly the same few steps as outlined above. The regular settings menu, or the Call Settings menu (in the phone app hit menu > settings) which is where you'll setup barring certain numbers.
Here you can block any incoming or even outgoing calls in tons of different situations. On the HTC One simply go into the Phone app and tap menu or settings, and in the settings menu select "Blocked contacts". Just like with Samsung above you can add a number right to your contacts and instantly block it, or add any already saved numbers to the blocked list. In a matter of seconds all those telemarketers will never be able to bother you again.
Read: How to Cut, Copy & Paste on Android
Sadly these are the only options readily available for Android, and stock devices only redirect these calls to voicemail, which could be a bad thing when you get a 3 minute voicemail from some automated junk. So, since we want to cover all the bases, you can head to the Google Play Store for 3rd party solutions. There's an app for that!
3rd Party Blocking Apps
There's tons of different apps readily available from the Google Play Store to block calls. My personal favorite is called Mr. Number to block calls or texts, but that's just one of many. Mr. Number even will let you choose to hang-up, send to voicemail, or add an exception if you'd like specific instructions.
Advanced Call Blocker & Tools is another awesome app that is essentially a swiss army knife of calling apps. Lets you block calls, make fake calls with names and even fake numbers, hide your call log and much much more. This does it all, and blocks any number with ease.
Or the simple Call Blocker app that's top rated on the Play Store is another option. It even lets you back up contacts, and the blocked list with ease if you're switching to a new phone and don't want to recreate your blocked list all over again.
Next time you have some random number pestering you, like the Spanish telemarketer I've experienced this week, use one of the many steps detailed above to rest at ease.

As an Amazon Associate I earn from qualifying purchases.