How to Boot the Google Nexus 7 Tablet In Safe Mode
The Google Nexus 7 Tablet works great and runs smoothly, but like all computers it can act up.
If this happens, Google built a safe mode into the Jelly Bean operating system for testing and troubleshooting. It's super easy to reach and use.
One normally shuts down any Android 4.1 Jelly Bean device, like the Google Nexus 7 Tablet or the Galaxy Nexus phone, by pressing and holding the power button till the following menu shows on-screen.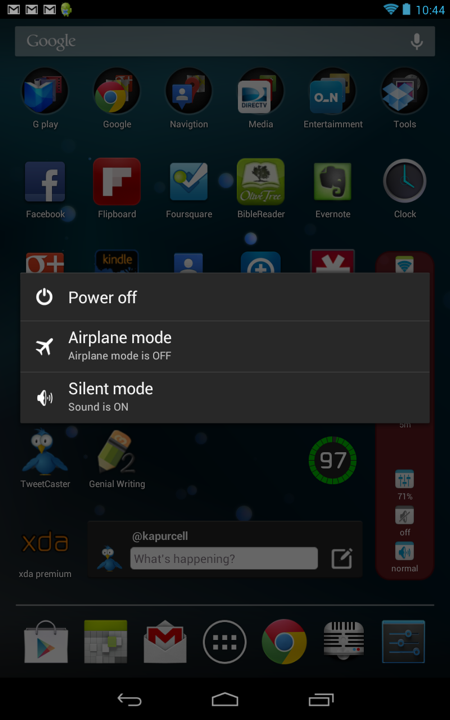 Safe Mode runs the operating system in a special mode that uses only the basic Android 4.1 Jelly Bean OS on the Google Nexus 7 Tablet or other devices without any widgets running. It gives the user just the basics without extras and add-ons running. The apps will still show up including those placed on the home screen. The apps run and function in this mode. A user's live wallpaper will still show up.
How to Run Google Nexus 7 Tablet in Safe Mode
Here's how to reach the Safe Mode on the Google Nexus 7 Tablet. Hold down the power button as one would to shut down the tablet or phone. When the shut down menu appears, press and hold the Power off item and the following box shows up on the screen.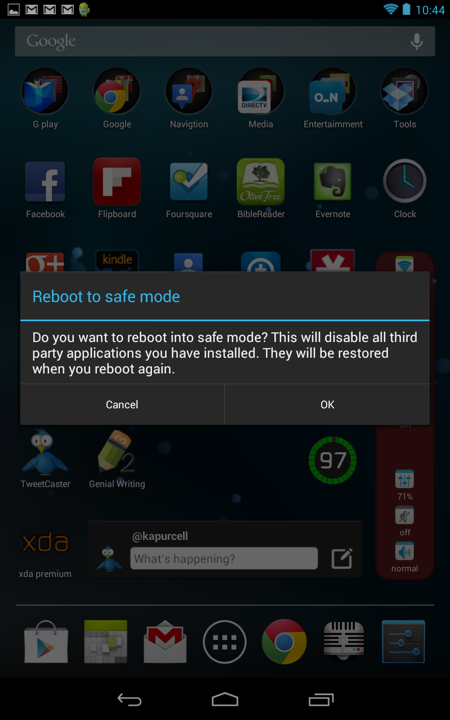 The message reads:
Reboot to safe mode.

Do you want to reboot into safe mode? This will disable all third party applications you have installed. They will be restored when you reboot again.

Cancel or OK
Not all apps will work. I tried to run the new OnLive app now available on the Google Nexus 7 Tablet and it crashed the system and forced it back into regular mode turning on all the widgets I placed on my home screen. Also, the Google Reader app failed to run, so most people won't want to run their Jelly Bean device in Safe Mode all the time. It's great for some specific uses.
Why Run in Safe Mode
Why would someone want to boot into safe mode? I can think of a few reasons:
Testing – it lest the user test the tablet or phone without anything else but the OS running.
Conserve battery life – if a user hits a period where he or she needs to use the device this will preserve some battery life.
Quick fast environment – for those who like to add lots of widgets and customizations this gives the user a sleek and fast environment to run Android.
To uninstall a troublesome app that's causing issues.

This article may contain affiliate links. Click here for more details.