How to Browse the Internet on Windows 10
Microsoft's free Windows 10 upgrade does one thing many thought wasn't possible. At the tail-end of the last decade Microsoft bundled Internet Explorer with its Windows operating and effectively killed other browsers like Netscape.
For years, Internet Explorer has been the default web browser in Windows. Its icon is instantly recognizable, its features connect to just about everything Microsoft offers. Other web browsers have challenged Internet Explorer, but Windows 10 appears to be the one thing that will finally bring the web browser to its knees. Microsoft Edge, the company's new browser, takes over the perch once held by Internet Explorer in Windows 10.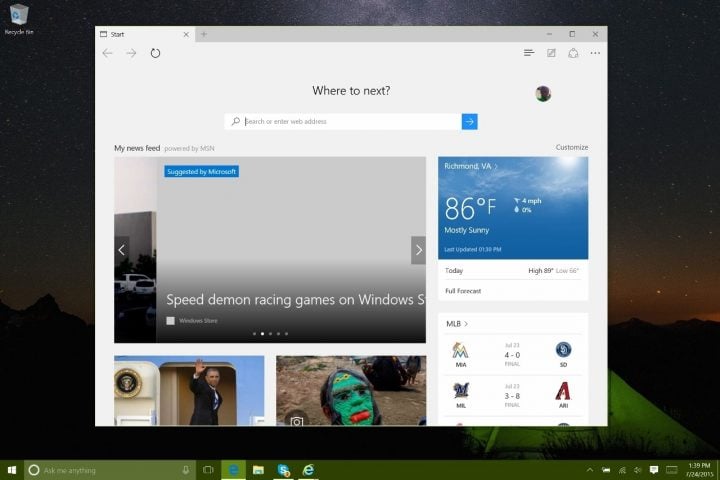 It's because of these changes that users everywhere will once flock to forums and Microsoft's support pages all wondering how to browse the Internet on Windows 10. Here's how to get the most of that new Microsoft Edge browser, and how you can get back to Internet Explorer if you really need to.
How to Browse the Internet on Windows 10 – Using Microsoft Edge
Again, Microsoft calls that new browser Edge. It's not something you have to install from the Windows Store or download from the web. It's installed on your notebook, tablet and desktop with the rest of Windows 10.
Microsoft Edge exists because Microsoft painted itself into a corner with Internet Explorer. With years of bad experiences, Microsoft tried to do better and deliver a modern experience with Internet Explorer and Windows 8. Still, the company didn't see significant growth. Even if the browser was better, no one would use it based on its name alone.. Worse, in Windows 8 Microsoft introduced a separate version of Internet Explorer made specifically for touch. That meant that there were two versions of Internet Explorer on the same machine with huge differences in interfaces. This only confused people more.
Microsoft Edge is mouse and touch friendly. It doesn't have any legacy code that could break websites. To browse the Internet on Windows 10 using Microsoft Edge tap or tap click on the Start button in the bottom-left corner of your screen.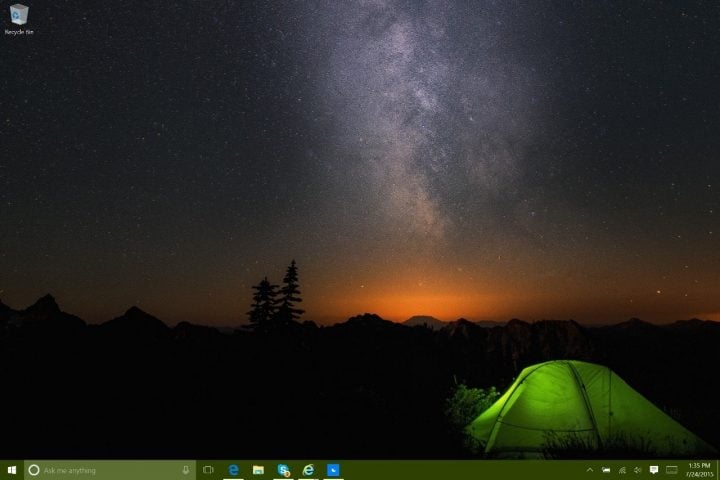 Now look for the Microsoft Edge tile. Regardless of the color you've chosen for your Live Tiles and Start, the Microsoft Edge icon is blue.  Tap or click on the Microsoft Edge tile. If you don't see it pinned to Start tap or click on All Apps button in Start.
Welcome to Microsoft Edge.
The default Microsoft Edge experience is gray. On devices where a Microsoft Account is present a new home page that pulls interesting news stories from MSN and lets you quickly search the web is the first thing you see. You can override this setting with your own homepage if you prefer.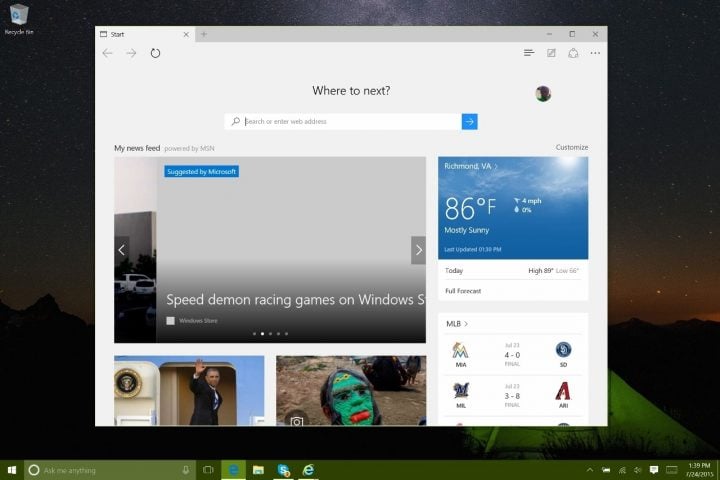 Tap or click on the Address Bar to go to the site you want. Don't worry, the address bar only sits inside the window when the browser first starts up. After that it melds into the rest of the window, getting out of the way so you can focus on the site you are browsing.
The Hub button holds any downloads that you've done, a list of sites you've marked for reading later and your browser history. You can also browse your favorites here or add more.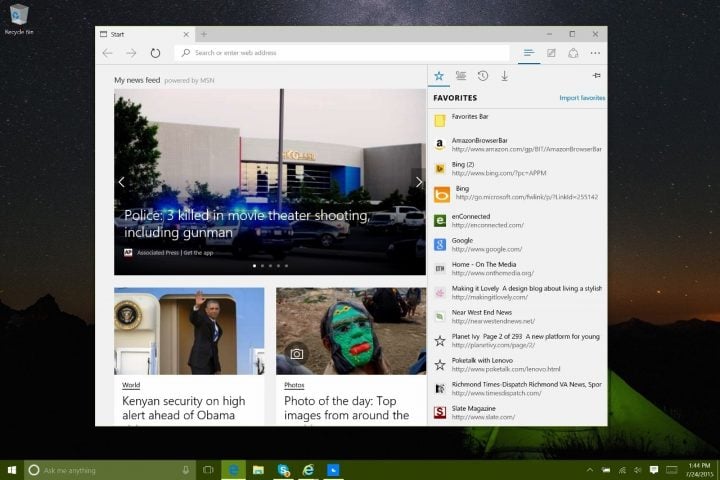 When you browse to new pages the rest of the interface lights up with options. Reading View, as noted by the book beside the address bar lets you get rid of the distracting things on a website and see just the text. It's great for consuming longform content.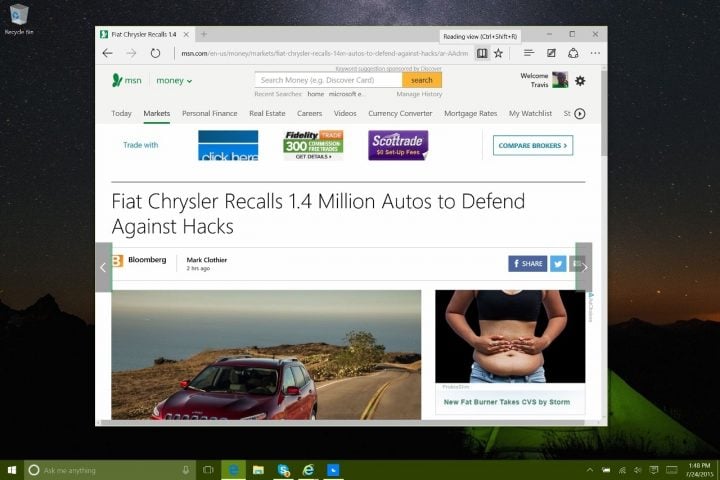 The star, like in Internet Explorer, lets you collect your favorite websites.
Microsoft Edge includes note taking that easily lets users take handwritten notes on website they visit. Click or tap on the note taking icon to turn on that feature. You can use a mouse or a stylus like the Surface Pen to markup websites.
There's the Share button, an easy way for you to send a link to that website to friends through email, Twitter or Facebook. App makers can add Share support to any of their apps.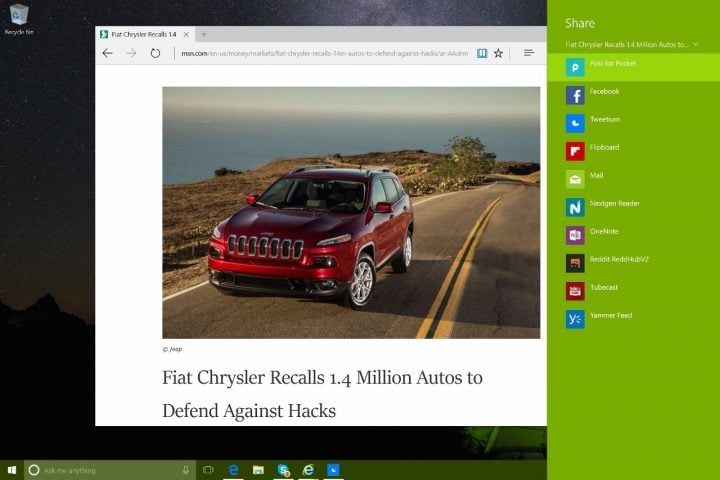 Finally, there's the menu button. It stores settings like a switch for turning on the Favorites Bar and a dark interface. You can also turn off the Flash plugin from the settings area if you need to.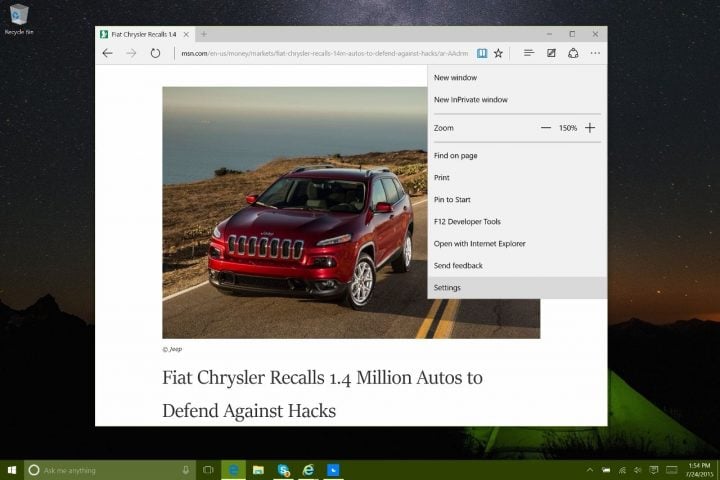 Note, that Microsoft Edge syncs your browsing history to your other Windows 10 PCs and devices. Also note that you'll need to import your favorites from the settings area when you first login.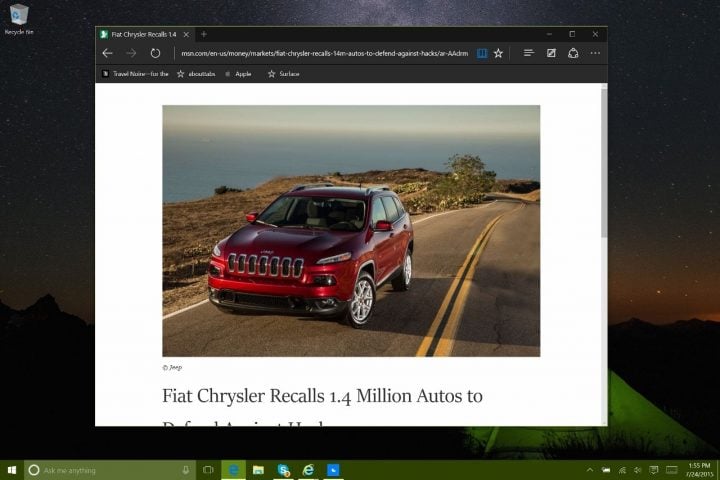 How to Browse the Internet on Windows 10 – How to Find Internet Explorer
Obviously, there are people who prefer to use Internet Explorer. Microsoft hasn't updated that browser with any new features, but it's still available in Windows 10. Even if you like Microsoft Edge you may find a page doesn't work correctly and need to switch between the two.
Tap or click on the search bar in your Taskbar. Then start typing in Internet Explorer.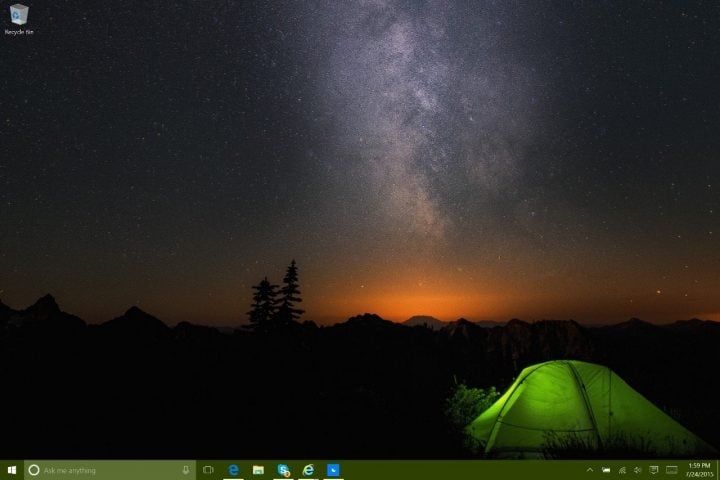 Now right-click on the Internet Explorer icon to pin Internet Explorer to Start. If you're using touch, tap and hold on the icon and select Pin from the menu.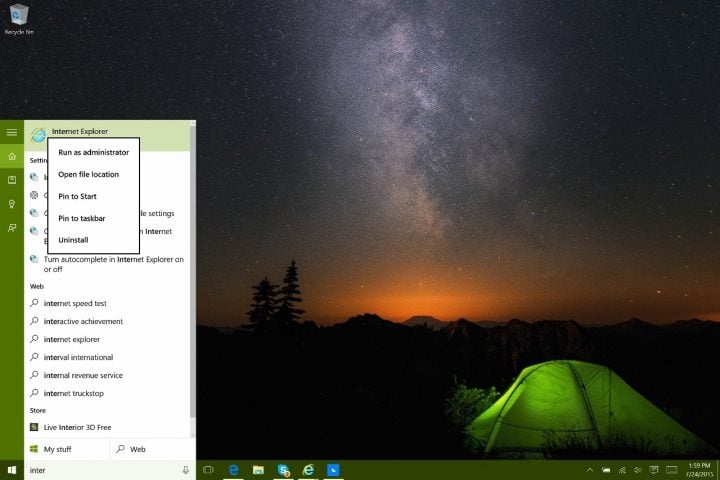 Good luck with Windows 10. Browsing the Internet on Windows 10 is easier than ever.

This article may contain affiliate links. Click here for more details.