How To Buy an Xbox One Game Online 
It used to be that buying a video game forced you to do a lot of things you didn't want to. You'd have to get in the car and head to your local GameStop or Wal-Mart. If you were smart enough to know which game you wanted, you had to flag down a member of the store's staff and get them to retrieve the game for you. At some point the clerk possibly gave you a speech about all of the great games that are coming that you should pre-order. This experience is why being able to buy an Xbox One game online is so great. It helps you avoid all of it.
The Xbox One is really big on digital games. Instead of heading into a store and purchasing a physical copy of a game, you simply head to Microsoft's Xbox website, find the game that you want and buy it. What's more, even if you buy a game when you aren't anywhere close to your Xbox One, Xbox Live will have your console begin downloading the game anyway.
Before we begin, there's a few things you need to have in place for buying an Xbox One game online to work flawless. The first, is of course access to the Xbox.com website. You'll need to login using the same Microsoft Account that you used on your Xbox One. You'll also need to set your Xbox One as your Home Console.
How To Buy an Xbox One Game Online – Setting Up
With the Xbox One, Microsoft allows Xbox Live users to download their profile on as many Xbox Ones as they want, but only one console gets the designation as Home Console. When you set a console as your Home Console there are a lot of great perks. That console allows anyone to play your games — whether you're logged in or not. That console automatically downloads any new video game purchases you make on the Xbox.com website or Xbox SmartGlass too.
Turn on your Xbox One and use your controller to select My Games and Apps. You can skip the next two steps by simply saying "Xbox, Go to Settings," if you have a Kinect sensor.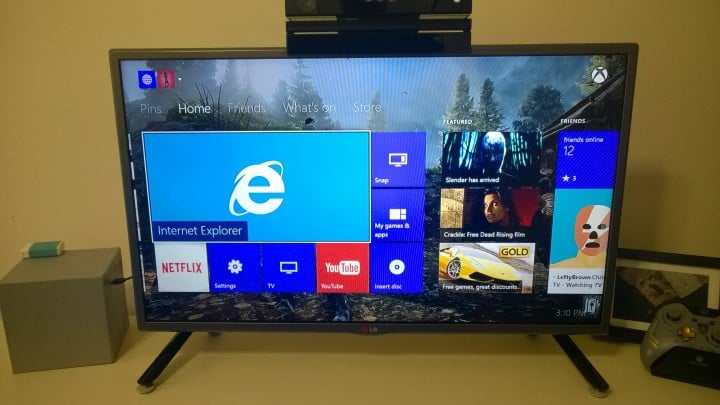 Inside My Games and Apps scroll down in the menu on the far left and select Apps.
Now select Settings from the menu.
Welcome to the Settings app. Look at the colored rectangles on the far left and select My Xbox.
Now select the My Home Xbox option.
Then select the button inside the menu to make the Xbox you're using your Home Xbox.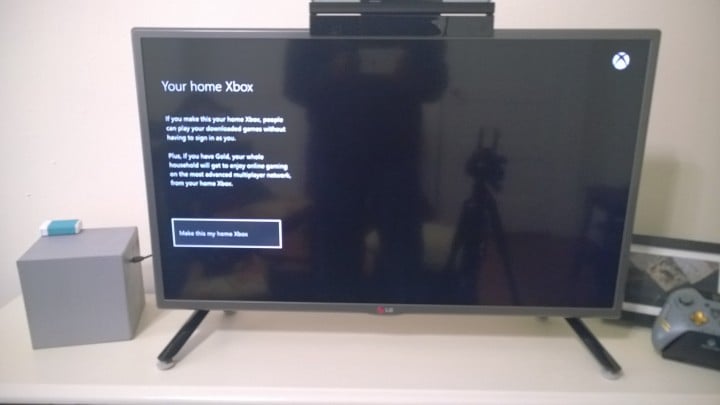 From this point on, your games are automatically stored on this Xbox the moment you purchase them online. If you have an external hard drive installed on your Xbox One, chances are that the console will automatically store your downloadable games there. Where the game file is stored depends on if there's an external hard drive present and if you've set it as the default location to store your digital items. Absolutely, don't go around switching your Xbox Home Console a lot. Microsoft says users are only allowed to designate a new Home Console three times a year.
How To Buy an Xbox One Game Online – Buying The Game or Downloadable Content
Now that you have designated a Home Console, you need to buy that game you've been thinking about. To do that, you have a few options. There's a Store built into the Xbox One software itself. There are also two companion experiences, the Xbox SmartGlass app, and the Xbox.com website.
For the purposes of this tutorial we'll walk you through the purchase of a game on Xbox.com. That being said, Xbox SmartGlass purchases are just as seamless and will automatically download to your Xbox One too.
Go to Xbox.com on your computer.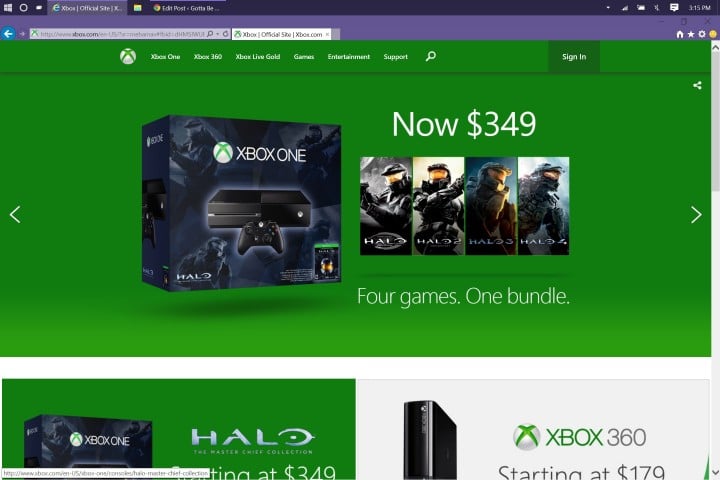 Select Sign In in the top-right hand corner of your screen. If you're using a computer running Windows 8 or Windows 8.1 you'll be logged into your account automatically. If you're on anything else you'll need to login with the same Microsoft Account that you used on your Xbox One.
Now use the search box to find the game or game add-on that you're looking for. For this example, we're finding Jaws of Hakkkon, the latest downloadable content for Dragon Age: Inquisition. 
Every piece of Xbox One content you buy online has a store page. On this store page is everything you need to know about what you're buying. Along the top is the description of what it is. A simple controller icon represents a full game. A controller icon with a plus sign indicates it's an add-on for a game. Below the title and icon is a description of the game or add-on and how much free space you'll need on your system. Above the buy button is the price and below that button is a listing of titles add-ons work with.
Click the Buy Now button.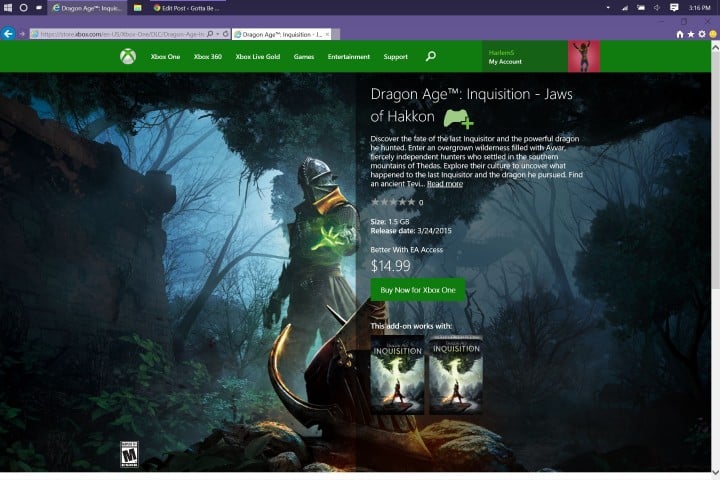 You'll need to login again with your password.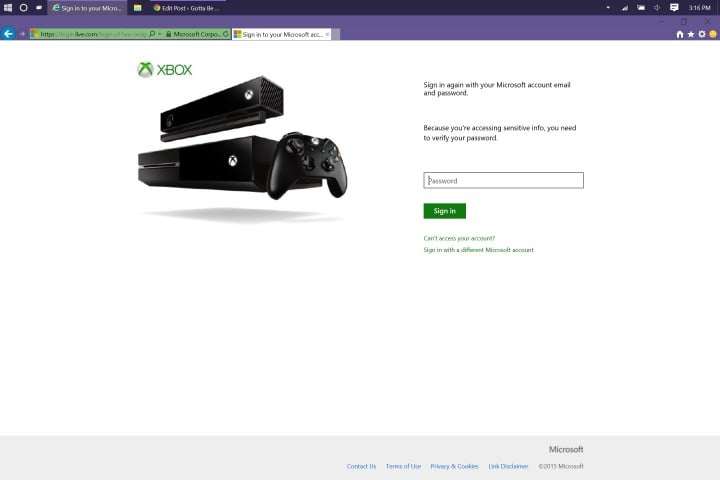 Now confirm your purchase.
By the time you get home, your game should be available on your Xbox One.