How to Buy Starbucks with iPhone
Advancements in technology improve even activities that we didn't know needed improving in the first place. For the last few years now, the Starbucks for iPhone app has been a perfectly good example of this reality. Very few people said they wanted to buy Starbucks with iPhone before the worldwide coffee chain rolled out the feature. 1 in 3 people that visit a Starbucks use the company's mobile pay functionality, according to statements made at this year's Starbucks Investor Day.
Maybe you've seen some of these people paying with their smartphone in line? Starbucks recently rolled out support for Apple Pay so that customers don't have to pull out their credit or debit card to make a purchase. This keeps lines moving and drinks getting picked up at a quick place. Even before Apple Pay, the Starbucks app allowed coffee drinkers to load money onto a prepaid gift card and pay with their smartphone by scanning a barcode. Recently, the company rolled out mobile ordering so that anyone can purchase a drink with their phone before they even arrive.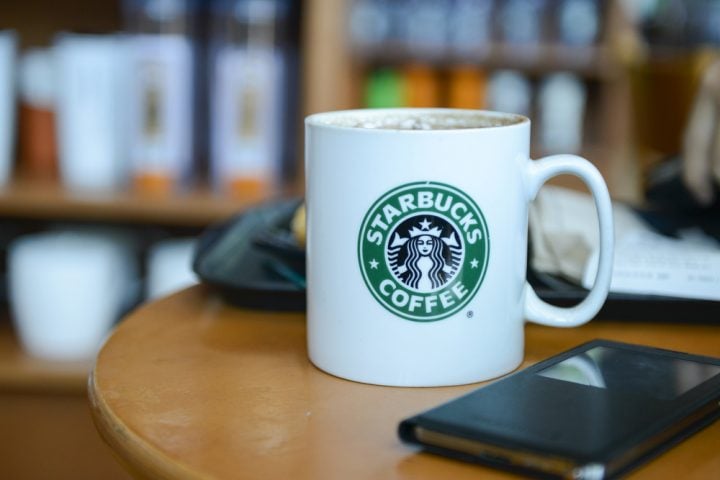 Buying Starbucks with iPhone my seem like tech wizardry, but it's really not. You can do it too.
How to Buy Starbucks with iPhone and Apple Pay
The newest and most convenient way to buy Starbucks with iPhone is through Apple Pay. If you haven't heard of Apple Pay, you probably recognize the Wallet app on your iPhone. Travel and store apps available on iPhone allow you to leave boarding passes and convenience cards there for safe keeping. This way, you don't have to continue pulling out your wallet when looking for a savings pass or look for a slip of paper when you're just about to board a plane.
Read: Mobile Payments: Starbucks Finds Success in Simplicity
You'll need a credit card or debit card that's compatible with Apple Pay. Gotta Be Mobile walks iPhone users through the setup process for Apple Pay in Apple Pay: A Complete Guide. Note that your financial institution has to have added compatibility with Apple Pay before you can get through the setup process. Also note that only the iPhone 6, iPhone 6s, iPhone 6s Plus, iPhone 6 Plus, iPhone 7, iPhone 7 Plus and iPhone SE support Apple Pay. The iPhone 5s can also use Apple Pay, but you'll need an Apple Watch to do so.
After you've got Apple Pay setup, head to your local Starbucks and place your order. When you're ready to pay, pull out your iPhone and double tap on the home button twice. Tap the card you'd like to pay with and stick your iPhone close to the PIN Pad on the Starbucks counter. You'll hear a ding and get a confirmation to let you know that the transaction went through just fine.
Read: Where iPhone Users Can Use Apple Pay
Note that paying this way avoids the Starbucks app entirely. As such, you don't get awarded the stars that you need to get a free beverage or food.
How to Buy Starbucks with iPhone and a Starbucks Card
Buying Starbucks with iPhone using your Starbucks card is a bit more involved. It's also more rewarding. The first thing that you need to do is download the Starbucks app from the iTunes App Store. It's available there free of charge.
The next thing you'll need to do is create a Starbucks account. If you already have one for some reason, use it to log into the app. Now you're ready to start paying and ordering with your iPhone.
The app works in conjunction with a Starbucks Card. Essentially, it gives you the option to slide a Starbucks gift card or permanently pair it with the app on your iPhone. You can refill this card manually, or have it automatically add money when funds are low. Credit can also be added to the card at any Starbucks register. As you amass Starbucks cards as holiday or birthday gifts, you can add the value to your account through the app.
When you're at the register and ready to pay, open the Starbucks app and tap the Pay option at the top of your screen. Tap Pay again at the bottom and you'll get a barcode that the barista at Starbucks scans to charge your account. From anywhere in the app, this barcode is also available by shaking your iPhone.
Note that you can add this barcode as a card for the Wallet app too.
Starbucks Mobile Ordering
Starbucks mobile ordering also lives inside the Starbucks for iPhone app. It's under Order. You begin by choosing the drinks or food that you'd like, then selecting the Starbucks store you'd like to pick up your items at. This can be the Starbucks closest to your current location or one that's located near wherever you're headed next.
Read: Drink Ordering Coming to Starbucks for iPhone & More
You're able to choose how you want to pay for your mobile order, but it has to be through Apple Pay or your Starbucks Card. You can't place a mobile order then attempt to pay for it in cash at that location. When you do get to the store to pick up your order, it should be waiting on the counter with a sticker that has your name on it.
Either way you decide to buy Starbucks with iPhone, the process should be pretty straight forward. It'll take you a few weeks, but eventually you'll get comfortable with pulling out your iPhone instead of your entire wallet.
Good luck trying to buy Starbucks with iPhone.

As an Amazon Associate I earn from qualifying purchases.