How To Buy Xbox One Games on Your PC or Mac
With this month's Xbox One update Microsoft finally started catching up with Sony's PS4. To be clear, the Xbox One update didn't introduce any features we'd never seen from a game console before. Instead, it finally added the ability for Xbox One owners to purchase games away from their console and we're going to show you how.
Being able to purchase apps and games from places other than right in front of the Xbox One itself doesn't blow us away because it's already been done before. Microsoft's Xbox 360 console allowed users to purchase games online. The catch was that it didn't automatically download that content for you. Sony's PS4 console does, and in most cases it does so without users actually having to go to their console and turn it on. Luckily, Microsoft  recreated that entire process.
Before we begin. You're going to need an Xbox Live account. Furthermore, that Xbox Live Account is going to need to have an Xbox One console assigned to it as the home console. If you haven't set an Xbox One console as your Xbox Live Account's home console open the Settings app, then go to Account and do it from there. There's also another key requirement. Your Xbox One will need to have the low-power setting on. Don't worry, by default it is. Unfortunately, if you've turned it off you'll need to turn it back on before you're able to buy Xbox One games on your PC or Mac.
Open the web browser on your Mac or PC. For this example we're on a PC using Internet Explorer. Don't worry though, it'll work the same in Firefox and Chrome. The process is the same in Safari too.
Navigate to Xbox.com
Now, look for the dark green rectangle on the right side of the Xbox website. If you've already signed into another Microsoft product like Outlook.com than it'll already have all of your information on it. If you haven't you'll see a Sign In button.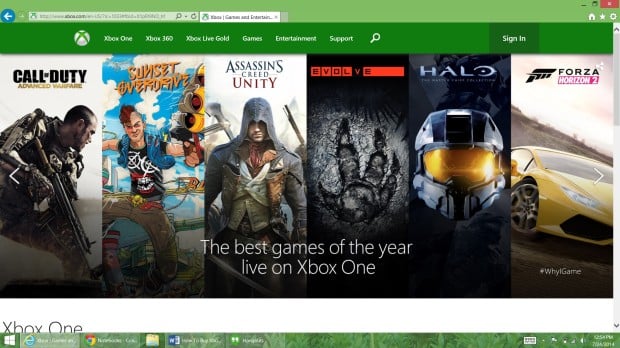 Users who aren't signed in, login with the Microsoft Account you use on your Xbox One. To be absolutely clear, it is essential that these are the same account. If you don't use the same account you could get home to find that the game you purchased hasn't downloaded to your Xbox One automatically as it should have. Even worse, you could end up splitting your game purchases and Gamerscore between two separate Xbox Live Accounts.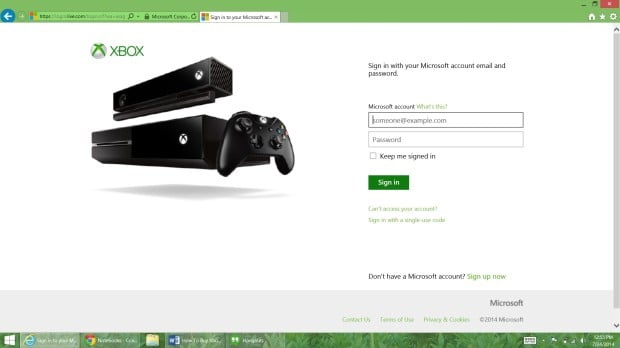 Now that you're logged in, move your mouse cursor over Games in the top navigation. Don't click it.
Click on Xbox One.
Now scroll down until you see a green square with a shopping bag and Xbox logo. It's on the right of your screen. The caption for it should say, Browse the Xbox One games store. Click on it.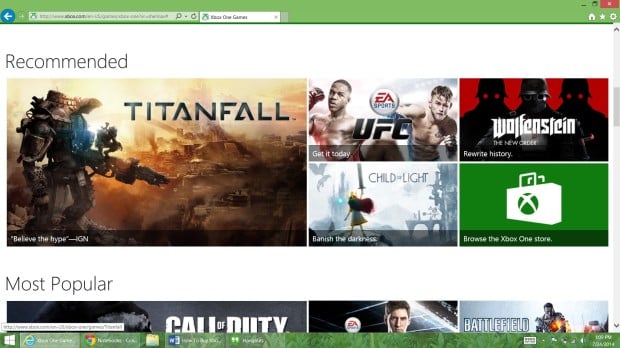 Here is a list of all the games that are either coming to the Xbox One at some point in the future or that have already launched. Look for the game you're trying to purchase. If you find it click on it.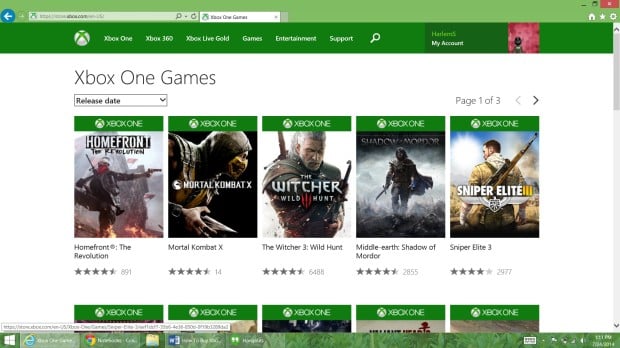 If you can't find the game you're looking for here, that's ok. You can search the Xbox website by clicking on the magnifying glass in the top-right corner of your screen. Then input the name of the game you're searching for. For the purposes of this tutorial we're purchasing The Amazing Spider Man.
Click on the Buy Now for Xbox One button.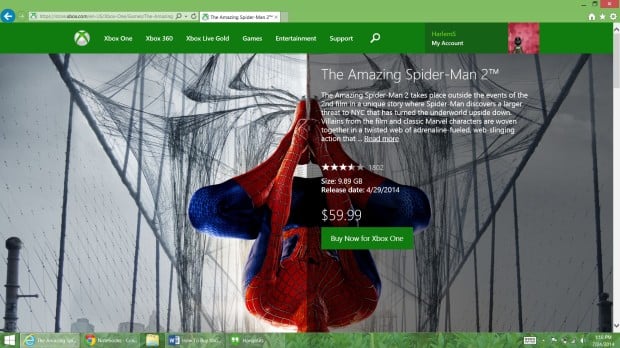 After a few moments you should see a giant white pop-up box with the final cost of the game. If you have credit on your Microsoft Account you can just hit Confirm to make the purchase and Xbox Live will take care of the rest. Xbox One owners who have assigned a payment option will also find that their payment method is now visible. Click Confirm to purchase the game.
If you don't have any credit available and haven't added a payment option to your Xbox One than you'll be forced to add it now.
That's it. When you get home you'll find that your Xbox One is already downloading the game you've purchased. This is great for really large games. You can always check the progress of a download on the Xbox One by opening the My Games and Apps area and looking in the queue. In most situations, Xbox One games can be played even before they finish downloading.
Users with more than one Xbox One are still in for a download. Unfortunately, you're only allowed to set a single Xbox One as your home console. That means you'll still have to head to the Xbox One that isn't set as your home console and manually trigger a game download from the My Games and Apps area. Microsoft hasn't said what happens if your Xbox One's hard drive is already full. Earlier this year the company said that the Xbox One managed game downloads for users, whether that meant the Xbox One would automatically delete games you haven't played recently to make room for new games purchased this way is unclear.
Happy downloading.

This article may contain affiliate links. Click here for more details.