How to Buy Your Friend or Family Member an Xbox One or PS4
When you're purchasing an Xbox One or PS4 there's so much that you need to know. Something as simple as which console bundle to purchase can quickly turn into a long discussion about the features and caveats of each controller and each online service. All of this complexity makes Xbox One and PS4 buyers an easy target for a sales person looking to stuff a basket full of anything or everything they possibly can.
In this guide we'll walk you through purchasing an Xbox One or PS4 for a friend or family member so that you're prepared when you walk into a retail store like GameStop or Wal-Mart.
Before we begin, there's some information you need to collect. If you can, find out what games your friend or family member is into. It's also important that you find out if they have a game system already and which one it is. Let's begin.
Read: Xbox One vs PS4 – What Matters Now?
Consoles & Console Bundles
Let's start with the basics. When we hear someone say that they're buying an Xbox One or PS4 we tend to think that's the end of the discussion. Buying a video game console isn't like purchasing a box of cereal. It's more like purchasing a new or used car.
Both the Xbox One and PS4 come in different configurations and bundles. Different attributes of the console lend themselves to different things. For example, there's a white Xbox One with Sunset Overdrive that has the same internals as the black version, but is meant as a collectible.
Let's go through them. On the Xbox One side of things, there are two basic console bundles available. The first is the Xbox One with Kinect 2 sensor that costs $449. That sensor lets the Xbox One identify people in a room and control games with just their hands.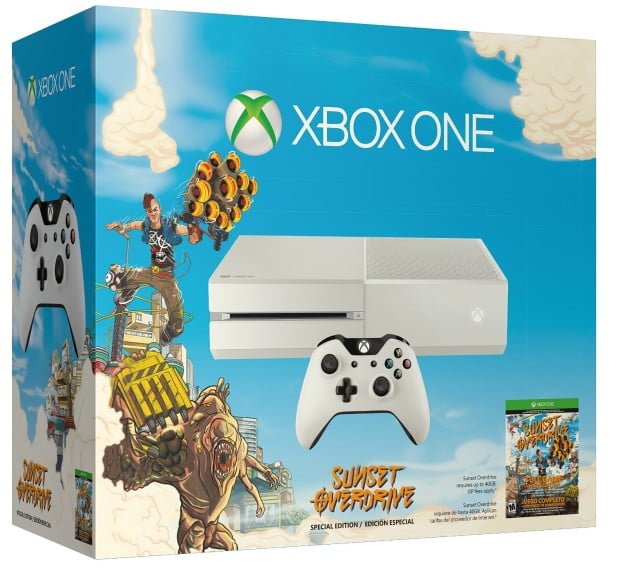 Read: Should You Buy a Kinect 2 Sensor for Your Xbox One?
There's also just a simple Xbox One bundle that costs $349 and doesn't include a Kinect 2 sensor. Two different gaming bundles exist, the $349 Xbox One with Assassin's Creed Unity and the $349 Xbox One bundle with Halo: The Master Chief Collection. I should note that the $449 Xbox One with Kinect 2 sensor comes with a free copy of Assassin's Creed Unity too.
Read: Xbox One Buying Guide – Which Xbox One Should You Buy?
During the holidays, Sony offered a PS4 bundle that included one of four games. That seems to have gone away now. In its place is the $399 PS4 that gives users a free copy of The Last of Us Remastered.
Choose the console bundle that best fits your family member or friend. If they're good at first person shooters, the Master Chief Collection is a good start, for example. It's a good idea to investigate which console your friend or family member has now because you really want to get them something to compliment what they already have in their collection. Chances are that if they have an Xbox 360, they'll want an Xbox One. If they want a PS4, they likely have a PS3 already.
Games
Every gamer has a genre or two that they prefer. If you're committed to buying your friend or family member an extra game, it's a good idea to know what their preference is.
Read: 15 Exciting PS4 Games
Say you've seen them play or heard them talk about Halo. Halo is a first person shooter, so it's reasonable to assume they like shooters. There are other types of games, Grand Theft Auto 5 is an open-world game. There are casual games like Fruit Ninja Kinect too. Uncharted 4: A Thief's End is an adventure game.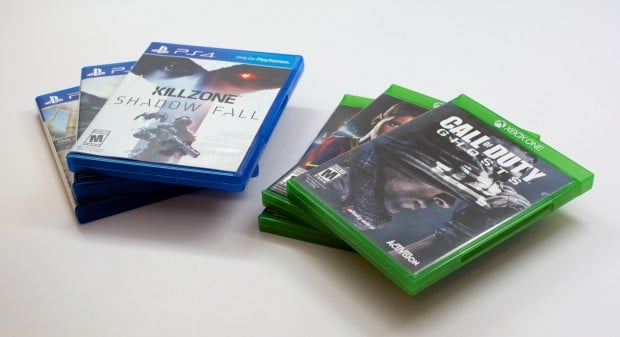 Regardless of which game you buy, know your audience. Every game comes with a rating on its cover from the ESRB or Electronic Software Ratings Board. If you're buying for a child, you want to say away from games that have a rating of M for Mature, A for Adults Only or even T for Teen. There are games that are rated E for Everyone. If you're buying for an adult, don't worry about the ratings and don't be alarmed when you're asked to show your ID for a mature title.
Read: Xbox One Buying Guide – What Xbox One Games Should You Buy?
Accessories
Deciding on which console to get based on which device they already have is key because there's a lot of small things that go into owning a video game console.
Both consoles require that users create an account with their service for free. In addition to that, users need Xbox Live Gold or PlayStation Plus before they can play online with their friends. Neither of those is free so you might want to factor that into your purchase price. Xbox Live Gold costs $59.99 a year or $9.99 a month. PlayStation Plus costs $49.99 a year or $9.99 a month. If they already have a console, chances are they already have a subscription to either, hence why you'll want to stay with the ecosystem they've already invested in. Limited Time free passes are included with each, so it's not something you absolutely need to buy when you pick up their console.
Everything they need to get started with should be inside the box. The PS4's wireless controller has a built-in battery. Microsoft's Xbox One controller doesn't, but there's a fresh set of batteries included. Both come with microphones for voice chatting online and a power cable. Also included is an HDMI cable that they'll need to plug into their HDMI-equipped television. Don't worry; every television sold in the last four to five years or long has HDMI. It wouldn't hurt to make sure that the TV they own does though.
Tips for Not Getting Scammed
A lot can happen when you're purchasing a video game console. Here are some things to look out for.
First, don't let the clerk talk you into pre-ordering or purchasing anything you haven't researched. GameStop will try to push a pre-order on anyone for an extra $5. Politely decline. If you do decide to purchase a game separate from a bundle, make sure that what they're selling you is the game and not a digital add-on. Sometimes, it's easy to confuse the two.
Read: Don't Get Scammed Buying an Xbox One or PS4: 3 Tips to Avoid a Rip-Off
Second, you're going to be asked whether you'd like to purchase a warranty for your console. Both consoles come with a one-year warranty, but adding extra protection doesn't hurt. I'd let the person you're gifting the console to decide if that's an investment they want to make.
Good luck with your Xbox One or PS4 purchase.

As an Amazon Associate I earn from qualifying purchases.