How to Bypass Jailbreak Detection on Your iPhone
If you have an app that blocks you from using it because your device is jailbroken, here's how to bypass jailbreak detection on your iPhone.
Last month, Snapchat began banning users who use jailbroken devices, simply because there are jailbreak tweaks that allow you to sort of hack into Snapchat and change around different settings that you wouldn't normally be able to change around on a non-jailbroken iPhone. However, a bypass was eventually discovered and jailbreak users could keep using Snapchat without fear of being banned.
That was thanks to an update to a Snapchat-focused jailbreak tweak called Phantom, which allows you to do all sorts of neat things, like mark posts as read when you want, disable the hold gesture when opening snaps, automatically save new snaps, select multiple contacts at once, send a snap from your camera roll, and a lot more.
However, Snapchat isn't the only iOS app to come with jailbreak detection and prevent access to anyone with a jailbroken device, so if you're looking for a more universal approach to bypassing jailbreak detection for most apps that have it, there are some options to consider and take advantage of.
Bypassing Jailbreak Detection
Perhaps the best jailbreak tweak for bypassing most apps that have jailbreak detection is tsProtector 8. It's a small tweak that has no settings to adjust or anything. All you do is install it and any normal app that comes with jailbreak detection will be bypassed and you'll be able to use that app without a problem.
First off, in order to install tsProtector 8, you'll need to add a new repo to Cydia that you probably don't already have installed in order to install TSProtector 8. To do this, follow these simple steps to add a new repo to Cydia.
Open up Cydia and tap on the Sources tab at the bottom. From there, tap on Edit in the top-right corner of the screen, and then tap Add in the top-left corner.
When a pop-up appears, type in the following URL and then tap Add Source: typ0s2d10.appspot.com/repo.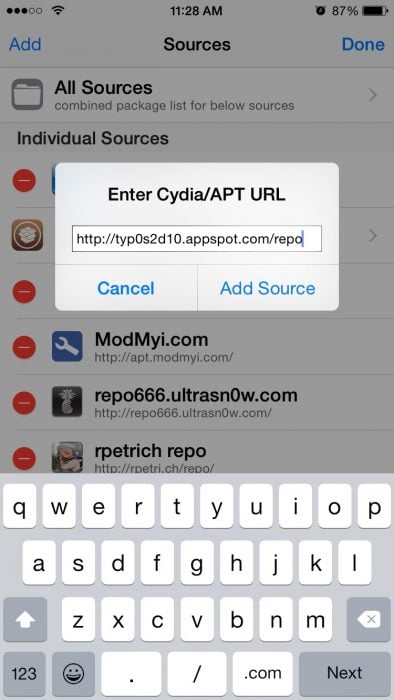 After you add the source, it will refresh the Sources list, which should take only a few seconds, depending on how quickly the servers are running.
From here, go to the Search tab in the bottom-right corner and type in tsprotector in the search text box at the top. You should see tsProtector 8 appear in the list. A green checkmark next to it will indicate that you already have it installed. Otherwise tap on it and then tap Install in the top-right corner of the screen.
Be aware that tsProtector 8 is still in its alpha stages, which means it's not complete yet, but I've been using it for several weeks now and have had no issue with it yet. Plus, it's been doing its job with several apps that have jailbreak detection.
If you're not comfortable with using alpha/beta software, then it's no worries, as there is another option.
Flex 2 is a jailbreak app that you can install from Cydia, and we've talked about it in the past.
With Flex 2, you can install individual tweaks for different apps, and this includes tweaks that bypass jailbreak detection. So if you discover that the Ticketmaster app is locking you out because it detected that you're on a jailbroken device, you can install a small tweak for Ticketmaster via Flex 2 that will bypass the jailbreak detection.
Plus, Flex 2 allows you to do so much more, making it one of the best jailbreak apps to get because of its versatility and the large community that surrounds the app, where users can submit their own tweaks.