How to Change Your LG G4 Wallpaper
Now that the impressive new LG G4 has been available in the United States from all major carriers for over a month, we've been getting multiple questions about the big 5.5-inch smartphone. The guide below will explain in simple terms how to change the wallpaper on your LG G4.
The LG G4 has a big and bright 5.5-inch 2k resolution "Quantum HD" display and an excellent 16 megapixel camera on the back. This means images and wallpapers look stunning, and images captured with the camera are good enough for the high resolution screen as well.
Read: 30 LG G4 Tips & Tricks
The first thing you see every time you use and enjoy the LG G4 is the lock or homescreen, and thankfully they're both customizable, even if LG doesn't make it easy to figure out. Below is a quick tutorial explaining how to easily change the wallpaper (and find good wallpapers) on the G4 for beginners. We'll also detail how to change the lockscreen wallpaper to something different, so users can have two if they'd like.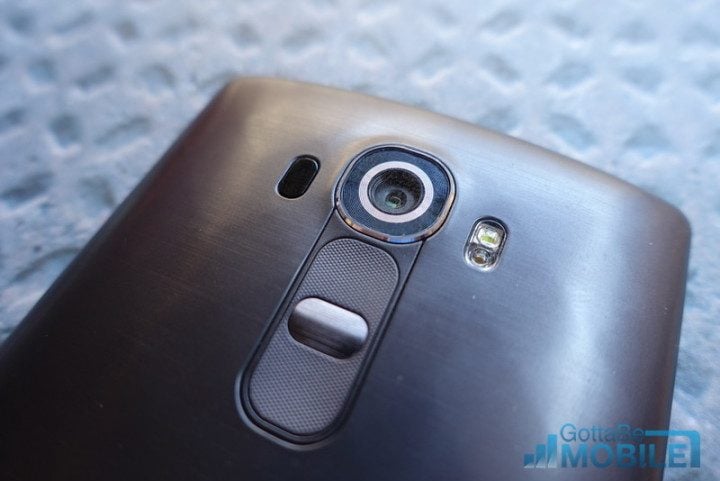 Changing the wallpaper on a smartphone or tablet is a pretty standard task that millions of owners do often, if not weekly, but some may not understand all the options, or are new to Android and smartphones. With that, beginners or those new to Android will find the below steps and images helpful to complete this task.
One of the best aspects of a new phone is customizing it as you'd see fit. Some of these steps can sound difficult, but they're actually very easy, so lets get started.
Instructions
With the LG G4 there are two ways to change the homescreen background image, and then one simple way to change the image on the lockscreen as well. We'll go over the easiest homescreen method first.
To start simply long press anywhere on the screen where there isn't an icon or widget. Pressing and holding on a blank space on the screen. This expands the LG G4 screens and gives you a look at some areas to choose from to select a wallpaper, and three choices for apps, widgets, and wallpapers. By default it should be on wallpapers, if not, tap the lower right "Wallpaper" option.
From here simply scroll through the smaller tiles to select pre-loaded wallpaper images, select from your photo Gallery, choose a moving Live Wallpaper, or even select multi-photo. That last one lets users have a different image for each homescreen, if they have multiple screens with apps on them. Now just tap on any image and wait 1-2 seconds, and it will change the wallpaper. That's it, you're all done.
However, there's also a second method, and this route gives you an option to choose a homescreen background wallpaper, and another (or the same) for the lockscreen.
Navigate into settings by finding the settings app in the application tray, or by pulling down the notification bar and selecting the gear-shaped settings button. Tap the third column labeled "Display" and then select either "Home screen" or "Lock screen". Then tap the third option which is labeled "Wallpaper".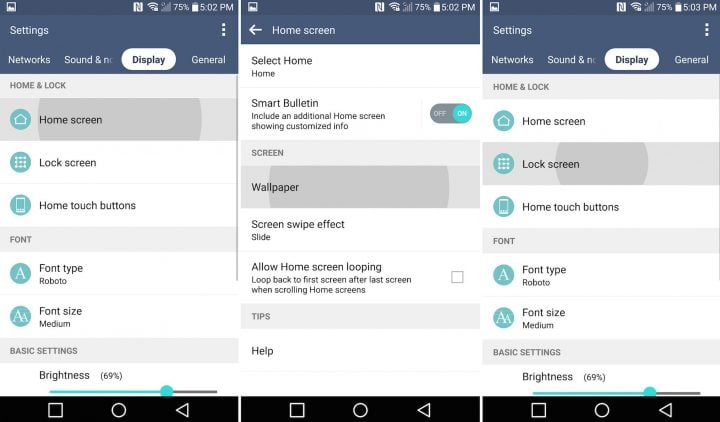 This will bring up a somewhat similar set of option, but oddly with a different layout. Choose what area you'd like to find your homescreen or lockscreen wallpaper from, select it, then choose from the options available. Being able to select from the gallery is a nice, meaning users can use any image of friends, family, kids, the dog, or any other photo they've taken with the LG G4 16 megapixel camera.
Once a user has selected what section, simply navigate through all the images, tap to select, and the wallpaper on the home screen or lock screen will be successfully changed. I like to make each one different, but to each his own.
There are tons of different apps available from the Google Play Store users can download if they'd like to find custom wallpapers, or even live wallpapers that move with the display. Zedge is one of the most popular apps full of beautiful wallpapers, ringtones, and tons of other customization for your smartphone. It's been used for years, and has one of the biggest and best selections to choose from.
Premium Wallpapers HD is another excellent option, especially considering the G4 has a big 5.5-inch 1080p full HD display. You'll want HD wallpapers to keep things looking good.