How to Change Ringtones on the Moto G
When the first Moto G was announced in 2013 the smartphone instantly gained popularity for offering great features and a good design all for a wallet-friendly price. It was an instant hit, and has since grown to be Motorola's most popular smartphone ever. As a result, millions of first-time smartphone buyers own the Moto G and have lots of questions. Here we explain the easy task of changing the ringtone on your Moto G.
For the low price of only $179 with no contracts required, the Moto G offers a lot to consumers, as does the new 2014 Moto G with the same price and a bigger 5-inch display. Its design and price made it popular, and now that millions of users own one we're getting asked lots of questions. It has a powerful quad-core processor, dual front facing speakers, runs the latest version of Android and has tons to offer.
Read: Moto G Android 5.0.1 Lollipop Update Hits the US
Android smartphones come with an array of pre-installed ringtones users can easily change with just a few taps in settings, and below well explain just how easy it is to change them. We'll also detail making your own custom ringtones, and adding them to custom contacts so you can know who's calling simply based on the ringtone. Something that was hard to do on older regular phones that's a breeze on Android powered devices like the Moto G.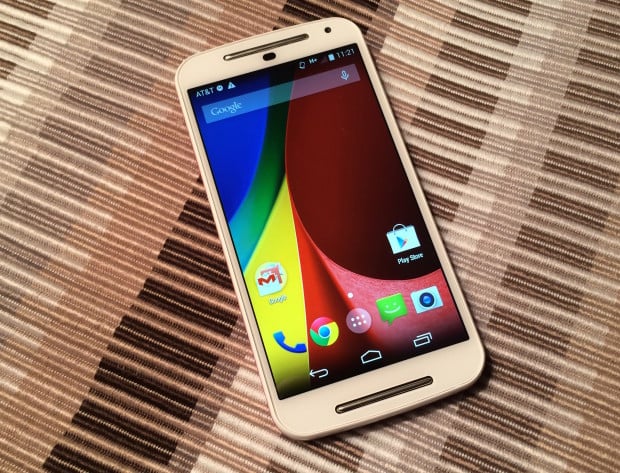 If you've ever owned or used an Android device in the past few years you'll be right at home and probably won't even need to search how to do this. However, if you're new to smartphones like the Moto G, or an Android convert leaving the iPhone below is how to set custom ringtones, or simply change the ringtone on your Moto G.
Read: How to Create Custom Ringtones on Android
With the Moto G you can create custom ringtones from your own music using the guide above, or download one of the millions of options from popular apps like Zedge. Once you've done this (or just want to use the pre-installed tones) here's how. This is a beginners guide to changing ringtones
Instructions
On your Moto G you'll need to navigate to the settings menu, which can be accessed two ways. Slide down from the top notification bar with two fingers and tap the gear-shaped settings icon. That or head into the application tray and find the settings app. From here scroll down to, and select "Sound & notification".
From here you'll see an option listed as "Phone Ringtone" and just tap this to see, browse, preview, and ultimately select one of the over 30 different ringtones for your Moto G.
Once you've found one you like, or see some you've added from apps or made yourself simply tap the ringtone you'd like and hit OK. You're all done. It's that easy. The settings menu is very simple, easy to understand, and has all the necessary settings one would need to change anything and everything on their device. From screen brightness, notifications, sounds, keyboard tap noises and more.
In this same Sounds & notifications settings menu you'll also see a "Default notification ringtone" option below the regular ringtone choice. This is where you set a notification sound for all other incoming notifications. Things like text messages, emails and more. You can do the same steps above and select from one of the many choices made available out of the box from Motorola.
Then the "Other sounds" option is where you can control dial pad tones, screen lock noises, screen touch sounds (which I disable), and the vibrate on touch setting. There's tons to see and find, and if you're new to smartphones or the Moto G we'd urge you to nosy around in settings and get familiar with everything. Just don't change any settings you aren't familiar with, unless you've done some research and know what you're changing.
Now make some custom ringtones, and even set certain songs for individual contacts to make your device even more personal and customized. These steps are the same for virtually all Android devices. Enjoy!