How to Change Screen Brightness on Android Wear
Google's brand new Android-based operating system built for wearable gadgets and technology called Android Wear is officially here. The first two smartwatches running Android Wear were revealed a few weeks ago at Google I/O, and went up for sale in early July.
With Android Wear now out and in the wild with users enjoying their new smartwatch, we're getting more and more questions regarding how to do simple tasks. At heart Android Wear is designed to be extremely easy to use, but below we'll go over how to quickly change the screen brightness for those wanting to turn it up or down.
Read: How to Factory Reset Your Android Wear Watch
Just like all Android smartphones and tablets a quick scroll through settings will give you all the options available. Android Wear is extremely simple, and there isn't a lot of options, but one you'll probably want to control the minute you get your own is the screen brightness. The small 1.63-inch screen on the Samsung Gear Live is bright and vibrant, even on low settings, but you'll want max brightness while outdoors.
The upcoming Moto 360 has the most hype and anticipation from buyers, but that's not yet available. However, the Samsung Gear Live and LG G Watch started shipping to consumers this past week, and they're pre-loaded with a few pretty nice watch face options too.
For those looking for more details regarding Android Wear as a whole, be sure to check out our Samsung Gear Live hands-on coverage for additional information. There's even a Flappy Birds game clone for Android Wear, which is a plus or a minus depending on how you look at gaming on a small screen attached to your wrist.
If you've been enjoying your new Android Wear watch, or plan to get one, below is a simple few steps and video showing how to change the screen brightness on your watch.
Instructions
Like mentioned above, everything about Android Wear was designed with simplicity in mind. Accessing settings and navigating is as easy as a few taps, swipes, or using your voice with Google Voice actions. That's what we'll be doing here, even though there's two ways to access the settings menu.
Simply make sure the screen is on (tap the display) and say, "Ok Google, Settings" to get to the settings menu. From here you'll instantly notice a few options and go ahead and select "Adjust brightness." From here you'll have a very simply and intuitive screen where just a slide of your finger will change the screen brightness based on 5 setting choices. We've found three to be perfect on the Gear Live, but each Android Wear watch will be slightly different.
Alternatively, users can use a similar method but head into the settings menu manually, although using voice is easiest. Simply tap the screen to make sure it's on, then tap again to get to Google Search (or say Ok, Google) and then swipe from the bottom up via the little arrow that appears. This takes you into Android Wear's options and apps, and down near the bottom will be settings. Tap settings and head into Adjust brightness as mentioned above.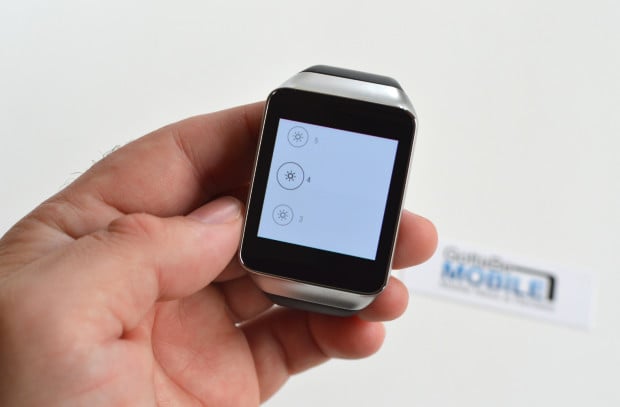 Select the level of brightness you prefer for any given moment, and swipe left to right to go back or head into the settings menu again. That's it, you're all done and have changed screen brightness. We've found the screen to be a bit dim outdoors while on the stand-by mode, but full brightness while the watch is being used works quite well.
Obviously with Android Wear brand new and still in its infancy as an OS, there's bound to be changes in the near future. That being said, these steps should be the general way to control and manage brightness for the foreseeable future.