How to Change the Background on a Windows Phone
Microsoft's Windows Phone operating system is probably unlike anything you've used first hand. Windows Phone has some flexibility in the same way that Google's Android operating system does. That being said, it's tightly designed with specific use cases in mind. It's meant to be an easy operating system to pick up, but some of Microsoft's design decisions stand in stark contrast to what's available on the iPhone and more. Backgrounds on Windows Phone are a perfectly good example of these differences.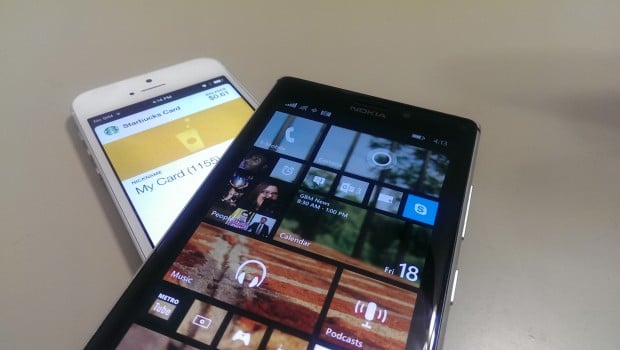 Strictly speaking, there's no way to change the background on a Windows Phone like there is on Android and iPhone. Originally, Microsoft chose design over customization like Apple did for iOS. You can decide whether you want the space in between the Live Tiles on your Start Screen to be white or black. By default, everything in Windows Phone is white text on a black background unless you're in an app. Changing to a white background turns all the text throughout the operating system black.
Then Microsoft released the Windows Phone 8.1 update. Anyone with a device running Windows Phone 8.1 can chose a picture to display on their Start Screen. Instead of being hidden behind the Live Tiles, this picture shows up only inside each individual Live Tile. When you scroll up or down the background mostly remains in place.
Before trying to change the background color and add a picture to Windows Phone, it's important that you know whether your device is running Windows Phone 8.1. Chances are if you purchased it brand new over the last two years it is, but its better to be safe than sorry. Look at the specifications on your device's box for a breakdown of what software your Windows Phone is running. It's also listed in the About area inside the Settings.
Turn on your Windows Phone by pressing the power button. You'll need to have already made it through the setup process before you can finish this tutorial.
Swipe upward on the lock screen. If you have a passcode set, enter it now.
Welcome to the Start Screen. It's this screen that we'll be customizing. Looking for the Settings app on your Start Screen. In our example it's the cog Live Tile sitting to the right of AT&T Mobile TV. You'll want to tap and open Settings. If you don't see settings tap place your finger on the top edge of your screen and slide download to reveal the Action Center.
In the Action Center tap on All Settings in the top right corner of your display.
Welcome to the Settings app. Don't bother looking for a setting labeled Background. Microsoft doesn't list out options this way. Instead it breaks features down into related categories. The area you're looking for is Start & Theme under System Settings. Tap on Start & Theme.
Tap on the Dark underneath Background to switch your Windows Phone's primary theme. Again, by default its set to black, but you can also switch it to white for a brighter experience. While here, it's not a bad idea to choose a different Accent Color to go along with your new background. The Accent Color is used to highlight links to different apps and add some flair to the Live Tiles. Color options include three different versions of green & blue, purple and red. Its worth noting that Microsoft syncs your Accent Color to its Windows 8.1 operating system. If you using the same Microsoft Account on them both your Windows Phone and PC will constant match.
Now tap Choose a Photo to customize the picture that appears in the background of your Windows Phone's Live Tiles. You can scroll through the list of pre-made backgrounds already onto Windows Phone by tapping Backgrounds. Choose from pictures you've taken by tapping on the Camera Roll. If you have some favorite pictures uploaded already, swipe over to favorites.
Windows Phone directly integrates with Microsoft's OneDrive cloud storage service and Facebook. At the bottom of your screen you can browse through pictures stored on those services for use as a background too.
Once you've found a picture you like, move the rectangle over the part you want to appear as the background in your Live Tiles. Zoom in on parts of the pictures you like and try to avoid parts of the picture you don't like.
What you want to do is find a background that doesn't look to overwhelming confusing. Look for a picture with something of significance, but stay away from patterns. Whatever you do, don't use a picture that's too light. Even after you switch backgrounds, text in Live Tiles is white. A lightly colored background picture will washout any text in your Live Tiles.
After assigning your background you my notice that you can't see it through some Live Tiles. That's because backgrounds rely on Live Tiles having a transparent background. All of the built-in apps do, but many third party apps don't. Use a utility like Transparent Tiles Maker to add more space to see your background.

This article may contain affiliate links. Click here for more details.