How to Change the Galaxy S6 Text Message App
The brand new Samsung Galaxy S6 has a lot to offer out of the box, but can also be heavily customized with a new theme tool, apps from the Google Play Store, 3rd party add-ons and more. Like most Android smartphones made by someone other than Google, the Galaxy S6 has its very own app for sending and receiving text messages. Rather than use Hangouts or Google's stock Messenger app, every manufacturer makes its own. Here though, we'll explain how to change the default text app on the Galaxy S6.
Samsung's redesigned Galaxy S6 was announced on March 1st after months of rumors and hype, and finally hit all carriers in the United States on April 10th. It runs the latest Android 5.0.2 Lollipop with a toned-down version of Samsung TouchWiz. The phone has a lot of features and customization, but a new text app can make it even better.
Read: 5 Best Android Text App Alternatives
These days the stock text apps aren't all that appealing (we're looking at you Samsung) and they're not very customizable either. Thankfully the power of Android means you can download any of the hundreds of text messaging replacement apps from the Play Store, set them as the default option. Then use it instead. You can even change the notification icon, bubble colors, add quick compose features to the notification bar and more. Lets get started.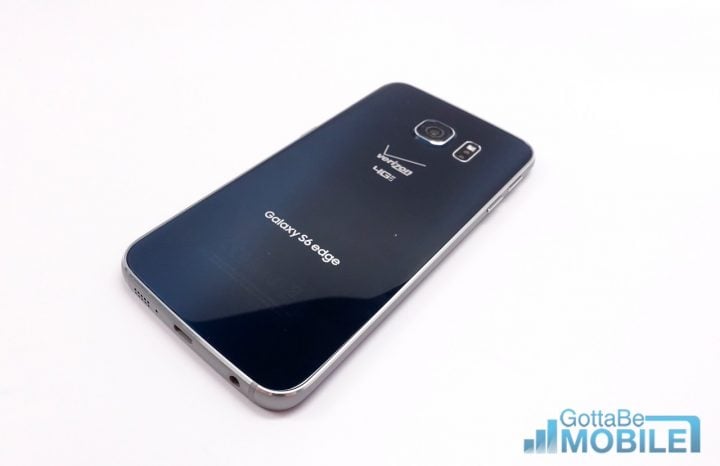 The Galaxy S6 has a stunning new Quad-HD display, one of the best cameras around, a theme tool that will let you change certain aspects of the look and feel of the OS and more, but the text app remains the same boring option they've had for a long long time. It is a little better, and adopted Android 5.0 Lollipop's design guidelines, but if you've found something better, below is how to change it.
When you replace your stock app with something from the Play Store you'll probably be able to customize it with themes, change the look of the message bubbles, customize font, and more. It all varies on which you choose to download, and the link above details a few of our favorites, then the guide below will help you change it.
Instructions
Starting with Android 4.4 KitKat in late 2013 Google made changing the stock text message app on Android devices easier than ever before. There's a dedicated option in settings that turns one on and the other off, so you won't get double notifications from both the stock app, and the new one you install. Samsung's settings menu is a bit convoluted, but we'll explain it so you'll get things figured out in less than a minute.
First things first is you'll want to navigate to the Google Play Store and download one of the many different third party text apps. Textra is our favorite, GoSMS is nice, and a few others made our list linked to above. Download it, and you're set. Some even change the default app settings for you, or follow the steps outlined below.
Head into settings by pulling down the notification bar and tapping the gear-shaped icon, or just find the settings app in the application tray. Not all Galaxy S6 settings menus are the same, they vary by carrier, not to mention you can change this in two different areas.  So just search for "Default Messaging App". Then just select this, and change the app to your app of choice.
You can also head into Connections >more connection settings > default messaging app, or even go to Device > Applications > Default applications > Messages and select it here. Any of these ways will change the text app from Samsung Messenger, to Textra or whatever you downloaded.
Once you've done this you'll now see Samsung's own Messages app, Google Hangouts, and whatever else you downloaded. Again, we use Textra, so that's what is shown and what we've selected as the default texting application to send SMS and MMS messages. Now all you need to do is select the text app of choice, and you're all done.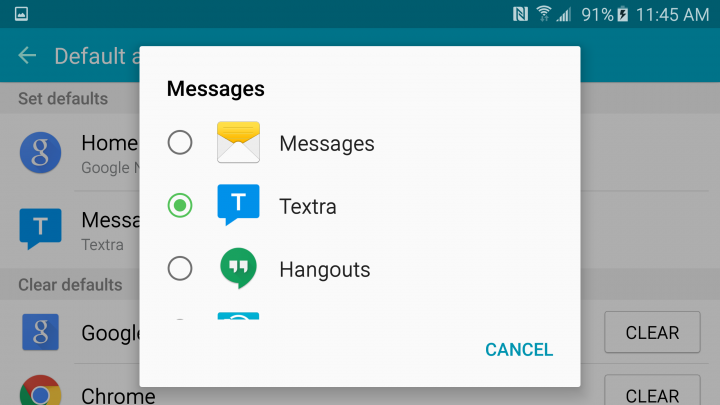 Now when you send and receive messages they'll be done through this app, vs the one that came installed out of the box. Move the Textra icon to your main home screen, or the bottom bar with your most popularly used apps, and you're all done. This won't affect who can send or receive you messages, and everything will work as usual.
Textra and most 3rd party apps offer tons of customization, font size and color, themes, and bubble colors, so head into settings and customize it as you see fit. If you want to go back to the stock option, just go back to settings > default messaging app > and select the regular one. It's that easy.
Enjoy a better text message experience on your Galaxy S6, one that's customizable, and feel free to give other text replacement apps a try and find what's best for you.

As an Amazon Associate I earn from qualifying purchases.