How to Change the Galaxy S6 Lockscreen & Wallpaper
Now that the Samsung Galaxy S6 and Galaxy S6 Edge have been available in the United States for a few months, more and more users are getting their hands on Samsung's latest smartphone. For beginners or those switching from iOS, something as easy as changing the lockscreen background or the wallpaper can be confusing.
This guide will explain how to change both the background wallpaper on your Galaxy S6, and the lockscreen, for those that are new to Android. It's a basic feature many don't ever do simply because they don't look through settings, but it's actually extremely easy.
Read: How to Reset a Frozen Galaxy S6
The Galaxy S6 has a bright 5.1-inch 2560 x 1440 Quad-HD display, and the first thing you see when you turn it on is the lockscreen. This can be customized with any picture users would like, and the same goes for the background wallpaper. Let's get started.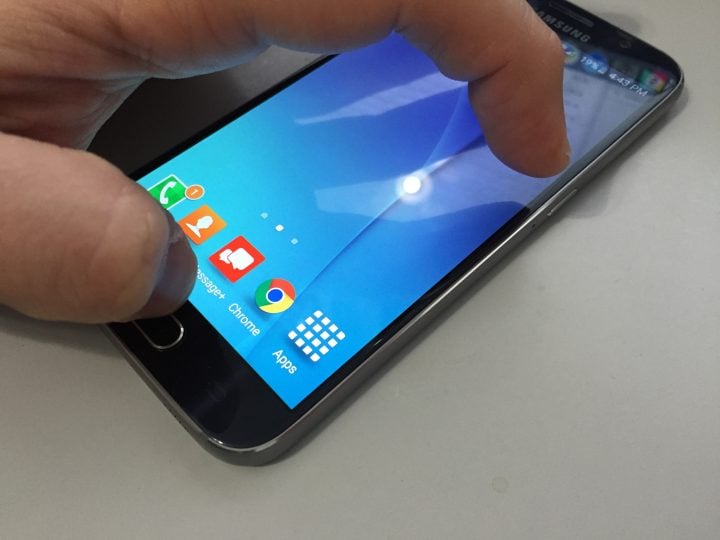 This is one of those features that almost everyone knows and does often, but not all users are familiar with Android, or know how Samsung's software works. As a result, beginners or first-time smartphone owners looking to change the wallpaper to a picture of their pets, kids or a pretty landscape photo or monument will want to read the quick guide below.
Part of the excitement of getting a new phone is setting it up the way you'd like, even if that can be a bit daunting for beginners. As a result, the easy to understand steps below will have owners changing the wallpaper on the Galaxy S6 and Galaxy S6 Edge in no time.
Instructions
There are a few different ways to change the lockscreen and homescreen background image, and with Samsung you can make both something different, a feature most other smartphones don't offer. We'll start with the easiest method first.
Tap and hold anywhere on your homescreen where there isn't an app or a weather widget, and the screen will zoom out to a customize mode. From here you can rearrange icons, change what screen is the main screen when you hit the home button, as well as customize the wallpaper.
Simply tap and hold as mentioned above, then select "Wallpapers" on the bottom left. Select this option and now owners can choose from a list of pre-installed background wallpapers, or "Pick image" from the device. This can be an image you've downloaded, photos taken with the camera, and more.
Pick one or find wallpapers you've downloaded from the internet or popular apps like Zedge, or simply scroll through your camera gallery until you find a picture of the family, kids, pets, or anything else you'd like to use.
Read: How to Easily Install a Galaxy S6 Screen Protector
Once an image is found that is perfect for the background wallpaper simply tap Set Wallpaper and you're all done. Based on the image size users may be asked to crop the image.
Change the Lockscreen Wallpaper
Alternatively users have the choice to change both the lockscreen and homescreen wallpaper at the same time, or choose a different image for each one. I have my favorite NFL team on my lockscreen, and something else as my homescreen background.
Head into settings > personal > wallpaper and at the top left choose Home screen, Lock screen, or both. Then the same instructions as above apply. Find an image on your device, or choose from any of the pre-installed wallpaper images and hit apply. You're all done, and the Galaxy S6 is now customized to the users own personal style.
There are a lot of different apps available from the Google Play Store users can download if they'd like to find custom wallpapers, or even live wallpapers that move with the display. Zedge is one of the most popular apps full of beautiful wallpapers, ringtones, and tons of other customization for your smartphone. It has been around for years, and has one of the biggest and best selections to choose from.
Premium Wallpapers HD is another excellent option, which works great and has HD wallpapers to better suite the 2560 x 1440 Quad-HD resolution on the 5.1-inch Galaxy S6 display. Enjoy!

As an Amazon Associate I earn from qualifying purchases.