How to Change the LG G3 On-screen Buttons
Just like the LG G2 last year and a few other phones from LG, the all new LG G3 is extremely customizable out of the box. Users have an array of options they can select to change the overall look and feel of the device. A prime example is being able to completely change the on-screen buttons as you see fit.
The new LG G3 has tons of extremely impressive specs and features, like the 13 megapixel laser auto-focus camera, but if you've recently picked up the new phone and would like to change the on-screen button layout to match a previous device, or just to add a bit of customization, we'll explain exactly how to do so below.
Read: How to Take a Screenshot on the LG G3
Most smartphones have either dedicated capacitive touch buttons, like the Galaxy S5, or on-screen keys that can't be changed like the Nexus 5 or Moto X. However, LG wants to let users change things as they see fit, and thankfully the on-screen keys are fully customizable. Head on past the break for more details and a quick how to video.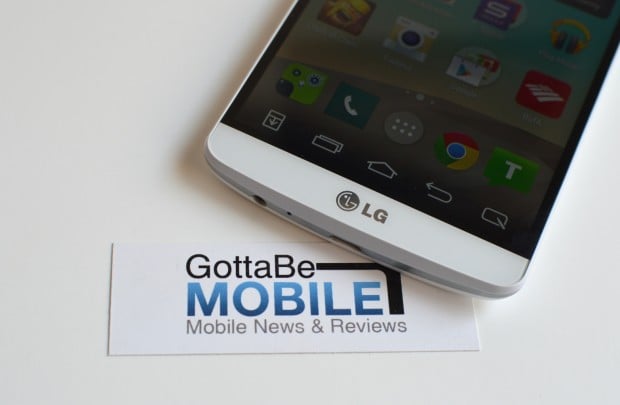 Out of the box the LG G3 comes with three standard buttons on the bottom of the display. These are back, home, and the multi-tasking menu button, from left to right. However, if you're coming from a Samsung device many of theirs have the back button on the right side instead, requiring users to change where they tap, which often causes problems for the first few weeks of owning a device.
Sadly there's no standard for the buttons on Android, as Google allows manufacturers to change it as they'd like, which is one of the strengths of Android. That being said, this often causes users to get confused, or frustrated when they pick up a new device. Thankfully LG has solved this problem by letting you rearrange the buttons however you'd like. Below is how to do it.
Instructions
Instead of hacking and installing 3rd party software to customize your device, LG has all these options and advanced customization controls right in the settings menu.
Simply head to settings by tapping the gear-shaped menu button at the top of the notification bar, or in the app tray. From here you'll navigate to the third column titled "Display" and the third option down is "Home touch buttons".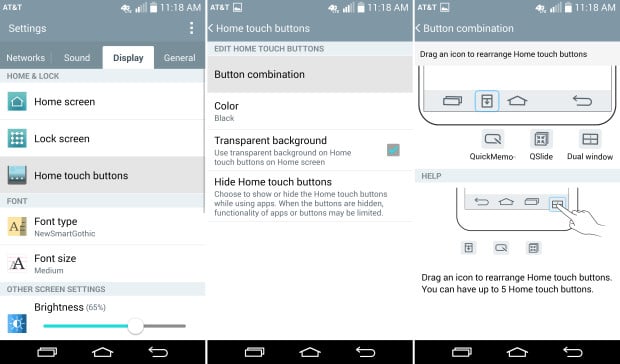 Tap here and you'll quickly be able to change the button combination, layout, and add up to five buttons. You can then select white or black background options, and even add gradation.
Check out our quick how to video below for more details on this simple mod.
While there isn't as many options as some third party ROM's in the Android hacking community, LG has a decent offering. Users can rearrange all the icons, change the color, or add a button to pull the notification bar down (convenient so you're not stretching to the top of that 5.5-inch screen) as well as an instant screenshot function with QuickMemo+, QSlide for multitasking, and even dual window mode if you'd like to multitask and have two apps on the screen at the same time.
Lastly there's an option to actually hide the home buttons completely while using certain apps. Android does this in some instances by default, but LG gives the user complete control. This means you can make certain apps go full-screen, if you'd like, which is a nice touch.
Read: 10 Best LG G3 Cases
Simply rearrange the buttons or color as you see fit and you'll instantly see the changes. From here just hit home and you're all done. You've now successfully changed the look, feel, and operation of the LG G3 in a matter of seconds. Enjoy!

As an Amazon Associate I earn from qualifying purchases.