How to Change The Ringtone on the HTC One
Regardless of whether you have last year's HTC One or the HTC One M8, personalization is key. It's one thing to get a phone call in hear some sterile audio that your wireless carrier set as your ringtone out of the box. It's another thing to get a call from a family member and hear a song you love or a clip of audio that puts you in a better mood. Here's how to change the ringtone on the HTC One M8.
If you have the HTC One M7 – the HTC One that launched in early 2013 – you might notice that the screenshots of the software here look fundamentally different from what's on your HTC One. That's because the new HTC One includes a big software upgrade called Sense 6. Sense 6 isn't just available to those who upgrade to the HTC One M8 – it's also available to HTC one M7 users as a free software download.  You'll need that free update before you're able to use this tutorial. To see if your carrier has unlocked it for your device, head to the Settings app. Tap About, then tap Software Updates.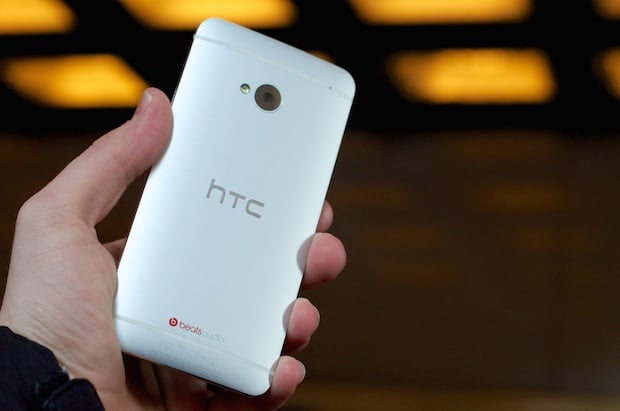 Choosing a Song You Already Have
The HTC One runs Google's Android operating system. That might not mean much to you now, but you'll find that the software running on your device is really generous about letting you tinker with things while not voiding your warranty. In the case of ringtones it's even better than the iPhone 5s. With the iPhone you're really in a bind unless you want to purchase a ringtone directly from the iTunes Store.
With the HTC One, you can choose any song you already own as a ringtone with a few button presses.
First, unlock your HTC One. If you've put a passcode on it you'll need to enter it. If you didn't just tap on the lock icon at the bottom of your HTC One's screen and drag it up.

By default the HTC One takes you to Blinkfeed, a quick way to see your social media contacts, the latest news and more. Don't tap any of the stories or even swipe to the right to reveal other home pages. Instead, tap on the icon at the center bottom of your display that has nine dots in the formation of a rectangle.
Welcome to the list of every app you have installed. Find the Settings app in your list of installed applications. If you've rearranged your apps then Settings could be absolutely anywhere in the list. You can tap on the drop down menu in the top left corner to re-order your apps in alphabetical order. This should make the Settings app easier to find. When you do, tap on the Settings app to open it.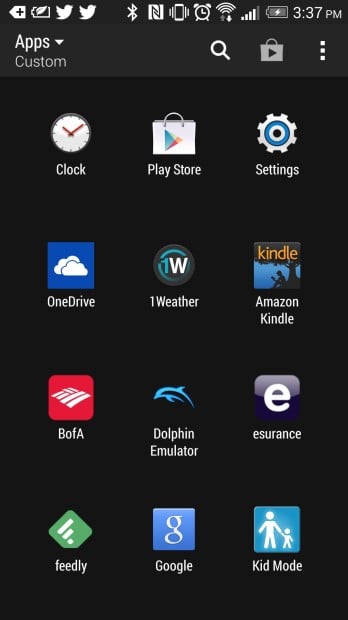 In Android, settings are organized based on priority and what they do. Ringtones are a personal feature so look for the Personal area and then tap on Personalize. In our example, it's the option second from the bottom of the screen.
Now tap the Ringtone option at the bottom of your screen to open the Ringtone settings area.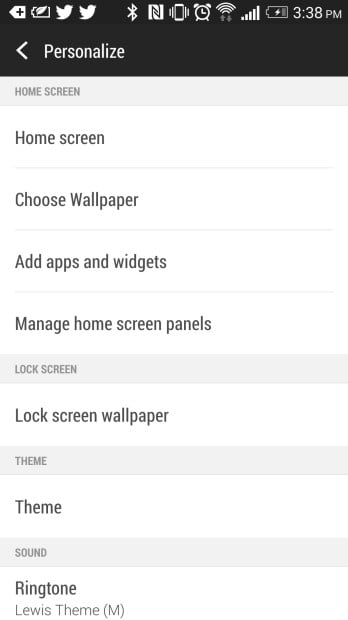 Every HTC One unless it's unlocked comes with two sets of ringtones. The majority of those are the ringtones HTC choose to put on the HTC One you have. There are going to be tons of those. Mixed in will be track that settings in the HTC One's ringtone folder that you might have added. Since you're reading this, chances are that you haven't added any ringtones. That's ok. Tap any ringtone in the list to hear a preview and then tap Apply if you find one in the list you like. If you have a song that you'd rather use instead tap the plus sign in the top-right corner of your screen.
Now find the song you'd like to use from your music collection and tap on it. You can trim a song if you think it's too long once you've selected it. Just tap Ok if you like the song the way it is though.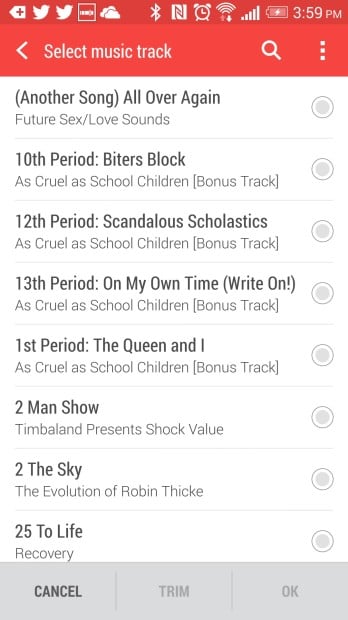 Really that's all you need to do. No purchasing extra tracks unless you want to and there are no third-party party apps required to get going. Of course, you can purchase new songs to use as ringtones in the Google Play Store. The HTC One doesn't require that a song be loud when you choose it as a ringtone. That being said, you really should look for something that immediately makes a sound when your phone rings.
Songs, with intros to quiet to hear within the first ten or twenty seconds will make hearing your phone ring in public or crowded places really hard. Also, don't be afraid to trim a song down to just the part you like. Doing so cuts out a lot of the dead air and makes for a much more useful ringtone.

This article may contain affiliate links. Click here for more details.