How to Change Your Name in Clash of Clans
Today an update arrived for one of the biggest and most successful mobile games for Android and iOS, Clash of Clans, and along with tons of new features it finally delivered something users have been asking about for over two years. You can now easily change your name or nickname (only once) in Clash of Clans, and below we'll explain how.
Last night and this morning SuperCell released a major update to Clash of Clans on Android and iPhone that is called the "Air Sweeper update". And while this is aimed at balancing gameplay, improving features, tweaking multiplayer and clan wars, it also brought a feature or option that's been sorely needed since the game launched more than two years ago.
Read: How to Transfer Clash of Clans to a New Phone
Before today users had to email the customer support line at Supercell and hope they received a reply, then have a valid reason to change their in-game name, a process that often times took a long time only to end in you getting rejected by the game developers. On first play it warns you that you cannot change your name, yet users make arguably dumb names and regret it later once they're fully addicted to Clash of Clans, my clan-mates included. Read on to see how easy it is to change it now.
The update that arrived this morning delivers a new Air Sweeper defensive unit that essentially blows air and slows down air attacks, likely all those people that attack with all balloons or minions. It doesn't deal any damage, but will slow down those LavaLoon attacks you've probably experienced.
Air attacks are a little unfair and unbalanced lately, and that will be somewhat improved with this new unit. The full changelog can be seen here, and there's a lot in the "Clan War Army Preview" and "Matchmaking tweaks" that you'll want to check out. There are some important changes that should make multiplayer and Clan Wars much improved. That said, this is about changing your name in Clash, so lets get started.
Instructions
As the update states, you'll only be able to change your name in Clash of Clans once, and this only becomes an option once your Town Hall reaches level 5. This has been a huge complaint on forums for months on end, and here's how to finally change it.
While on the regular home area looking at your base, tap the 3-gears shaped button near the bottom right of the screen. You'll now notice that along with everything that was here before, if you tap "Settings" there is a brand new "Change Name" button. Tap this, but be careful. Click the images below for full-size previews and how to steps.
A box will popup instructing you to input and change your in-game name, and again, this warns you that you can only change your name once. Simply enter the new name you'd like to enjoy during gameplay, and select continue. You'll be prompted to write it again confirming it's what you want, then a third confirmation page will make you write CONFIRM in all caps. All while telling you again and again, that you may only chance it once. I haven't tried it myself, as I don't want to waste my one-time change, but the game will likely reboot with your new name switched over. If it takes a moment to change, this is server-side, and the changes should be reflected soon, if not immediately.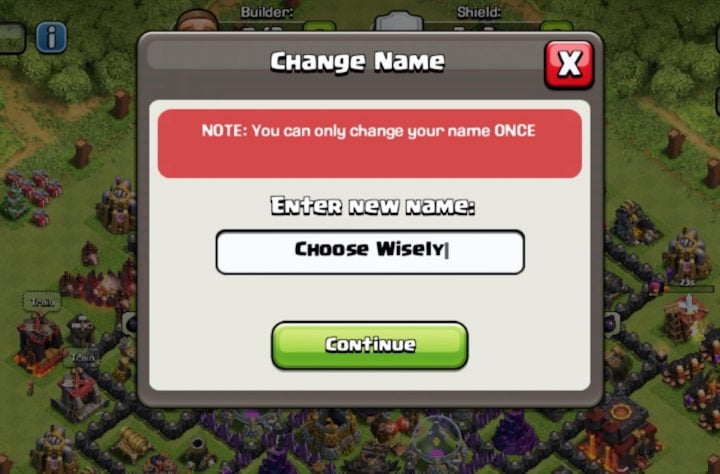 That's it, and you're all done. You've now successfully changed your name in Clash of Clans, the one and only time you can do it. It's worth noting that you can still probably hit the help and support tab, contact us, and email the developer and request a name change. You'll get an email reply within instantly saying it isn't possible, but within 1-2 days you may get a follow-up email from an actual rep that will change it for you.
This isn't ideal, and takes a few days to complete. Meaning you'll want to use the brand new in-game one time only name change feature, and choose wisely because it could be your only chance. Now that they've added this to the actual game settings, we expect the email responses won't be as forgiving or willing to change it for you.
You're all done. Don't choose something dumb, enjoy your new name and the improved gameplay tweaks, better Clan War match making, and everything else that arrived with the 4/30/2015 update. If you're just getting started on Clash, here's 9 tips for beginners.